BMG and The Montreux Jazz Festival have today announced the release of "Michel Petrucciani: The Montreux Years" on Friday 07 April 2023 and available to pre-order now. The brand-new release in The Montreux Years series is a collection of Michel Petrucciani's most memorable performances at the Montreux Jazz Festival from 1990 – 1998.
The Montreux Jazz Festival is without doubt one of the most iconic music festivals on the global festival scene. Originally created by Claude Nobs and held annually in Montreux, Switzerland across two weeks in July the festival continues to draw yearly over 250,000 music lovers from all across the world to the Lake Geneva shoreline.
Now in its 55th year, the Montreux Jazz Festival continues to celebrate the industry's emerging and contemporary acts, whilst paying homage to music's legendary acts. Originally a pure jazz festival since inception in 1967, Montreux began showcasing other styles of music throughout the decades and today presents artists from across every genre imaginable. Artists that have graced the stage of Montreux include Etta James, Bob Dylan, Elton John, Ms Lauren Hill, Aretha Franklin, David Bowie, James Brown, Kendrick Lamar, Leonard Cohen, Marvin Gaye, Miles Davis, Nina Simone and many more.
With such a rich history, it's no wounder that the festival has built a large archive of audio and visual content that now resides in and is presided by the Claude Nobs Foundation, in fact the collection is one of the World's largest private collections of live music recordings – all of which were recorded at the Montreux Jazz Festival (Switzerland) since 1967 and inscribed in 2013 on UNESCO's Memory of the World Register. In 1973, Nobs founded 'Montreux Sounds' as a vehicle to gradually release many of the 5000 concerts under the title "Live at the Montreux" recorded both in audio and video to the public and has published already more than 450 major artists, live on the same stage, including shows dating back to the late 1960s on the website www.montreuxsounds.com.
In 2021 'Montreux Sounds' in partnership with BMG launched a series under the title 'The Montreux Years' the see's many of these classic recordings now issued in multi-format configurations including superior audiophile heavyweight vinyl, MQA quality CD and HD digital. 'The Montreux Years' is according to Mathieu Jaton, CEO of Montreux Jazz "the embodiment of the spirit of the Montreux Jazz Festival and the legacy of its much-loved founder, Claude Nobs. Nobs refused to compromise on quality or settle for anything other than the best and this ethos lives on in the superb quality of the recordings compiled in The Montreux Years". The Montreux Years series, which began with musical titans Nina Simone and Etta James, followed by Marianne Faithfull and Muddy Waters, John McLaughlin and Chick Corea.
Monty Alexander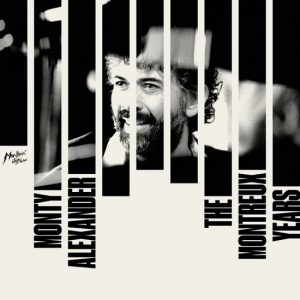 In November 2022 the series presented their seventh release featuring Monty Alexander showcasing Monty's most memorable Montreux Jazz Festival live performances from 1993 to 2016. The jazz piano virtuoso performed some of his biggest hits at the legendary Swiss festival and this release captures him at his best, bringing his laid-back, Caribbean vibe to the shores of Lake Geneva. In a career spanning six decades, Monty Alexander has built a reputation exploring and bridging the worlds of American jazz, popular song, and the music of his native Jamaica, finding in each a sincere spirit of musical expression.
Monty has always been proud of his roots and effortlessly merges his iconic piano playing with other musical influences. Of note on this album is a rare medley of Bob Marley's 'No Woman No Cry' and 'Stand Up Get Up' from performance at the 2014 Montreux Jazz Festival. Monty explained when speak of his choice to perform this "I chose this song because it's a song of encouragement. This song demonstrates one more time Bob Marley's spirit of generosity as he gave compositions credits to his friend, it is a song that highlights the ongoing plight of women in oppressed circumstances. I played this song a million times and I never tire of it."
Paco De Lucía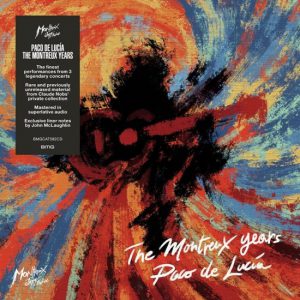 In February this year, the group released the eighth instalment of The Montreux Years series featuring Paco De Lucía. This edition is a collection of Paco De Lucía's finest live performances at the Montreux Jazz Festival between 1984 to 2012.
As one of the world's most celebrated flamenco guitarists, Paco De Lucía helped legitimize flamenco music across the world and was one of the first flamenco guitarists to have successfully crossed over into other genres of music including classical and jazz. Described by Eric Clapton as a 'titanic figure in the world of flamenco music', De Lucía was noted for his fast and fluent picados and was known for adding abstract chords and scale tones to his compositions with jazz influences. These innovations saw him play a key role in the development of traditional flamenco and the evolution of new flamenco and jazz fusion. At the age of 18 De Lucía recorded his first album 'La Fabulosa Guitarra' in Madrid. One of his greatest musical partnerships was with the Spanish singer Cameron de la Isla in the 1970s. Together the two men recorded 10 albums, which inspired a New Flamenco movement.
Recognized for his musical impact and one of Spain's greatest musical exports, De Lucía was awarded Spain's prestigious Asturias Prize for Art in 2004 as the 'most universal of flamenco artists'. Following his death in 2014, Paco De Lucía won a Latin Grammy Award for Best Flamenco Album and Album of the Year for his final album Canción Andaluza.
Throughout his career, Paco De Lucía played at the Montreux Jazz Festival many times and remains one of the festival's most iconic musicians to play the Swiss festival. The performances from this new collection are curated from eight shows between 1984 to 2012. Encapsulating his time at the festival, "Paco De Lucía: The Montreux Years" opens with the 2012 live performance of 'Vámonos'.
Fans of the pioneering flamenco guitarist can immerse themselves in the sounds that defined De Lucía's career, which includes one of his best-known recordings 'La Barrosa' from the 1987 album 'Siroco'. Delving further into De Lucía's repertoire, 'Paco De Lucía: The Montreux Years' includes the tracks 'Solo Quiero', 'El Tesorillo' and 'Buana Buana King Kong'.
The release includes brand-new liner notes from 'Guitar Trio' collaborator, close friend and alumni in The Montreux Years series John McLaughlin, and rare photos from Paco De Lucía's Montreux shows.
John McLaughlin says: "Many superlatives have been written about Paco de Lucía and all of them are true. I am neither Spanish nor do I play Flamenco music although after hundreds of concerts with Paco in the 'Guitar Trio' with Al Di Meola, or together on our duo tours, I feel honored and well qualified to write about one of the greatest friends of my life. Paco was not only a genius with the guitar but also an exceptional human being. He didn't read music but I have never met a musician with such an impeccable ear. In addition, his thirst for deeper musical knowledge and experience allowed him to expand the musical traditions of Flamenco music. In almost every Flamenco guitar player today, you will hear Paco's influence."
Michel Petrucciani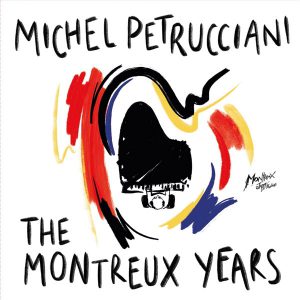 This brings us to the latest release in the series, "Michel Petrucciani: The Montreux Years". Available now for pre-order and to be fully released on April 17th, this brand-new release in The Montreux Years series is a collection of Michel Petrucciani's most memorable performances at the Montreux Jazz Festival from 1990 – 1998.
Born in the South of France in 1962, Michel Petrucciani was diagnosed with osteogenesis imperfecta – or "glass bone disease" and only ever grew to 99cm. Despite his health condition, Petrucciani went on to become one of the most accomplished jazz pianists of his generation and became a musical prodigy.
At the age of 13, Petrucciani gave his first professional concert performance and became famous locally. However, the young star dreamed of America and in 1982 found himself in California where he met jazz saxophonist Charles Lloyd. In the 80s Petrucciani became the first European artist to sign with the American jazz label Blue Note Records, the most prolific, influential, and respected jazz label of the 20th century. It was at Blue Note Records where Petrucciani made seven albums including his acclaimed LP 'Michel Plays Petrucciani'.
As well as his own remarkable solo career, Michel Petrucciani was a celebrated collaborator for some of music's biggest artists, including Freddie Hubbard who invited him to join his All Star band. Overcoming physical disabilities to become a world-renowned pianist, Petrucciani was awarded the prestigious Prix Django Reinhardt in 1984 and during the same year his album '100 Hearts' won a Grand Prix Du Disque, the French equivalent of a Grammy Award. In 1994 Petrucciani was made a knight by François Mitterrand, the French president at the time.
A collection of Petrucciani's most memorable performances at The Montreux Jazz Festival from 1990 – 1998, fans of the legendary jazz pianist can relive some of his biggest recordings on Michel Petrucciani: The Montreux Years. Encapsulating his time at the festival, the release opens with 1997's "35 Seconds of Music and More" and "Estate" from the 1982 album of the same name. Delving further into Petrucciani's repertoire, Michel Petrucciani: The Montreux Years includes the 1991 hit "Rachid" and "Little Peace in C for U".
More information about the The Montreux Years project can be found here on the BMG website. All releases in the series are available on all streaming platforms. The CD's and LP versions of the releases are available in all of the major online stores.
Last modified: March 7, 2023