Welcome to the next interview in our Women in Jazz Media series 'Something New with Esther Bennett'. Exploring new albums through conversation directly with the artist to share a little insight into their work. As one of the London Jazz scenes' most experienced, highly respected and widely loved jazz vocalists, Esther juxtaposes sensitivity and a sparky sense of humour in all her work and we are thrilled to have her involved in this series to help platform new female led jazz releases across the world.
Abbie Finn, is a drummer and composer from the North East of England, trained at Leeds College of Music and Trinity Laban Conservatoire of Music and Dance in London.. With an impressive portfolio of performances including working with the National Youth Jazz Orchestra, Women of the World Orchestra and artists such as Paul Edis, Andrea Vicari, Zoe Gilby, as well as her own album projects, Abbie has just released her third album On Pink Lane.
I'm going straight in…I was blown away by the American vibe of the album. The first few tracks, for me evoked the sound of Jimmy Garrison and the drum and sax led vibe of "East Broadway Run Down" not to mention the frontline presence of Buddy Rich. Jazz drummer wise, who would you say have been your main influences and inspiration?
AF: I've had so many influences that I certainly couldn't name them all. A big one is Sebastiaan De Krom, who taught me 1-1 drum lessons at Leeds Conservatoire. He's such a nice guy and is an insane drummer and great tutor. He actually came to help us fine tune the arrangements for the new album, for which I am very grateful. Other drummers I like include Max Roach, Tony Williams, Art Blakey, Peter Erskine, Bernie Dresel and Neil Peart amongst so many others… the list goes on! I'm always being introduced to exciting new artists from fellow musicians, it's great. Whilst studying at Leeds I set up and ran my own big band which I used to arrange for as well, so I'm a fan of artists like the Big Phat Band, Thad Jones/Mel Lewis Orchestra, Sammy Nestico and lately I haven't stopped playing Frank Sinatra's final studio album 'L.A is my lady'.
I know that there are musical styles and genres other than jazz that you play and that you are inspired by. Tell us a bit about that.
AF: For a long time now it's been mostly jazz that I perform live, but I started off liking a lot of rock music and alongside this I used to perform with orchestras, wind and brass bands, samba bands etc. Anyone who knows me, knows that I'm a huge Harry Potter fan, so I really love the work of John Williams and other film music composers. I also quite like musicals, Lion King never gets old for me. In terms of other bands, I really like Rush, with drummer Neil Peart who is amazing. I used to listen a lot to bands like Avenged sevenfold, 30 seconds to mars, Paramore, The Darkness and Black veil brides, but to be honest I haven't listened to those in some time as jazz really is at the forefront for me these days.
I love the title of the album. Was it a conscious decision to give a nod to "On Green Dolphin Street? Tell us more about the title of the album and why you chose it.
AF: Nothing to do with Green Dolphin St actually. Pink Lane is a street in Newcastle that housed the old Jazz Café and the renowned jam session where the band first played together in 2017. The jam has since moved venues to the Black Swan round the corner and is still going strong. We also launched the album in January at the Prohibition Cabaret Bar (which used to be the Jazz Café). We always feel especially welcome when we play in Newcastle amongst the friendly faces of audience members and fellow musicians, and thought it was quite a special location for the band.
It's no secret that the sax player, Harry Keeble, on this album is your partner…. Speaking of which, are congratulations in order yet? Anyway, give us a bit about your musical history together and would you say that being partners brings anything else to the mix, both album and performance wise?
AF: Yes, Harry the Saxophonist is my fiancée, we're getting married in June! We met whilst studying at Leeds, he came to audition for my big band, and I loved his sound and got him on 1st Tenor. He also played on my final recital, and he now plays for my trio and quintet, and I play for his quartet (who are releasing their 1st full length album soon). We go to a lot of jams and gigs together and he helps me with my compositions and other music things. It's great to have a partner who is also a musician, and we just perform together a lot and have a clear understanding of each other's playing.
And then making up your fabulous jazz trio is the bass player Paul Grainger. Tell us about your musical history with him and why you chose him to play bass on this album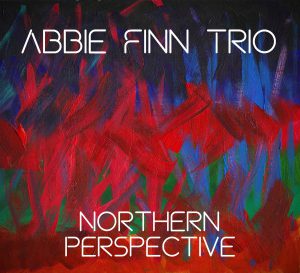 AF: I met Paul on the Jazz Café jam when I was back home from Leeds one time. He was very welcoming and asked me to be in the house band a month or so later and I got to meet lots of Newcastle players by doing this. He is a lovely bloke and everyone on the scene up here knows Paul, he's super reliable and is always up for playing no matter where it is. I can always rely on him to lay down a good groove, he's a solid player. He also wrote some fab music that featured on our first album Northern Perspective.
Which leads nicely on to track number 5 – where there is a definite change of pace and where the bass is more heavily featured. Tell us more about your hauntingly mysterious composition "Labyrinth".
AF: I really like the way Max Roach uses mallets on 'Delilah', It inspired me to write this tune. Seb (Sebastiaan De Krom) gave us the idea to do a bass overdub with double stops on, so we added that to the recording as well, along with the mallets on the toms and snare turned off. Our wonderful sound whizz Ray Beckett thought it might be nice to add some effects on this one to give the sound of a vast and spacious Labyrinth and we decided to go for it. He's done an amazing job with the sound on the album and was with us from start to finish.
All of the tracks on this album are composed by yourself, yet there seems to be plenty of room within these compositions for freedom and improvisation (particularly in the track "Mirador De Los Poleos") I'd like to know more about how your approach to composing.
AF: For this album I decided to feature only original music, as audience members wanted more after hearing the originals on the first album. I always decide what style I want first and work from there, thinking about particular grooves and the general feel. I then think about the melody and harmony and how the Sax and Bass can work together with the Drums. I always leave a lot of space for improvisation and I like the freedom you get with writing for a chordless trio, although a lot is done in the moment on a gig. It's all about having a musical conversation and listening to the other musicians. I take a rough piece to a rehearsal and the guys will give tips on how to improve the compositions. Harry helps me a lot at home with the harmony and is far more advanced in that area than I am, he comes up with some really cool ideas. Mirador is all about a trip to Tenerife where I saw the beautiful night sky, free from light pollution. It was incredibly moving and inspired this piece, I wanted to keep it quite open to reflect what I saw that evening.
The big one now……being a female jazz drummer…. I'd like to refer the reader here to a recent podcast you did with drummer  Migdalia Van Der Hoven. I'm adding the link here and strongly advise the reader to listen to the podcast and in particular to a great and insightful conversation between two female drummers about their experience.
AF: Yeah, it's been a bit challenging being a female instrumentalist from the start, even going back to youth bands when my confidence was quite low and the bands were mostly made up of rowdy, loud boys. I remember another drummer who was a boy laughing at me after I did a bad performance at a school concert one time because I couldn't hear the backing track well enough. It was really awful and knocked my confidence a lot. I think it's super important to encourage every young performer, especially girls and give them the confidence to take it further should they wish to. There's a lot of sexism in the music industry and it's the little things that add up, things like recording engineers telling me that where I've parked was actually reserved for the drummer when I've clearly got my car packed full of drums and I'm only doing a trio recording. Or venue bookers and audience members who might make strange comments about the fact I'm a female drummer and a lot of them have the preconception that I'm going to be terrible because I'm a woman (someone once said that to me). It is a struggle to keep upbeat sometimes, and speaking to other female instrumentalists, they've all experienced a similar thing. It's great that there's organisations like Women in Jazz Media and Jazz Camp for Girls out there to encourage and promote the brilliant female musicians that are out there, these people make a huge difference.
Where was the launch, how was it and what other gigs have you planned for this album project?
AF: We launched the new album on the 12th January at the Prohibition Cabaret Bar on Pink Lane in Newcastle, It was a really great night full of audience members new and old. Since then we've brought the new music to The Lescar in Sheffield which was a wonderful night, Jez and the team always make you feel super welcome. We then performed it at Saltburn Arts which was again, super well attended and we got some lovely feedback on the new album. We have a monthly jazz night at The Forum in Darlington that we organise, so we're on there later this month. We also have the Gosforth Civic Theatre later in the year and I'm in the process of organising a few more. People can keep updated with gigs through my website.
Slightly random but, are there any other activities other than playing a musical instrument, that you feel inform your creativity?
AF: Harry and I got into Archery in lockdown, and it was one of the only things we did for months. We joined a club in Sep 2022 and absolutely love it, so we do a lot of that alongside the music. We're also really into cooking, hence the song 'Big Old Spice Cabinet'! We do a lot of it, especially Indian food and Asian cuisine in general.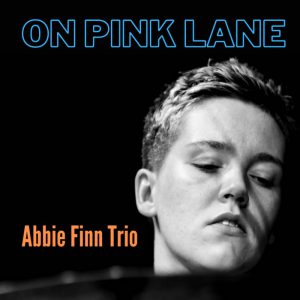 You can buy On Pink Lane here
Abbie has more music on the way having received the Ronnie Scott's Charitable Foundation Grant. To follow and support her work, please visit her website here.
Last modified: February 27, 2023