Every jazz musician over the age of 50 will likely remember Jamey Aebersold's play along LP's and for those that don't, these were a series of LP's propped full of standards and played by a rhythm section usually made up of piano, bass and drums.
If you were a horn player you could just blow over the set number of choruses, if you were a pianist, then simply panning to one side would eliminate the recorded piano and if you were a bass player the oppersite applied. Over the years countless musicians cut their teeth on these albums, this writer included.
Recently I received a press release from a new Hybrid label titled Jazz Master Tracks who claim to have taken this time-honored concept of the play-along record to the next level. Jazz Master Tracks, have combined 21st century technology with the needs of any modern musician to provide an innovative and engaging practice tool. The app allows the user to highlight or mute instruments, loop lines, phrases and turnarounds, and expand their jazz vocabulary in a tailor-made way.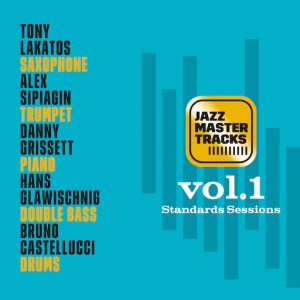 Operating simultaneously as a record label and tech innovator in the global jazz ecosystem, the label presents bi-monthly new releases within what is perhaps the first-ever playalong app for every musician, and every instrument at an intermediate or advanced level. According to the labels website "Jazz Master Tracks is dedicated to producing albums aimed at musicians wanting to study and learn jazz. We present top-tier contemporary musicians bringing their decades of experience as bandleaders and top sidemen to the table as they play canonical jazz repertoire. Releasing each session as an "Album in an App" gives these recordings added value, thanks to the generosity of the players, which allows us to participate through an engaging practice tool. Its simple, intuitive, user-friendly stem player interface can benefit all players, whether soloing or comping. What Jazz Master Tracks offers is not simply a backing track, but a real performance with a soul and a direction to work with."
The label's first release, the aptly named Vol.1, Standards Sessions, focuses on some of the most important standards and includes fresh interpretations of works by Wayne Shorter, Cedar Walton, and Sam Rivers, and others. Performed by an all-star band of tenor saxophonist Tony Lakatos, trumpeter Alex Sipiagin, pianist Danny Grissett, bassist Hans Glawischnig and drummer Bruno Castellucci. Vol.2, released last Friday, expands their catalog with even more bandstand evergreens. Locomotion, Prelude To A Kiss, All Of Me, Cheesecake and many others were recorded live in new, fresh arrangements by bandleader Jim Hart, accompanied by some of the UK's finest musicians. Rising star saxophonist Rachael Cohen, internationally celebrated guitarist Romain Pilon, MOBO-nominee and Whirlwind Records-founder Michael Janisch on double bass, and 3-time Grammy nominee Jason Brown on drums join Hart in the studio for new interpretations of pieces every jazz fan knows and loves.
the Jazz Master Track recording is much more than a backing track to play along with. It is a quality live performance, oozing energy and precision while being user-friendly and accessible enough to provide new, refreshing ways to enhance your musical journey.
The app, available in both iOS and Android versions, serves as a dedicated player for these recordings, with a convenient user interface made for musicians. For $1.99 USD the app is bundled with the purchase of one song and Individual albums are available as an in-store purchase within the app. A full album is priced at $12.99.
In principle the app functions as a multichannel stem player and permits:
Easy navigation following musical structure
Mute or solo instruments with dedicated mixer
Play and loop designated parts
Loop off and Loop on mode
Play once from left to right locator
Zoom view to fine-tune locators for transcribing
Add and store bookmarks, save loops
Activate pre-roll to start locator
Slow down or speed up playback in real-time
3-band equalizer
View chord sheets in various keys
More information can be found at the labels website here.
Last modified: February 7, 2023