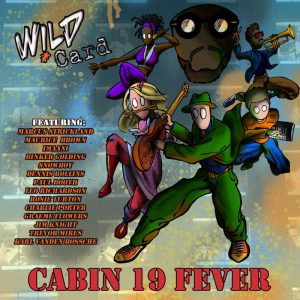 Wild Card officially launched their new album Cabin 19 Fever to a sold out crowd at the Royal Albert Hall's the Elgar Room on January 26th.
It was my first visit to this venue and it will certainly not be my last. Advertised as having 'a laid-back attitude' the audience are encouraged 'to dance, move around, sing along, and enjoy themselves in whatever way feels most comfortable'. I must also mention that their front of house staff were possibly the loveliest I have ever witnessed – so very welcoming and helpful. I was seated at a table with a wonderful couple that were huge supporters of Wild Card's drummer Sophie Alloway. As a passionate advocate for female instrumentalists, I was very happy to hear them tell me how amazing Sophie is and that they try to go to all of her gigs when possible and that 'she is just wonderful'. They were not wrong.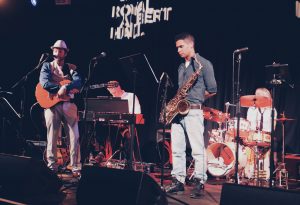 Founded by Clement Regert in 2008, Wild Card have gone from strength to strength and quickly gained an excellent reputation having performed at Ronnie Scott's, the 606 club, Jazz Café, Oliver Jazz Bar and many more great venues. Wild Card are Sophie Alloway (Drums) Andrew Noble (Hammond Organ) and their leader Clement Regert (Guitars) and they often have a fantastic range of guests for their gigs and recordings and tonight was no exception. Binker Golding (Sax) and Graeme Flowers (trumpet) who also appear on the new album, along with the queen of storytelling Corina Kwami.
The set opened with the latin funk inspired 'CopyCat' which set the scene for the rest of evening, with a groove to draw us in right from the beginning and outstanding musicianship and chemistry. A brilliant trumpet solo from Graeme Flowers, who was fantastic throughout the night, and Sophie Alloway, much to delight of the couple I was sitting with, not only kept the grooves, she embodied them and you could clearly see why she has been named "The goddess of grooves" by Jazz FM. Tonight she did this while sitting on a floor tom rather than the standard drum stool/throne. There may well have been a very simple story behind this, but it worked and it certainly had a few audience members discussing if it was her signature 'thing'.
Leader Clement Regert entertained the audience throughout the night with his self proclaimed dad jokes, which at times gained a huge roar of laughter but at times an uncomfortable giggle, as is the way with dad jokes. But Clemert's banter did give us some fascinating insight into the material on the new album and highlighted his versatility not only as a guitarist, but as a composer. The lockdown inspired 'Tweenies' which in my notes for this track, I just wrote Binker/solo/ridiculous and to be clear, I was referring to Binker Golding's saxophone solo as being ridiculously good, and for people who follow Binker's work, this is to be expected.
'Definitely Maybe', a Boris Johnson inspired track ( he does have some uses), was one of my favourite tracks of the night, with a fantastic groove (I always love an irregular feel) followed closely by the title track of the album 'Cabin 19 Fever', with yet another, but very welcomed, dirty groove that ticks every box. Here is their lockdown video of this track:
Andrew Noble who was holding down the bass lines as well as some fantastic solos on the Hammond Organ was beaming throughout the night and his energy really was felt by everyone. Graeme Flowers, who I feel really should be shouted about more publicly ( do watch 'My Life in Music: Graeme Flowers, a great interview series from Terrence Collie's Mood Indigo Jazz) gave us some stunning solos, graceful at times with many moments of full on raunch that was breathtaking.  Corina Kwami joined the band for two songs, the second of which was their reworking of Toto's Georgy Porgy and she brought an added layer of  truth and connectivity. This track was outstanding with some delicious references to keep us all hooked. The energy for this, and the whole night, was addictive. Well worth watching their lockdown recording of this track with a slightly different line up here
While the light hearted and 'fun' qualities of this band are often mentioned and must be celebrated, it is also important to note the depth and expertise of the writing, led by Clemert Regent. Overall, it was a fantastic night that left everyone feeling inspired and excited. The energy, the groove and the versatility of the line up is something to behold. I highly recommend you see Wild Card live and buy the album!
Click here to purchase Wild Card Cabin 19 Fever 
To follow and support Wild Card, click here
Performance photos taken by Fiona Ross
Last modified: February 8, 2023