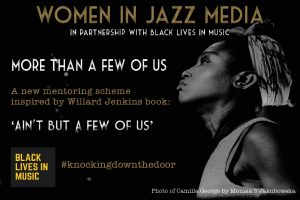 Women in Jazz Media launch new mentoring scheme: More Than A Few of Us
Inspired by Willard Jenkins book 'Ain't But A Few of Us', Women in Jazz Media are launching a new mentoring scheme specifically aimed at increasing the number of black jazz journalists across the world.
Women in Jazz Media is an award winning not for profit organisation and although a large amount of their initiatives are focused on platforming women, with the ultimate aim of seeing an equal, diverse and safe jazz industry, this mentoring scheme is open to all genders and applicants can choose to have a male or female mentor.
Supported by Black Lives in Music, who work to dismantle structural racism in the industry and work to take action to create a level playing field for everyone to have an equal chance to succeed, along with award winning legend Maxine Gordon, the mentoring scheme has significant support, not least of which is the through the inspirational mentors who are involved.
Willard Jenkins himself is a mentor along with Jordannah Elizabeth and John Murph with more mentors to be announced soon. Women in Jazz Media Founder says 'I cannot believe we have such truly inspirational writers involved in this initiative! It is overwhelming. The wealth of knowledge, experience, and guidance that Willard, Jordannah and John can pass onto potential new writers is truly invaluable. If we hope to see more great black writers, then we must be guided by great black writers'
The book that has inspired this scheme, 'Ain't But A Few of Us', is a dialogue, a collection of monologues, and an anthology of writing on jazz, journalism, race, and gender all in one. "The goal has been to include Black writers from several different perspectives and stations in the media pursuit," Jenkins explains in his introduction. "This book represents a variety of viewpoints and vantage points, but inevitably the dialogue leads back to considerations of that specious, man-made construct known as race."
The book explores the voices of a wide range of writers – male and female, of different generations, locations, and professional backgrounds and they answer Jenkins's provocative questions about the experience of being a Black music writer, the relative lack thereof, and what that lack means for the music and its audience. An interview with the author, exploring the book, is coming soon.
To purchase 'Ain't But A Few of Us' click here
More Than A Few of Us is now open for applicants! To apply, please follow this link
If you are interested in becoming a mentor, please get in touch with Fiona Ross here
Last modified: February 10, 2023