Earlier this summer, New York based drummer Billy Drummond released his latest album as a leader on Cellar Music, it's the first since this 1996 "Cult Hit" Dubai on Criss Cross records that was named by the New York Times as Top Jazz Album of the Year.
The New album is titled Valse Sinistre, features Dayna Stephens on saxophones, Micah Thomas on piano and Dezron Douglas on bass. Valse Sinistre is produced by Jeremy Pelt, as part of his ongoing partnership with Cellar Music Group.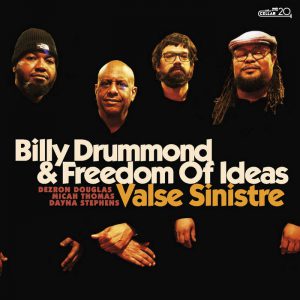 Drummond needs little introduction, he has been a stalwart of the New York scene for many years and his list of credits is extensive and features many of the jazz greats that have populated the top echelon for the last few decades. The band heard on this album is an iteration of the live band Drummond has led for many years. Speaking of the music included on the album Billy stated: "A couple of the pieces I've had in my book for the bands that I've been leading for quite some time. But they evolved as time went on and according to personnel changes. So I was very comfortable playing them and open to going in any direction."
What I truly enjoyed about this album is the fact that it is an unapologetic jazz album, fully rooted in the tradition. Yet, that said, if you are looking for a mainstream standards album, then with Valse Sinistre you're in the wrong place. The compositions are diverse, the grooves relentless and there are moments where you get a whiff of the avant-garde. While all the players are given plenty of room to step out there's no doubt that this album is led by Drummond, he's the glue that holds it all together as well as the navigator pushing things in new directions.
So let's take aa quick look at some of material that I consider the highlights of the set. Jackie McLean's "Little Melonae" opens the album in an arrangement by bassist Dezron Douglas. Drummond sates in the press release that Jackie McLean "… was kind of a soundtrack to my early beginnings playing the drums. I've always been a Jackie McLean fan. Jackie's what I would consider truly a jazz musician." Drummond, still cherishes a CD booklet on which the departed master inscribed: "To Billy, one of my favorite drummers of all time." This up-tempo swinger opens the album and makes a very clear statement as to what this album is all about. I enjoyed pianist Micah Thomas' solo on this track.
Other highlights include the titled track, Carla Bley's Valse Sinistre. For those unaware, there are many styles of waltz and this one is based on the Viennese Waltz. Don't expect Johan Strauss, this track is Sinister indeed. Drummond and crew pull it to pieces only to reconstruct it into something completely different, I love it. Another highlight is Frank Kimbrough's composition "Clara's Room". Drummond choose to included this track as an homage to his friend after recording it on a compilation of Kimbrough compositions which Nouvelle Records issued following his passing. "That was also the first time I heard it and I thought it was beautiful, It's a moment of solace on the record." I enjoyed the lilting feel of this track and in particular Dayna Stephens' contribution on soprano sax.
To round out this review I'd like to take the last paragraph from the press release. It reads:
These nine works share slices of Drummond's life in the city and on the road. Despite the one-off consumption surrounding playlist culture, he curated the Valse Sinistre set for listeners to enjoy in its entirety. "It's an album. I chose the songs and the order because that's the way I wanted it to flow." The artists approach each piece with nuance and grace, casting a new mood on each tune, naturally honoring the compositions and each other. "I always choose people to play with me who have that similarity of eclectic tastes," says Drummond. "It means I can go anywhere at any given time, and these people will go right along with me.
After hearing this recording a number of times and each time pealing off an extra layer of the onion, I have to agree with Billy's last statement but it's not just the players that will come along with him. I think this recording will appeal to a wide range of listeners and I'm sure there will to some degree be a pied piper effect. Highly Recommended
Track Listing:
1. Little Melonae | 2. Never Ends | 3. Valse Sinistre | 4. Laura | 5. Frankenstein | 6. Changes for Trane & Monk | 7. Clara's Room | 8. Reconfirmed | 9. Lawra
Line Up:
Billy Drummond, Drums | Dayna Stephens, saxophones | Micah Thomas, piano | Dezron Douglas, bass. | Produced by Jeremy Pelt
Release Date: 5 August 2022
Format: CD | Digital
Label: Cellar Music Group.


New Release Spotify Playlist
The Jazz In Europe New Release playlist features tracks from the new releases featured on Jazz In Europe. Updated weekly, this playlist is the perfect place to discover new music from the leading jazz musicians currently on the scene. We hope you enjoy this selection.
Last modified: September 10, 2023