Sometimes running a jazz magazine can seem rather mundane however every now and then something out of the ordinary pops into your inbox. This is exactly what happened when I received a mail from Peter Harrinton, a London based Antiquariat. So you may wonder why an Antiquariat would contact a jazz magazine, I had the same thought, however when you read the first paragraph of the mail I received you will understand why in interest was peaked.
"Leading London rare book dealer Peter Harrington is due to release a catalogue in October 2022 which seeks to evoke the ephemeral moment and improvisatory spirit of jazz with a gathering of 50 items that include highly scarce original acetate pressings of Billie Holiday's "Strange Fruit" and Charlie Parker's "Cherokee"; iconic photographs of some of the genre's greatest performers including John Coltrane, Lady Day, Chet Baker and Duke Ellington; concert posters and fragile handbills, signed and inscribed material, as well as iconic mementos such as a pair of trademark sunglasses owned by the great trumpeter Miles Davies."
Naturally, I reached out to the curators of this collection, Glenn Mitchell and Duncan McCoshan to find out more. This collection of gem's, carefully curated by Glen and Duncan features some amazing collectables that will make most jazz collectors mouth water. Take for example, a pressed and mounted Gardenia worn by Billie Holiday or a handwritten and autographed manuscript by Ornette Coleman, outlining his Harmolodics concept, original acetate recordings of Billie Holiday's "Strange Fruit" and Charlie Parker's "Cherokee" and many more rare and fascinating items.
With jazz being improvisational and in the moment I was interested in how you would go about collecting jazz. Glenn explained that "Original recordings offer the obvious way in but photography is also a medium often linked with jazz for its capability to decisively to capture the moment. But also think about beautifully designed concert posters to the most apparently insignificant and tattered job-printed handbill for an obscure club date that can render a powerful evocation."
Speaking of the other items included in the collection, Glenn went on to say "Signed and manuscript material is well represented in the collection and come in many guises: recordings, books, and souvenirs. Art Tatum's signature is a black tulip among jazz autographs and is present here on his eponymously titled 1956 album; Ella Fitzgerald's autograph may not be such a rarity, but to find it on her Sings the Cole Porter Song Book is really quite special.
"The signatures of Dizzy Gillespie, Count Basie, and Dexter Gordon feature among 30 jazz luminaries who signed their names to a very unusual souvenir: a silk tie, evidently worn by its owner to a number of gigs for this very purpose – an autograph album around his neck.
"The collection also includes a trio of exceptional objects or perhaps relics might be a better word. There is John Coltrane's 1963 Down Beat Award, recognition for his work on soprano sax. An iconic memento of Miles Davis in the form of a pair of sunglasses he owned, typical of the statement shades he affected during the 1980s. And finally, there is a quite heart-stopping survival – a gardenia worn by Billie Holiday, kept and treasured by Billie's maid and confidante; it is perhaps the only survivor of Lady Day's trademark flowers, unquestionably among the most powerful emblems in the iconography of jazz."
All of the items in the collection are available for sale here at the Peter Harrinton website.
Below is a small selection of the items available in the collection along with an edited description of the item. The full description listing the items provenance is published and can be found on the Peter Harrinton website.

Charlie Parker, Seven reels from the Chan Parker Tapes.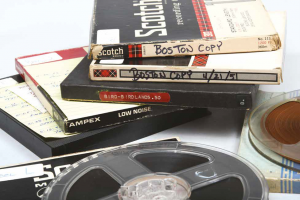 Superb trove of Parker recordings purchased by legendary Bird collector Norman Saks from the no-less fabled Guernsey's sale, and formerly in the possession of Bird's partner, Chan Richardson. These tapes contain recordings of Parker made by Chan either at the concerts, or from the radio. Chan had already released most of the recordings at various times but some were never issued. Not that being released previously lessened their value, as many of these were the source tapes, the 'masters', the actual tapes used to record Bird: almost as good as being there.
The tapes offered in the Peter Harrington collection are two tapes from the four in lot 146, Reel E "Brooklyn I" and Reel J "Brooklyn II" – the two duplicates having been moved sideways by Saks at some point – a recording of the gig at the Eastern Parkway Ballroom, Brooklyn 23 June 1951. The lineup is Parker, probably Benny Harris (trumpet), Walter Bishop (piano), Teddy Kotick (bass), and Roy Haynes (drums). Peter Losin notes: "lots of crowd noise and echo, as if the recorder were well back in a large crowded hall. It is edited to Parker solos and exchanges throughout". Losin identifies the trumpeter as Harris, "a regular member of Parker's Quintet at this time", noting that "solos (e.g. on 'Steeplechase' and 'Wee') sound a bit like Red Rodney, but it is probably Harris". Koch plumps for Rodney as "the best guess based on meagre evidence"; and despite the limitations of the recording finds it strongly evocative: "a certain nostalgic quality to the sound conjures up an image of a small combo in a large hall built for big bands, as happened so often in the transitional period of the early 1950s" (p. 243). Saks has added a complete listing of tunes and timings.


Billie Holiday. Original 7-inch acetate disc of "Strange Fruit". Commodore Records, 1939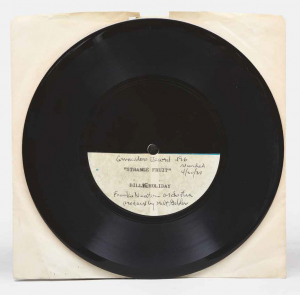 Remarkable survival from a turning point in Lady Day's career, an original acetate from the recording session of 20 April 1939, which saw her consign to disc one of her most haunting and unforgettable recordings, "Strange Fruit", a sombre lament about a lynching and the song which she described as "my personal protest". With a superb provenance: from the collection of bandleader Artie Shaw. We understand that Shaw later passed the disc to a recording engineer, who put it up for auction. The annotations on the label have been identified as being in the hand of Milt Gabler, owner of Commodore Records.
In March–April 1939 Holiday was appearing at Café Society, an integrated Greenwich Village club owned by impresario Barney Josephson. Josephson was approached by a Jewish school teacher from the Bronx called Abel Meeropol, who said he had a new song adapted from his own poetry. Meeropol, who wrote under the pseudonym Lewis Allen, was at that time a member of the Communist Party of America, and was inspired to write "Strange Fruit" (originally entitled "Bitter Fruit") after seeing images of the lynching of two Black youths taken in Marion, Indiana, in 1930. Josephson gave Meeropol the nod and he set the words to music with assistance from his wife, Anne, and a singer, Laura Duncan.
At the time Billy was recording for Columbia Records however, apparently fearful of antagonizing Southern customers, they refused to record it. Billys producer John Hammond gave permission for Billie to record with Milt Gabler's Commodore Records. In his acclaimed study of the song and its milieu, David Margolick cites tenorist Kenneth Hollon, who was present at the date, as saying that the recording of "Strange Fruit" took four hours to complete, because Gabler "wanted to get a great one out there".
Ornette Coleman. Harmolodics – an autograph musical manuscript.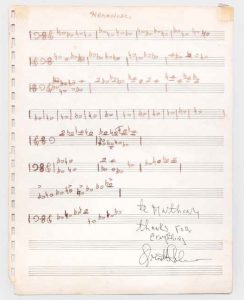 A remarkable piece; Glenn's research was not able to trace any other Ornette Coleman music manuscript ever having appeared on the market. Written in brown felt-tip, the sheet is inscribed lower right in black ink: "To Anthony Thanks For Everything Ornette Coleman".
Harmolodics was the name that Coleman gave to his unique musical philosophy and compositional/improvisational method, which he enigmatically defined as "the use of the physical and the mental of one's own logic made into an expression of sound to bring about the musical sensation of unison executed by a single person or with a group". It has been suggested that Coleman drew on Boulez's concept of aleatory music for harmolodics, while early Coleman advocate Gunther Schuller suggested that it is based in the superimposition of the same or similar phrases, thus developing polytonality and heterophony. Coleman was apparently working on an expository text on harmolodics from the 70s, but this has never appeared, and the only extended explanation is contained in the article quoted above. He also used the name "Harmolodic" for his record label.
This piece is from the collection of Anthony Murrell. Introduced to Ornette Coleman by Don Cherry, with whom he shared a loft on Christy St in Fremont, California, Murrell assisted Coleman in sorting and archiving materials when he bought the former Public School #4, at 203 Rivington Street at Pitt on the Lower East Side in 1981, and was in the process of moving into a top-floor classroom. Coleman extracted the sheet from the material that they were working through, and inscribed it for Murrell.


HOLIDAY, Billie Holiday. Gardenia worn by Billie Holiday.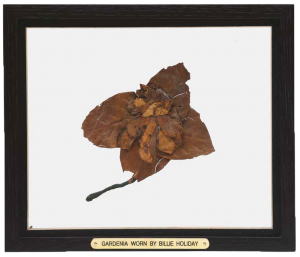 A remarkably evocative "relic", perhaps the only survivor of Lady Day's trademark gardenias, unquestionably among the most powerful emblems in the iconography of jazz.
This dried bloom confirms the origin myth in that it is boutonnière-backed with a green paper-wrapped wired "stem" rather than a clip or barrette. The piece comes from the estate of Alice Vrbsky, Billie's secretary, maid and confidante for the last two years of her life. Alice approached Holiday after a concert in Central Park to get an autograph on her programme. Told to return the following day to get her copy of Lady Sings the Blues signed, she duly reappeared: "So next day I showed up with the record and the first thing she said was 'Ah! A woman of her word!' and on the album she wrote 'Thank you for loving me.' You see we hit it off. I can't explain it, but we hit it off'.
Alice was offered the secretary gig by Louis McKay, Holiday's last abusive lover/manager, she accepted and was with the singer until her death two years later. For Billie's last recording date in March 1959 under arranger Ray Ellis, "she was so weak that she often had to be held up in a chair by her secretary, Alice Vrbsky. It was Alice, not Ellis, who now determined how long the sessions could last, and she ended them when Billie was weakening, so most of the songs on the record are first takes" (Szwed, p. 266). After Billie's death, Alice "couldn't listen to her records for a year".
The flower is accompanied by two of Holiday's "favourite hairclips", one a poor quality "silvered" barrette, the other a hinged white metal retainer with faux pearls, which fits well with Alice's witness that "for stage she wore stage jewellery that was not in the best condition", and during her last illness in hospital she "had her hair pulled back and clipped with an ordinary clip because she didn't have anything valuable that I knew of" (ibid., p. 319).
Altogether a most eloquent grouping, traces of a deeply troubled but truly graceful career; "You can be up to your boobies in white satin, with gardenias in your hair and no sugar cane for miles, but you can still be working on a plantation".


Paris Jazz Festival –  Original poster for 1964 Paris Jazz Festival, Artwork by Siné.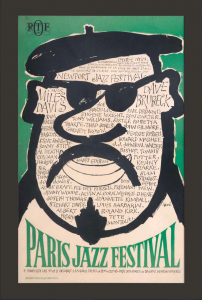 Superbly designed poster, the artwork, very much in the style of the legendary designer David Stone Martin, and featuring names of all the artists "tattooed" on the face of a smiling hipster, with Miles and Brubeck literally "headlining" is by the great French cartoonist Siné, "a fan, an expert and a collector of jazz (traditional and free)".
The impressive roster of performers includes Roland Kirk, Coleman Hawkins, Sonny Stitt, Kenny Clark, Slam Stewart, J. J. Johnson, Thad Jones, Bud Freeman, Pee Wee Russell, among many others. Wayne Shorter was yet to join Miles's quintet and Sam Rivers, named on the poster, took the tenor chair; otherwise all the other members of the "Second Great Quintet", Hancock, Carter, and Williams, are present. Brubeck's quartet was the classic lineup of Paul Desmond, Joe Morello, and Eugene Wright.


DAVIS, Miles. Pair of sunglasses owned by Miles Davis.
These sunglasses are an iconic memento of Miles, dating to the period of his renaissance in the mid-to-late 1980s. Sunglasses are the one style accessory most closely associated with the great trumpeter and are cool and a powerful affirmation of his renowned aloofness and also reflected his innate shyness. Miles acquired these wonderfully stylish shades, with their distinctive peak over the bridge and slight wraparound look, from the New York eyewear boutique du jour, Optical Affairs, launched in 1984 by celebrated designers Christian Roth and Eric Domege. The provenance: by descent through the family; then through auction, being lot 171D at Guernsey's landmark Jazz at Lincoln Center sale of 20 February 2005.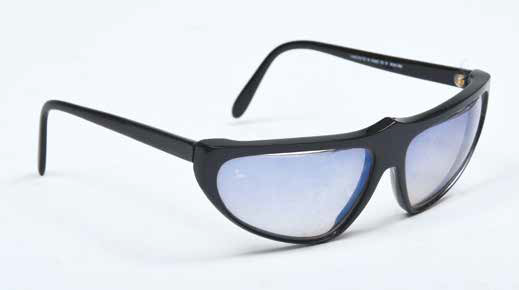 Last modified: November 2, 2022