Drummer, Dan Weiss is no doubt one of the stalwarts of the New York jazz scene sporting a long list of credits both as a leader and first call sideman. With nine albums as a leader to his credit his latest album, Dedication (due out November 11 via Cygnus Recordings), pays explicit homage to nine of his most vital inspirations, from musical and cinematic masters to loved ones and close collaborators.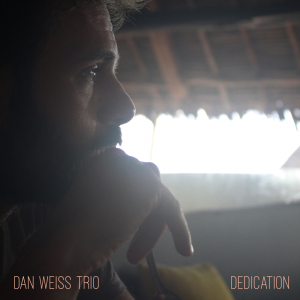 Weiss' compositions are know to reside at the intersection of multiple genre's yet no matter where he travels the jazz tradition comes along for the ride and this is without doubt the case with this new recording featuring his long standing trio together with pianist Jacob Sacks and bassist Thomas Morgan.
Dedication marks the trio's fourth recording in 22 years together, and the breathtaking virtuosity and scintillating chemistry on display throughout the recording are testament to that longevity. Through his original music Weiss has often paid homage to his forebears and inspirations, whether adapting phrases from iconic jazz drummers into visionary new compositions on his 2016 large ensemble outing Sixteen or merging metal and new music influences through the lens of David Lynch's disturbing surrealism with his bracing quintet Starebaby.
"I like to think of myself as someone who is coming out of the tradition but trying to push it forward," Weiss explains. "So the piano trio is ideal because it's such a traditional setting, but it allows for so much exploration and freedom. And when you share a long history like I have with Jacob and Thomas, you explore things together, you hit on things together, you try things out together, so the seeds of what we're doing now were planted 20 years ago and have continued to develop since then. It feels natural to always come back to it."
Sacks is not only a key voice on the album but also one of its honorees. The alluring "For Jacob" according to Weiss, builds upon the "angular yet melodic lines" that he has engaged with since the two started playing together at college in 1995. In his liner notes, Weiss writes that Sacks' playing is "deeply steeped in the tradition of the great jazz pianists from Teddy Wilson to Cecil Taylor," and an era-defying blend of groove, melodicism and abstraction combine as in a vibrant collage in the raucous piece.
Even more personal are two dedications to close family members. The lovely "For Vivienne" was written for Weiss's young daughter, six years old as of this September, while the stark and tender "For Grandma May" is an elegy for the composer's beloved grandmother, who passed away in late 2021. Both pieces are heavily laden with deep emotion – "For Vivienne" the wonder and joy of experiencing life through a child's experiences, "For Grandma May" the grace of a life well lived and the loving grief of loss – which Sacks and Morgan convey beautifully through their sterling musicianship and the trio's decades-long relationship. An outlier among the honorifics is "For George Floyd," a rare but imperative instance of social and political expression in Weiss's music. The composer was as galvanized as many in this country by Floyd's murder at the hands of police in May of 2020, and the piece movingly captures the tumult and rage that rippled through the already beleaguered population in its aftermath.
The remaining tunes are dedicated to singular artists who have helped shape Weiss's voice and philosophy in some form. The propulsive "For Tim Smith" goes out to the late founder of the British post-punk band Cardiacs, who died in July 2020. The dedication came after the fact in this case, as Weiss realized that the song's chord sequence, rife with major chords, could only be an unconscious influence from one of Weiss's favorite bands. The deceptively simple "For Bacharach," with its lyrical melody and pop ballad pulse, draws on songsmith Burt Bacharach's sophisticated use of eccentric phrase structures in popular music. Weiss cites the single "Promises, Promises" (made famous by Dionne Warwick) and Painted From Memory, Bacharach's magisterial collaboration with Elvis Costello, as particular touchstones.
The demanding "For Nancarrow" takes its rhythmic intricacy in part from composer Conlon Nancarrow's staggeringly complex Studies for Player Piano, which, Weiss writes, "redefined the way I thought about metric modulation."
One needs no Chrystal ball to realize "For Elvin" is dedicated to the iconic drummer Elvin Jones. Weiss calls Elvin Jones "my favorite drummer," adding the caveat "at present" as a nod to his own restless, ever-shifting imagination. The piece builds on an eight-measure phrase from Coltrane's "One Up, One Down" as captured on Live at the Half Note. "That phrase totally blew me away for a number of reasons," Weiss recalls. "The architecture of the bass drum and the snare drum line is amazing and his choice of accents and spacing within the line are really special and unique to Elvin. In tabla music there's a step in between single and double tempo which is called dergun, so I took that approach with Elvin's initial line and based everything around that."
The influential Soviet filmmaker Andrei Tarkovsky is another favorite, and Weiss's dedication is infused with the spirituality and atmosphere of films like Mirror and Solaris. "I was thinking about the spiritual aspect of his work and the serenity I feel when I watch his movies," Weiss describes. "There's so much tranquility and beauty in each shot of his films. There's nothing wasted, nothing superfluous. So in that spirit I tried to make each note count."
That striving to place heart and soul into each and every drumbeat speaks to another meaning for the album's title. Dedication is also a guiding principle for Weiss, who aims to commit fully to those things most important to him, whether family, personal growth or music. It's a tenet that makes the music of Dedication so compelling and profound.
Dan Weiss' "Dedication" will be available on CD and all streaming platforms on the 18th of November via Dan's own label Cygnus Recordings here on Bandcamp.
Further information on Dan Weiss can be found here at his website.
Last modified: November 7, 2022