The world of jazz (and music) journalism is a competitive struggle at times, particularly for women looking to break the mould and find a name for themselves in a historically male-dominated industry. Despite this, there are plenty of women who have successfully navigated their writing and journalistic careers, embarking on different paths and timelines to get where they want to be. Women in Jazz Media have been exploring the stories and experiences of several female music writers, who have been transforming perceptions in the music industry one word at a time, including Jane Cornwell, Hilary Seabrook, Sandra Booker, Jordannah Elizabeth, Lara Eidi, Fiona Ross and many more. These interviews aim to uncover the wonders and challenges of being a writer, hopefully inspiring many young women to follow their own writing ambitions!
To start off the series, we've spoken to the incredible Paulette Jackson. A published author, the founder and CEO of Jazz Zone Radio, and host of 'The Classic Soul Music Café' radio show, Paulette Jackson has built her incredible career from a love of songwriting and storytelling.
How did you begin your writing journey?
My writing journey actually began as a lyricist at a very young age, 10 or 11 to be exact. My love was always centred around music and the arts and is a family trait. Me becoming a published author was something I had never entertained other than getting my songs published of course but writing stories from personal experiences and what I was always passionate about in book form was something else altogether and started late in my 40s. I have now four published books (my very first book was published as a second edition) and I have two more to be published next year, in 2023. My inspiration to write a book came from a friend and very popular musician and singer who had written books themselves so after many discussions around it, I decided to write my very first book and I could not be more thrilled for the journey.
My writing began to go to new levels, I was starting to receive requests to write and contribute to a few magazines which was scary but exciting at the same time. I began writing about several jazz artists, mostly centred around jazz artists and also writing "In My Opinion" type articles as well which lead me to do music reviews and some interviews. I love that my writing is taking me in different directions and presenting welcomed opportunities. It's funny, now that I think about it, I did an interview with my late brother who was a musician and composer for a magazine when I was 13 or so and submitted it but unfortunately was never published.
Did you face any challenges?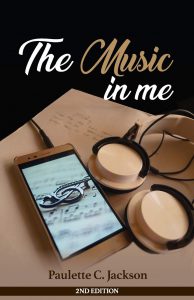 I think the challenge I faced was not believing anyone would be interested in hearing my story and because of that I stopped writing my first book and put it aside for a while but eventually would pick back up where I had left off because I wanted my experience to inspire others as well. I also ran into challenges with my first publisher after the book was published but it was a learning experience for me, and I am with people who get me and the stories I want to tell and embrace and encourage the process. Sometimes we can be our own worse critics, but the key is to believe in your work and push through it.
Did you have any support along the way and if so, is anyone you would like to thank or highlight? 
I definitely have had so much support since the beginning of this writing journey. I told no one I was going to write a book except one person and that was one of my inspirations for getting started and that was my dear friend William "Spanky" Montoya. We have been the best of friends for over 35 years and he along with others since my first release, has been so supportive on this writing journey with me, so many others have bought and shared my works since. There were times I was doubtful if I would write another book after the first but was encouraged by my wonderful friends to push forward if I had more stories to tell then to absolutely keep going and I am so glad I did. My books are an important part of whom I am and have become.
Any words of wisdom or guidance for anyone considering writing?
Yes, it is never too late to live out your dreams. If writing and sharing stories have been a passion of yours, then by all means do it. It may be challenging but, the reward of seeing your works published and being able to share that with others is a feeling you will never forget. I think, more importantly, you would've accomplished a goal, a dream that no one can take away from you. Be the creative spirit you were meant to be. Put in the work and the rewards will be worth it. Do as much research as you can and just write. Find what best fits your style.
To follow and support Paulette's work, please click here
Last modified: November 24, 2022