It is once again the time of year when jazz lovers and observers everywhere are preparing for the excitement of the EFG London Jazz Festival. This November, from the 17th to the 20th, Women in Jazz Media are putting on several unmissable events, in partnership with the Jazz Views 'Women Who Inspire' series, which are sure to delight all those who attend. Women in Jazz Media are a Parliamentary Jazz Award-winning organisation that thrives to ensure diversity and equality in today's jazz world, uplifting the careers of women and non-binary musicians all over the world. Keeping this in mind, they have a wide range of events and workshops that aim to both inspire and represent everyone in jazz, as well as shine a light on all the work done by these wonderful musicians. So, without further ado, here's the line-up!
17th November 2022 at Toulouse Lautrec: Migdalia Van Der Hoven
Mexico's 'Woman of the Year' for arts and culture Migdalia Van Der Hoven is set to perform for a second year in a row at the EFG London Jazz Festival. The award-winning drummer presents her dynamic quartet 'The Migdalia Van Der Hoven Quartet', set to perform a combination of contemporary and original tunes, drawn mainly from the jazz fusion style. Van Der Hoven's set will comprise music from her new album 'Point of Departure', recorded live at Abbey Road Studios with Wikus Van Der Hoven (Sax), Johnny Mayers (Bass) and Josh Stidwill (Piano), as well as tracks from her 2021 EP 'Girl Facing South'.
Migdalia Van Der Hoven is known for her versatility and flexibility when travelling across the jazz genre (and other music genres) with added groove and style. With over 25 years of experience, her long list of achievements is astounding. Come along to see 'The Migdalia Van Der Hoven Quartet' kick off the events with an electrifying set down at Toulouse Lautrec.  Tickets   Migdalia Van Der Hoven website 
18th November at Toulouse Lautrec: Ashaine White
Ivor Novello Rising Star Nominee and Women in Jazz Media team member Ashaine White will be taking the Toulouse Lautrec stage with a refreshing and individual take on the jazz genre. Her skilful genre combinations have led to a new and unique hybrid: grunge-soul, which will, without a doubt, engross the ears and mind of any listener. White's moody and fascinating approach to jazz harmony and melodies demonstrates her natural finesse for songwriting and creating distinctive musical soundscapes. Her 2021 EP 'Fairy tales' highlights all of these features perfectly, from its jazzy ballad 'Prince Charming' to its grittier hits, 'Cure' and 'Cookie Cutter'. The EP was released while White was working with the EFG London Jazz Festival, and it is a delight to see her go from programming to performing at her own event in just a year!
Come and be a part of Ashaine White's exciting musical journey and support her debut at this world-famous jazz festival! Tickets  Ashaine White links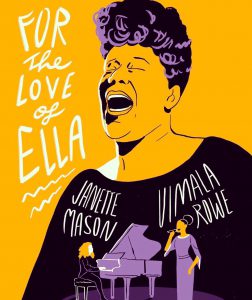 18th November at Jazz Café Posk: For the Love of Ella Featuring Vimala Rowe and Janette Mason
Women in Jazz Media and Jazz Café Posk present, 'For the Love of Ella featuring Vimala Rowe and Janette Mason'. Rowe's spell-binding vocals paired with Janette Mason's piano accompaniment, make this an event you do not want to miss, particularly if you are a fan of Ella Fitzgerald and all things vocal jazz. The gig will explore music from Ella's iconic songbook, spanning from her youth to her mature majesty. Taking on the role of Ella is world jazz vocalist Vimala Rowe, a beacon of success in her own right. Along with her own original tunes which explore jazz and blues through to flamenco, folk and Northern Indian classical styles, Rowe has put on shows as Billie Holiday with Café Society at the Theatre Royal in London and Carnegie Hall. Her riveting blend of styles and recreation of vocal jazz legends have resulted in sold-out gigs at Ronnie Scott's, as well as winning her an Indy Music Award for her self-titled EP 'Vimala'. This is a Jazz Cafe Posk event which will celebrate the adored work of Ella Fitzgerald, while also commending the incredible musicianship of Vimala Rowe. Tickets
19th November at Toulouse Lautrec: Ladies That Do So Much More than Lunch with Big Mama
This is a brunch networking event which is open to all jazz women who wish to come along for a chat or to collaborate with like-minded people! The inspirational conversation will be led by 'London's Queen of Swing' and Women in Jazz Media team member Big Mama, aka Adyenne Simone. An international jazz and blues singer, Big Mama is known for her powerful and sensuous vocals along with her charismatic performance style. Her successful and notable career will make this a motivational and enlightening conversation and throughout the session, you'll have the chance to meet some key members of the Women in Jazz Media team. Come and have a chat over brunch with some fabulous jazz ladies! Tickets   Aydenne Simone website 
19th November at Toulouse Lautrec: Jazz Photography Workshop with Tatiana Gorilovsky
For a very special afternoon, the award-winning jazz photographer and designer Tatiana Gorilovsky invites those who love photography and jazz to travel on a photo journey through time.  She will explore the best in jazz photography and share some of her tricks of the trade. Gorilovsky's significant portfolio includes shoots at the 606, the Elgar Room, Union Chapel, and Jazz Café and with jazz musicians such as Dee Dee Bridgewater, Herbie Hancock, Courtney Pine, and Dana Gillespie. Tatiana Gorilovsky is also one of the first women to have her work entered into the National Jazz Archive and was nominated for Photo of the Year by the Jazz Journalist Association! Her work and career are a sight to behold; this is an incredible chance to get to know her and absorb some key information to help you get ahead in the jazz photography scene! Tickets  Tatiana Gorilovsky website 
19th November at Toulouse Lautrec: Laura Impallomeni
Trombonist, composer, and newly joined Women in Jazz Media team member Laura Impallomeni is an electrifying addition to the festival line-up, with a plethora of musical styles and genres under her belt, from swing and jive to reggae and afro-beats. Her multiple musical projects include: 'Barnacles', an experimental jazz quintet, 'The Voodoo Love Orchestra', a Latin Jazz Ensemble and an 11-piece afro-jazz band 'Yamäya' that reached the final 8 bands in the Glastonbury emerging talent competition. Impallomeni recently received the Arts Council England 'Develop Your Creative Practice' grant to further explore her own jazz compositions, which will be featured within her explosive set at the festival. Don't miss it!
Tickets Laura Impallomeni links
20th November at Toulouse Lautrec: Improvisation Workshop with Charlotte Keeffe
This is a particularly exciting workshop for all women, non-binary people and those who don't feel seen or heard within the environment they make music. This workshop will benefit those who are beginning to explore the world of improvisation and starting their early careers in jazz, as it is also a wholly safe and comforting space to learn in.
Charlotte Keeffe is a jazz and improvised music trumpet professor at the London Performing Academy of Music and a member of the Women in Jazz Media team. As well as teaching, she regularly performs as a soloist and with her own ensemble 'The Charlotte Keefe Quartet (CKQ)'. Come along to learn some key improvising skills and get to know some lovely women in jazz! Tickets Charlotte Keeffe website
20th November at Toulouse Lautrec: The All-Female London Gay Big Band
The London Gay Big Band are the perfect group to round off the Women in Jazz Media events at the EFG London Festival, embodying these ideas of representation, diversity, and inclusivity in the jazz scene today! The fiery big band was founded in 2011 and is made up predominantly but not exclusively of musicians from the LGBTQIA+ community. Since its creation, the band have become increasingly more popular, performing at multiple high-profile venues and events, such as last year's London Jazz Festival and London Pride. They recently released their new album 'FREEDOM', a sensational collection of powerful and uplifting big band tunes, all part of their set at this year's festival. Come have a boogie with us and celebrate an incredible week of jazz with all of us at Women in Jazz Media!
Tickets  London Gay Big Band Website
Last modified: February 27, 2023