What's better than a great location, sun and jazz? Well not much I would say, and with the European summer festival season coming to a close it's good to know that the Red Sea Jazz Festival will once again provide a great location, sun and jazz from the 10th to the 12th of November in Israel's most southern city Eilat.
Destination festivals have become very popular recently and Red Sea Jazz Festival in Eilat fits this bill very well. Situated on the northern most shores of the Red Sea, Eilat is Israel's southernmost city and shares a land border with Jordan and Egypt. As the Israel's vacation city par excellence, Eilat offers  visitors golden beaches, a subtropical climate and unique nature areas to experience all around the city. You can find more information on Eilat as a destination on the City's Official Tourism Website here.
For those looking to vist the festival there are a number of package deals available via the The Isrotel Hotel Chain that include accommodation along with either a pass for the full festival or individual concerts. You can find out more about these packages here.
Also known for it's nightlife, restaurants and club scene the city is the perfect location to host the Red See Jazz Festival that, over the years, has grown to become one of the most prominent music festivals in Israel.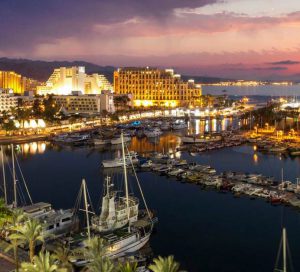 The festival draws its name thanks to its location inside the port of Eilat, where the view of the Red Sea Bay serves as a backdrop for the artists and concerts. During the festivals 36 years of existence, it has hosted legendary names such as Herbie Hancock, Chick Corea, Al Foster, Ron Carter, Ricky Lee Jones and Dianne Reeves, to name just a few, alongside well-known Israeli stars such as Eli Degiberi, bassist Avishai Cohen, Omer Klein, trumpetist Avishai Cohen and many more.
The coming edition of the festival continues this theme featuring performances from international artists including five-time Grammy award winner Jacob Collier, American pianist and composer Corey Henry and emerging British sax player Emma Rawicz. The festival also will host concerts from a number of prominent ex-pat Israeli artists such as Anat Cohen, pianist Omer Klein and numerous young and up-and-coming and established artists currently on the local Israeli jazz scene.
There are many highlights scheduled for this edition of the festival including the opening concert on Thursday the 10th on the main stage featuring the Israeli group "Third World Love". Twenty years ago, a random encounter of four musicians marked the turning point in the history of Israeli jazz music. Third World Love, the beloved and appreciated super-group set the foundations for the Israeli jazz sound that has won the group fans across the world, as well as brining generations of new fans to the genre in Israel. Avishai Cohen (trumpet), Daniel Freedman (drums), Yonatan Avishai (piano), and Omer Avital (bass) all developed fascinating and successful solo careers simultaneously to working in this super group. This has only intensified the demand of seeing them all come together on one stage.
Performing at the festival after a long absence and much anticipation, the group returns for a rare performance together, which will once again bring back to the center of the stage the virtuosic talent and wonderful connection that these artists have together. The group has five albums together that incorporate jazz with various influence, such as African, Yemeni, Latin America, funk, blues, and magical echoes of a local Israeli sound.
Following this opening performance Jacob Collier with grace the stage as part of his global tour. Multi instrumentalist, Jacob Collier has built a huge worldwide following performing his original compositions and collaborating with giants in the industry from Herbie Hancock to Coldplay and John Mayer to Quincy Jones. At the festival Collier will be performing with a band, following his spectacular and ambitious project DJESSE, which so far has won him 5 Grammy awards.
Also on Thursday at the Red Note Club Anat Choen will perform music from her latest album that was released last week together with her new band "Quartetinho". Throughout her long career, Cohen has been known for her rich musical style, which weaves together various influences and genres, including upbeat big band arrangements, classic Israeli tunes, and intriguing dives into Latin American music, particularly the sounds of Brazil. The bands repertoire includes unique compositions that are imbued with acoustic Brazilian music, alongside electronic sounds.
Also at the Red Note Club on Friday the Godfather of Ethio-Jazz, Mulatu Astatke, returns to the festival. Born in Ethiopia, Astatke was on track to becoming one of the world's leading jazz musicians having moved to New York where he played with Duke Ellington, Muhammed Ahmed, and Herbie Mann. However, as sometimes happens in legends, he decided to return to his native Ethiopia where he founded the first school of modern music in Addis Ababa. Astatke ingeniously combines modern jazz with traditional Ethiopian rhythms and has created a completely new music style known around the world as Ethio-Jazz. In 2005, he truly broke into the public's consciousness when the film director Jim Jarmusch used some of his music for the soundtrack of the movie "Broken Flowers." Since then, Astatke's music has been sampled in numerous pop songs and he has gained celebrity status on an international scale. Although he'll soon celebrate his 80th birthday, Astatke continues to perform and conquer stages and hearts in captivating shows that no music or jazz fan would want to miss.
One the main stage at the Port Arena on Friday is another opportunity to celebrate Israeli musicians who are pioneers in the genres of contemporary hip-hop and jazz. Ravid Plotnick is one of the most respected and beloved rappers and musicians in Israel. Nearly a year ago, he released his sixth album "In Motion," which was highly praised by critics and fans. At the festival Ravid will continue his personal musical journey that examines the complex Israeli reality with honesty, wisdom, and directness. His deep connection to contemporary sounds places him at the intersection between hip-hop and jazz, finding the right balance where the two genres influence and nurture one another. Following this Eli Degibri will perform three duet's with three different pianists Aaron Goldberg, Omri Mor and Tom Oren. With nearly three decades of acclaimed work under his belt and performances across the globe, Degibri needs no introduction. A duet between the saxophone and piano is always a mesmerizing experience of emotion and lyricism, coupled with energy and power. In this original production, each pianist will bring a different and personal color, allowing us to enjoy their uniqueness and talent, as well as the virtuosity that Degibri comes with.
Closing the Festival on Saturday the 12th will be two major concerts, one at the Port Arena and the closing concert at the Red Note Club. At the Port Arena, Cory Henry is performing with a special jazz trio show where he'll juggle his famous Hammond organ, as well as other keyboards, with TaRon Lockett and Josh Beasley who'll be alongside side him on stage. This is a rare opportunity to hear a fine combination of jazz and soul, and a glimpse into the future of music. As a former member of Snarky Puppy, Cory Henry launched his solo artist career with Art of Love, his first independent release. Soon enough, he began to attract the attention of artists from a large (and not at all surprising) range of styles, including Bruce Springsteen, Sean Combs, Kanye West, Kenny Garret, and Quincy Jones. This will be a concert not to miss.
The final concert of this years festival will feature festival curator Yossi Fine together with the band Supergroove at the Red Note Club. Under the direction of Yossi Payne, Supergroove will perform on stage with special arrangements of songs by Netta Barzilai, Nunu, and Echo. Jazz has long been a musical melting pot that draws and merges varied styles and influences, constantly shaping and renewing itself and thus remaining relevant and intriguing. Everyone whose ears are turned to what's happening in the jazz scene is present for the big bang that's taking place between jazz and hip-hop, a move whose great forerunner was none other than Miles Davis. This concert will be a cross-generational celebration that will bring together jazz lovers, including the oldest ones, and hip-hop fans with the promise of a joyful, enjoyable, and connective experience. This is how the future sounds, and local music scene sounds. It's a fitting end of a rich and diverse musical experience.
For the full schedule of concerts and further information please check out the festivals website here.
Last modified: October 25, 2022