There's no doubt that, together with Toots Thielemans, Philip Catherine is one of the most prominent Belgium jazz exports. Today, Philip turns 80 years young and Nico Kanakaris, host of the Belgium based "Blue Notes" show, sat down with Philip for a marathon podcast interview to discuss the high's and lows of Philip's amazing career and a great deal more.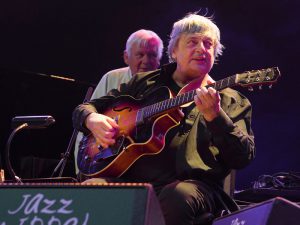 It's almost impossible to list all of Philip's achievements over his 60 year career, however, for those who maybe not fully aware of the impact that Philip has had on many generations of guitarists and jazz fans in general, below is a short summary of his long and distinguished career.
Philip Catherine was born in London on the 27th of October 1942 and raised in Brussels. Catherine started playing guitar while in his teens, and by age seventeen he was performing professionally at local venues. During the late sixties Philip was a regular on European stages playing with artists such as Lou Bennett, Dexter Gordon en Stéphane Grappelli and in 1971 became a member of Jean-Luc Ponty's Experience quintet. His debut album titled "Stream" was released on Warner Bros in 1972 and soon after this traveled to the United States to study at the at Berklee College of Music in Boston where he studied with Mick Goodrick and George Russell.
In 1976, he teamed up with fellow guitarist Larry Coryell recording and touring as an acoustic duo. It was during this period the Philip rose to international prominence with a series of albums recorded together with Coryell on the Elektra label and with bassist Niels-Henning Ørsted Pedersen released on the SteepleChase label.
After a short stint in the band Focus, replacing Jan Akkerman, Catherine recorded with the legendary Charles Mingus, who called him the "Young Django", as well as projects with Benny Goodman, Toots Thielemans, Charlie Mariano, Tom Harrell and Chet Baker, and this is just the very top of the iceberg.
As mentioned above, it would take many pages to document all of Philip's achievements during his long career so, instead of wasting the written word, I recommend you listen to Nico's podcast with Philip. It's quite a tour de force, lasting almost 4 hours, but very interesting from start to finish. So push play and enjoy.
Nico Kanakaris hosts a weekly show on Radio GRK Genk, titled Blue Notes and programs can also streamed on the Blue Notes channel on Mix Cloud here. It's well worth a visit as you will find many gems in the program listing.
Featured Image by Guy Fonk

Editors Note: Philips latest album Titled "Pourquoi" featuring Philip along with fellow guitarist Paulo Morello and Sven Faller on bass is now available at Bandcamp and all streaming platforms.
Last modified: October 27, 2022