Sometimes in life you get an offer that's just too good to refuse. So, when I was asked if I would like to write a tribute to one of the most influential tenor saxophonists in the history of jazz music on what would be his 100th birthday (October 31st), I jumped at the opportunity. As a fellow saxophonist and dedicated jazz musician, I was inspired to delve deeper into an incredible musical career spanning eight decades and featuring an extensive list of jazz legends:
Louis Armstrong, Nat King Cole, Dizzy Gillespie, Ella Fitzgerald, Charlie Parker, Miles Davis, Oscar Peterson, Buddy Rich, Count Basie, Cab Calloway, Gene Krupa, Charles Mingus, Lionel Hampton
I literally couldn't wait to find out more about the 'Texas Tenor', 'The Beast', 'The King', Jean-Baptiste Jacquet or more commonly known as Illinois Jacquet, one of the most distinctive, innovative tenor saxophone players of the post-swing era.
Renowned for his distinctive style of playing in the altissimo register contrasted with sudden punctuations of sound from the lowest notes on the horn, Jacquet gave birth to what was called the Honking Tenor that became the hallmark of rock and roll and greatly influenced rhythm and blues.
What an honour to chat with his daughter Dr. Pamela Jacquet Davis, President of the Illinois Jacquet Foundation founded in 2005 to continue her father's incredible legacy.
Dr. Pamela Jacquet Davis openly states that she only began to understand the true significance of her father and his music later in her life. It was not until around the age of 18 or 19 that it became apparent to her that calls from 'Uncle Dizzy' or 'Uncle Miles' were calls from some of the greatest jazz legends of all time. I can hardly comprehend how incredible that is.
KC: Can you explain what your childhood family life was like being the daughter of a working musician and surrounded by some of the all-time jazz legends?
Dr. Pamela Jacquet Davis: My childhood was filled with activity – dance classes, music lessons and sports. My parents encouraged my curious spirit and high energy level so there was always energy in the home. My dad practised music in the basement when he was not touring. Many musicians would come by and spend time with my dad – Uncle Dizzy, Lester, Count Basie, Ella, all of these musicians lived in the neighbourhood at one time. When my dad travelled, he always returned with a doll from the many foreign cities where he performed. Christmas was always fun because both my parents would hide gift's they had collected over the months to surprise me. When he was home, he loved working in the yard cutting grass. His other hobby was golf. He played whenever he was home. It was not until I was in my second year at Howard University when I enrolled in The History of Jazz taught by Donald Byrd that I gained my first serious exposure to the importance of my dad's contribution to jazz. I will always remember what Donald Byrd said to me –"You will learn a lot in my class about your father."
Illinois Jacquet's mother was a Sioux Indian and his father was a French-Creole railroad worker and part-time musician. Born in Louisiana and raised in Texas, he was one of six children and began performing at the age of 3, tap dancing to the sounds of his father's band. As a teenager, he switched to drums which seems like the natural progression. In high school Jacquet took up the alto saxophone, switching over to the tenor saxophone in 1941 in order to join jazz bandleader and drummer Lionel Hampton's band. It was during this time that Jacquet performed the solo that he is best remembered for on Lionel Hampton's 'Flying Home' in 1942. It subsequently became a rhythm and blues standard:
KC: How did you feel finding out about your father's incredible influence on the world of jazz?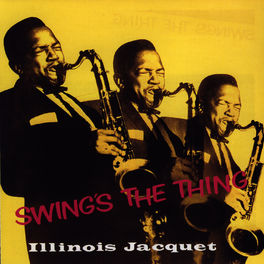 Dr. Pamela Jacquet Davis: I was very proud of my father's accomplishments but it was just the beginning in understanding his goal concerning excellence. His work as Visiting Artist at several universities introduced his desire to share his passion with other musicians and instil in students what dedication to your craft really means. His Grammy nomination and honorary doctorate from Juilliard cemented the gifts he shared and demonstrated.
KC: I thoroughly enjoyed watching the video 'Higher Goals to Conquer' – The Legacy of Illinois Jacquet, in which you state that your father had an "inner drive", focussed on being excellent at his 'craft' and always looking for a challenge and trying to be the very best he could be. You also state that such drive and dedication to be the very best doesn't come without a sacrifice. Can you explain what kind of sacrifices you feel your father made?
Dr. Pamela Jacquet Davis: My father travelled extensively so he missed special occasions – birthdays, first Holy Communion, a few dance and piano recitals but I knew he was aware of what I was doing – so I don't remember being sad about his absence. My mother kept me very busy with various activities so I did not focus on his absence. It was clear that my father was very different to other dad's. I think his absence was more of a challenge for my mom. My parents eventually divorced but always remained in touch and friends.
Watching a clip from the video I can clearly see the absolute musical perfection Illinois Jacquet was seeking. The clip shows him leading and teaching a big band. He counts the band in at quite some tempo but within the first few notes of the band playing they are stopped in their track and he says: "You've got to get this rhythm, what this is all about." Then he gets the band to sing the melody at a slower tempo, nodding his head, before saying: "OK, let's play it like that."
I can feel the respect he commanded and his driving force for perfection. As a musician, that is so inspiring and it ultimately brings out the very best in people.
Watch the video 'Higher Goals to Conquer' – The Legacy of Illinois Jacquet:
KC: Do you think your father was ever totally content and satisfied with the incredible level of excellence he achieved or would there always be higher goals to conquer?
Dr. Pamela Jacquet Davis: I think he felt the appreciation whenever he performed in front of a live audience. The connection he made with other musicians and the audience was so palpable. Truly, he would always seek higher goals – it was a part of him to push to higher heights.
One of several nicknames for Illinois Jacquet was 'The Beast'. I was totally intrigued by Dr. Pamela Jacquet Davis's description of 'The Beast':
"My father was consuming and when he performed, he consumed the air on the stage and he also demanded that excellence. Some of the musicians that performed with him, although they may have respected him and liked him, they knew that…they knew The Beast was on the stage and they had to get their own oxygen, because he wasn't sharing!"
KC: Can you explain this consuming performance and how other musicians worked with it?
Dr. Pamela Jacquet Davis: I am not sure if I can explain this but I believe my father wanted total surrender in perfecting a performance from all the band members. He wanted the band members to share their expertise, so collectively the sound would be unique but with their individual passion blending into an emotional bridge shared by everyone. When I watch his performances from the Ed Sullivan Show, Nat King Cole Show or even his performance in Jammin the Blues, you cross that bridge with him. His Big Band and the combos always delivered. My dad could be demanding but I think in retrospect the musicians appreciated the rehearsals before the performances.
Illinois Jacquet states in 'Texas Tenor' – The Illinois Jacquet Story, a documentary film by Arthur Elgort:
"I don't play to confine myself. I play to open up my freedom."
He refers to "the things that happened to me" and then continues:
"You let things out that you never knew would ever come out, but in music on stage, it's gonna come out."
Illinois Jacquet was living and working in an era of segregation. He protested to a performance venue that ruled African Americans should enter the premises through an alley door and he issued an ultimatum – Either allow his all-black orchestra to access the hotel via the main entrance or he would cancel the engagement.
He was determined that segregation had to come to an end.
KC: During your jazz studies you learnt about the tough world and harsh reality many of the jazz greats including your father were subjected to. How does this make you feel? Do you believe your father's playing was influenced by this in any way?
Dr. Pamela Jacquet Davis: My dad was very much impacted by the racial climate during the early 1940s and onward, but he never used it as an excuse of any kind, but expressed what was in his soul. Looking back – some things have not changed. There are bright spots one can say have changed: black musicians have more opportunities to work/create, more opportunities to own their music and become involved in the business of music with a voice at the table but we have more to achieve.
One of the thrills of Illinois Jacquet's life was teaching at Harvard. He was the first jazz artist of residence, having the opportunity to remain on campus, conduct classes and get students ready for performances. Passing on his knowledge and skills was clearly a passion and a major part of his purpose in life.
Having played in both the Count Basie and Cab Calloway big bands, Illinois Jacquet told interviewer Chip Deffaa in Jazz Times in 1985:
"I made up my mind that if I could make students at Harvard sound that good, it was time for me to come back to New York and pick the best musicians I could find and form my own big band. I thought: Duke (Ellington's) gone, Count (Basie's) gone, Jimmie Lunceford's gone, Cab (Calloway) no longer had a band – it was just like a call I had, to form this band" – which he did in 1981.
In the documentary film 'Texas Tenor', Illinois Jacquet states:
"I've had big bands before but it's very difficult to keep them together. Without Carol Scherick there would be no big band. She is the brains behind it. I'm just the leader."
Carol Scherick was Jacquet's life-long companion after two previous marriages.
On July 16, 2004, Grammy-nominated Illinois Jacquet gave his last live performance as he closed the Midsummer Night Swing Series at Lincoln Center for the sixteenth year. He and his big band had been the final night attraction for this annual series since its inception and was his favourite engagement.
Illinois Jacquet passed away in 2004 at the age of 81 after a lifetime consumed by and dedicated to music. He was so invested in his music and such an inspiration to so many. He spent a lifetime striving to be the very best.
Dr. Pamela Jacquet Davis states:"When my father passed, his manager Carol Scherick, who had been his companion the last 20 years of his life, sat down with me and said we have to do something that will keep Illinois' name and meaning and feeling alive, especially with students."
"My father's desire to always perform at his best – excellence in his craft and to share that ideology with his colleagues and students is his legacy and is the basis of why the Illinois Jacquet Foundation was founded."
Since 2005, The Foundation has been dedicated to providing positive and motivating programs that inspire learning, leadership and personal growth. It is very much a family passion with Dr. Pamela Jacquet Davis's daughter Nikki Davis Henry being Secretary & Treasurer.
In addition, The Illinois Jacquet Scholarship in Jazz Studies at The Juilliard School has been established to honour his memory. Scholarships are for students interested in jazz composition, jazz music and in particular the saxophone, empowering students to make a positive and powerful impact on the future of jazz.
The family legacy and musical heritage is clearly continuing in Jacquet's great-granddaughter McKarthy who already plays violin, piano, sings and dances.
Dr. Pamela Jacquet Davis states: "I see the penetrance of that gene. My granddaughter is very much going to be the one that's going to be extremely vocal when it comes to music."
KC: Having seen a video of your father performing on a beautiful silver tenor saxophone engraved with J. B. Jacquet (Jean-Baptiste Jacquet) on the bell and with Jacquet having acquired a selection of nick-names in his lifetime, I wondered what nick-name or single word you would choose to describe him?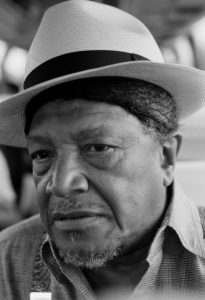 Dr. Pamela Jacquet Davis: AUTHENTIC. He was and is the real deal.           
As a fellow saxophonist, I am truly honoured and inspired to celebrate and pay tribute to one of the very best and one of the most influential saxophone heroes, Illinois Jacquet. Happy 100th birthday and may your music continue to inspire and influence a new generation of saxophonists, musicians and music-lovers.
In his own words:
"I do not want to rely just on what I've done in the past. I know that I'm not going to be out here forever. I just want to contribute to something that will last forever"…
…which he certainly has.
Find out more about The Illinois Jacquet Foundation plus his extensive discography and wonderful photographs: https://illinoisjacquetfoundation.org/
Last modified: November 1, 2022