Award-winning drummer and composer, teacher and art director Cecilia Sanchietti is an absolute inspiration. A versatile and highly experienced performer, with an impressive portfolio, Cecilia has released three albums under her own name 'Circle Time', 'La Terza Via' and her recent release 'Postcard From Gamla Stan'. She is also the founder of the brilliant Jazz Mine Network, an Italian organisation whose 'main purpose is to promote the equal opportunities in Arts to fight the existing imbalances, through educational, advocacy and awareness-raising actions'.
Talking to Cecilia, her passion and excitement is infectious. Her belief in the power of music as a tool for connection and her drive for gender equality is exhilarating.
I am the president of the Jazz Mine Network and which is a cultural association that I opened just three years ago. We are working now on research, studies about the gender balance in jazz and improvising in Italy. We are now producing some advocacy tools – for example now there is DIJ-ITA which is a platform, a list, and if you go inside, it lists all the female jazz musicians in Italy. We are at the beginning, but collecting more and more names because the festivals here are not balanced – lots of men and no women.
They usually say that they don't look for women because it's really hard to find them, which I think is true, because we are less in number and have less promotion and so it is really difficult to look for us on Internet. So, we decided to simply open this list that everyone can go to and be part of and then we will send this list to the festivals.
It's for the whole of Italy but specifically for jazz because we have more problems than in other sectors. We are trying, slowly to open our work to other music fields but we are a small association so at this stage we want to focus on jazz. It's really, really important and here in Italy, they refused the idea that the problem exists and so if you refuse the idea, you can't solve the problem and there is a lot of discrimination in this way. So, we are doing some studies, statistical studies, and the results are on the website and show that it's true. You can read that female musicians play less in festivals. It's really hard because we are only few people but it's growing! I was called to speak about the situation at a showcase in Italy, to talk about the gender balance, what we can do, and we are starting to work with conservatories because there are problems with education too.
Cecilia's passion in this area developed from her own experience as one of only a few female drummers in Italy. Her call to music initially began on the piano but it wasn't long before she made a connection with the drums and jazz.
I started when I was a teenager and it was not easy at the beginning because you know now, it's hard, but 20 years ago was harder! I was playing the piano and then then I started to play drums and work with different teachers and was immediately put in the music ensembles, for jazz music. I was a teenager and I didn't know anything about jazz, but they invited me because nobody wanted to play jazz! But it was OK for me because now I think I can explain to myself why I love so much jazz. I have a degree in sociology too, so I was mixing the two –playing and sociology. I decided to be a professional musician when I was around 28 years old, and it is the social connection of music that is really important to me. With my music, I always try to connect those two aspects of me. Also, I think I probably chose drums because the drums really transmit joy, drums are really a joyful instrument.
I remember that one day there was some drummers on the TV and I immediately stayed there, and my mother says that when I was 5/6 years old, I would run in front of the TV to look for drummers. Tullio De Piscopo is a really famous drummer from Naples and I was really in love him, when he was a teenager because he was a really funny man and also, he played the drums in a really joyful way. So, I think this was part of the attraction for me for drums but also because drums permit me to listen to the music.
The importance of role models cannot be underestimated and as a child, regardless of gender, you need to see things to believe they are possible.
Growing up when I was a teenager, there was one female drummer in pop music but none at all in jazz… we don't have examples of women. I am one of the first female drummers in Italy and I am continuing on my road and I don't stop! I am in Italy and I think there are about four women playing… but it's better than some years ago! The problem here is that sometimes the girls start to play the drums and then stop.
We are conducting a study about it. First reason is because they do not have the role models. There are only a few drummers, so as a girl, a teenager, if you do not have an example that someone has reached her goal, why would you think you could?
Also, there are a lot of difficulties here, so they know that if they want to do that, they have to overcome a lot of difficulties and be really motivated. Sometimes girls are really not so brave so it's a problem. I usually say that to be an artist, a female artist in drums, not only must you be brave but in Italy and probably also in some parts of Europe, you must be really strong and not all women drummers are strong in this way.
Born in Rome and with a love of travelling, Cecilia has found a real connection with the Swedish Jazz scene and the joy of experiencing different cultures.
The international dimension was really, really important to me from the beginning because I have this kind of mind probably, but also because I think that it's important to compare your experience with other cultures and with the other musicians. I also felt the need to go abroad for more possibilities but also to understand how the situation is for women in jazz abroad, out of Italy.
I have a great connection with Sweden. I love this country and I love the jazz in Sweden. I had a concert in 2019, my first concert there and at the end of the concert, I was really shocked. At the beginning I was really worried because there were other girls there to play in the same my concert and my music, it was a little bit different, more melodic. So, I was really worried but at the end the concert, I was shocked because all the audience and the other musicians, Swedish musicians, came to me to say that my jazz was really similar to the way they think in jazz. So, they also suggested for me to start this adventure is Sweden and to try to create a connection between my style of composing and the style of composing jazz is Sweden. I think there are similar aspects in some ways, so I tried to link my melodic ideas of composition (I think it is an Italian thing) and the atmosphere in the Nordic countries. So, at this moment, I'm trying to kind of blend these two things.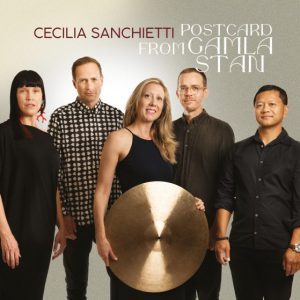 Cecilia's recent album 'Postcard From Gamla Stan' has been a huge critical success.
'There are an increasing number of women playing drums and Italy's Cecilia Sanchietti is among the best, also composing music and leading her band on Postcard From Gamla Stan…The music is crisp and engaging, modern jazz led from Sanchietti' s chair' O'S Place Jazz Magazine
Released in October, but due to the pandemic restrictions, live performances were restricted and in fact she has only recently held an album launch event at Fasching Jazz Club in Stockholm, which you can watch below.
To end, I asked Cecilia her current plans and if a new album was on the way soon…
My last album was recorded with a Swedish quintet in Gothenburg last summer and was released in October. We had the COVID period, so there were not many opportunities to perform but I have started to compose some other songs for a new album. I have a clear idea and I've just composed three songs and will be in Sweden to the end of July and I am reflecting on when we will record. It's strange, I have composed some songs in the past weekend, and you know com- posing is strange… sometimes you need a lot of time to compose and then sometimes it's just really there – wow!
Cecilia is an incredible artist who's work clearly demonstrates not only her artistry and expertise, but a true desire to not only support the jazz industry but to actively change it for the better.
To find out more about Cecilia please click here
To find out more and support the Jazz Mine Network please click here
This article was originally published in the Women in Jazz Media July 2022 magazine
Last modified: February 27, 2023