Born in Aachen, raised in Belgium and now living in the Eifel, one of Germany's most picturesque regions, drummer Olivier Chavet recently released his debut album as a leader titled 'Racines".
When speaking of the inspiration behind the nine original compositions contained on the album, Olivier stated that the music was "… born out of closeness to nature and moments of tranquility". This is no wonder, music and nature are two elements that have shaped Olivier Chavet both privately and professionally since his childhood. As both a musician and an agricultural economist, these two spheres of activity formed a common basis for Chavet that in his own words are connected like a web of roots.
As mentioned above, the albums title "Racines" (The French word for "roots") contains nine songs that according to Olivier "… desire for a simple life turned towards naturalness. The root as the anchor of all life embodies the cohesion we all need so much." and this is reflected in general pastoral character of this set. Soul is a common theme throughout the album and I'm not speaking here of the musical genre. When hearing the music on this album you can feel the passion of the players permeating every track. In the press release Chavet commented "I like anything with soul in it. Regardless of the style, music without soul is only partially digestible for me." With that said I can confidently say the this album will certainly not cause any indigestion.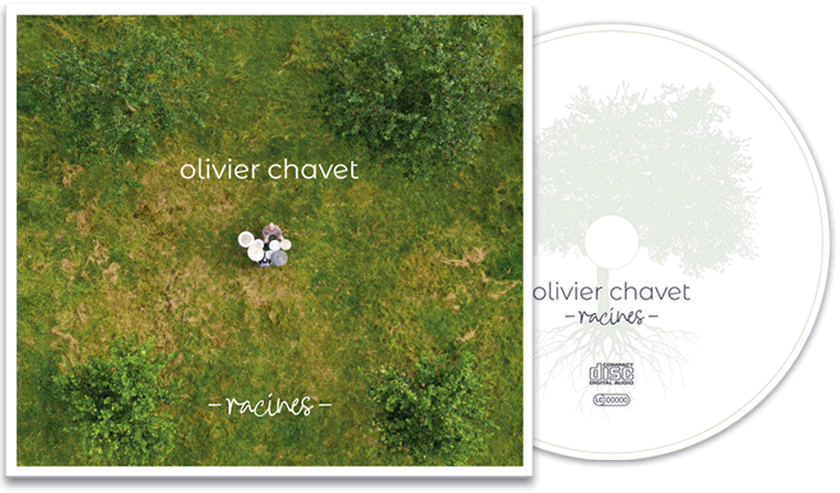 Joining Olivier on the recording is pianist Sebastian Scobel and bassist Werner Lauscher who together form the basis for the album. Three of the tracks see Heidi Bayer on flugelhorn join the trio and guitarist Daniel Chavet also appears as guest on a further three tracks.
The album opens with "Pas à pas". This track features a somewhat minimal theme performed by pianist Sebastian Scobel accompanied by a percussive undertow seeing bassist Werner Lauscher utilizing the percussive possibilities of the bass strumming chords and melding seamlessly with Chavet. I enjoyed the melodic and harmonic development here, a perfect opening for the album. The title track follows with Heidi Bayer joining on flugelhorn for this straight eight feel track. Once again the melodic content lies easy in the ear and develops superbly leading to a well developed solo contribution from Bayer.
The first track to feature guitarist Daniel Chavet is "Giorno" and is quite a departure in feel from the previous two tracks adding a sense of urgency to the set. Featuring the addition of keyboards and a well saturated guitar sound this track is the most "In your face" track on the album. Is it out of place? – Absolutely not. We return to the trio setting for "Travers" that returns to the pastoral feel of the albums opening. Scobel excels here with subtly as he develops the thematic material over the simple harmonic structure. simply beautiful.
The following track, simply titled "9", sees Heidi Bayer return. Once again couched as a straight eight ballad with a prominent tick on the two and four that somewhat acts as a ticking clock. This piece sees Bayer stretch out with a commanding solo contribution. In my mind this track is one of the many highlights contained within this recording. Also of note is the following track "Breeze" that again sees guitarist Daniel Chavet join the trio. Somewhat darker in feeling, the addition of Chavet on guitar adds an undoubtedly bluesy tinge.
Bayer's final contribution is the medium ballad "Lucie". I enjoyed the subtle double time feel in the rhythm section and how Bayer seamlessly moved from floating above the feel to going with it where appropriate. The penultimate track in the set see's the trio setting return for a rich ballad titled "Grown". I was mesmerized by Scobel's solo on this track, a wonderful build and not one note to many or to few. The set is closed out with the trio once again augmented with Daniel Chavet on guitar. I've always professed that the final track on an album should leave the listener with something to think about and this is the case with "Pur". While I wouldn't describe this piece as a summary it does tend to tie up some loose ends. I would have liked to have seen Heidi Bayer also join for this, however, that doesn't detract from the tracks impact.
All in all, this is a wonderful album, there's nothing really complex here and in my mind this is the power of this album. It's melodic, soulful yet multilayered for those who wish to dig deeper. Chavet together with Sebastian Scobel and Werner Lauscher combine to form a compact whole with nothing out of place and just the right amount of fire when needed. To return to pastoral theme, it all feels very organic, like it's just meant to be. The performances on the album a wonderful throughout as is the sound of the recording. Seeing this album was recorded at "Fattoria Musica", just on the outskirts of the German town of Osnabruck, this is no surprise. To be honest, I've not heard a bad sounding album coming from this studio.
I truly enjoyed this album from start to finish and to prove it I've added it in high rotation to my personal playlists. Highly recommended.
Track Listing:
1. Pas à pas 5:36 | 2. Racines 4:43 | 3. Giorno 4:16 | 4. Travers 4:03 | 5. 9 5:04 | 6. Breeze 5:28 | 7. Lucie 5:47 | 8. Grown 5:39 | 9. Pur 5:13
Line-Up:
Olivier Chavet, drums | Werner Lauscher, bass | Sebastian Scobel, piano | Heidi Bayer, flugelhorn | Daniel Chavet, guitar
Release Date: 21 April 2022
Format: CD | Digital
Label: MUDAC Productions


New Release Spotify Playlist
The Jazz In Europe New Release playlist features tracks from the new releases featured on Jazz In Europe. Updated weekly, this playlist is the perfect place to discover new music from the leading jazz musicians currently on the scene. We hope you enjoy this selection.
Last modified: October 11, 2022