Tony Ozuna recently posed the question in a recent review on this platform "Can a debut album still make or break an artist?". Well that's a difficult question to answer however if the answer is affirmative, then after the release of "Generation Anything", Franziska Loos should be headlining major festivals across the continent.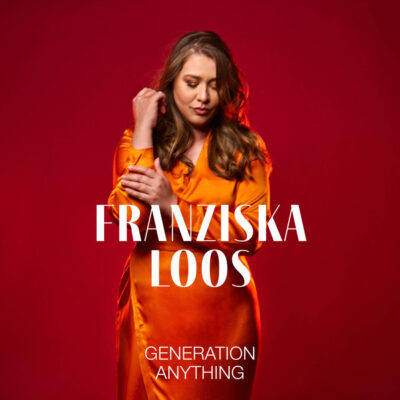 So who is Franziska Loos? That's a good question, prior to receiving a pre-release copy of her album, I had not heard of her and a quick google search didn't yield much either. The only information I had was the album, a press release and a short note from my editor saying "Jan, check this out – It's f***ing amazing." Now, while my editor and I don't always agree on things, on this I do agree, this album is brilliant.
The album presents eight original songs, all written by Loos with the arrangements collaboratively written by Loos and saxophonist Vincent Dombrowski. Lyrically the material is socially critical and confront the listener with a directness that is impossible to avoid. In the press release Franziska didn't shy away when asked about the subject material on the album. She stated, rather unapologetically, "… I know the lyrics are bit on the nose" and then went on to say "I mean, if you look at most of the standard repertoire it's all about love, birds, flowers and ladida, but that's not what I wanted to sing about, I did enough of that at school. I want to talk about things that are relevant today, I know it won't be everyone's cup of tea but it's me." That sense of self-assuredness is displayed throughout this set, not only from Loos herself but also from the musicians joining her for this manifesto.
The album opens with "Rush", a song that poses the question "Why should you rush at all when no one's waiting for you anyway?" This track is a strong opener and certainly sets the tone for what's to come from a musical perspective. With the track obviously being a comment on Generation Y, or more commonly known as the Millennials, I enjoyed her tongue in cheek use of the Millennial Whoop in the vocal theme, it's very subtle, but a good dig that will probably go over the head of most.
Over the years Jazz has had a long tradition of social comment, however, often this is done in a subtle and/or cryptic manner. The following track "Sad Excuse" is anything but cryptic. Based around a repeating base motive providing a sense of foreboding, Franziska leaves little doubt as to who the target of her condemnation is. With the final vocal chorus stating "You are two olives short of a martini. So you just grab´em by the pussy." Loos makes it very clear the "Sad Excuse" referred to in the piece is one Donald Trump.
In the press release I received with the album, Franziska described the following track, "Wondering", as "Rage against the Machine meets Brass Band", well, the Rage is well represented, the combination of Loos' pointed lyrics and Vincent Dombrowski's alto solo alone take care of this. From a lyrical perspective, this song obviously deals with a toxic relationship and Loos leaves no ambiguity as to where she stands, "I bought the t-shirt, I don't wear it anymore."
Wondering segues directly to "This Time", a track that reduces the tension a little with it's hybrid latin feel. The placement of the song here in the running order makes sense as from a lyrical perspective as one could almost see this track as a continuation of the previous. Of note here, is Jens Buschenlange's trumpet solo and, in particular, Franziska's rhythmic control over the melody.
The following track "In The End" is one of the most interesting from an arrangement perspective and shows how to make a small band sound like a big band without overdubs. With its odd meter feel and the opening staccato vocal hits that form an extra layer within the horn voicing, this piece moves through a number of phases, all musically interesting however it's Franziska's vocal performance that nails this track using the full capabilities of her extensive vocal range.
The title track "Generation Anything" follows and speaking of vocal performances, this track is a vocal tour de force. Having reviewed more vocal albums that one would care to admit, I always find it a pleasure to find a vocalist that has developed her own voice. Franziska has all the vocal technique you could wish for and uses this in a highly creative way. I could not find a single vocal cliché (except for the tongue in cheek use of the Millennial Whoop in the opening track). Combine all this vocal ability with her poetic approach to lyrics and highly intuitive compositional abilities and you have an artist the can't be denied attention.
Closing out this set is a track titled "Insecure High Achiever" that takes a look at today's obsession of climbing the corporate ladder. I know I've said this before but I believe an albums final track should leave the listener with something to think about. This is the case here, Great song, great message but the final note sung by Loos, stated with me for quite some time.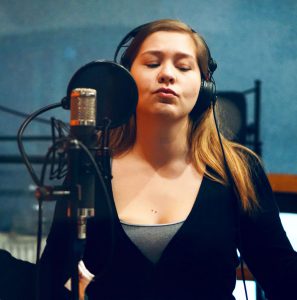 I mentioned earlier that my editor described "Generation Anything" as " f***ing amazing" and I have to agree. There's no doubt the Franziska Loos is one highly talented vocalist and I'm sure, given the opportunity she could become a major player on the scene but there is more than just the great vocal performances to this album. While this is undoubtedly a jazz CD, it's one of those rare beasts that could land well in a number if genres without any compromise. The arrangements that were written in collaboration with Vincent Dombrowski are right on the mark, leaving space where needed but "in your face" when necessary. The band of musicians that Franziska put together for the recording are top-shelf and you can hear this throughout the performances. I enjoyed the choice of vibraphone in place of piano, It adds a little more harmonic space in the mix. Holding everything together in the rhythm section is Calvin Lennig on bass and drummer Lukas Schwegmann. Throughout the recording these two are rock solid and not afraid to step out of their lane when given the chance.
However, it's Franziska Loos that is the star of this show, her timing is exceptional, her vocal range is extensive and her intonation is as sharp as a tack and always on point. While listening to the album I couldn't stop imagining what kind of impact this would make if the band were giving the space to play the main stage at a major festival. I can only imagine that the crowd would go wild. So coming back to the question that Tony Ozuna posed "Can a debut album still make or break an artist?" well, in this case I hope so, the jazz world would have missed opportunity if this one get's away.
This is not an album to put on in the background, this recording commands your attention. Franziska has a rather non subtle way to "poke the bear" and for those willing to dig into the lyrics, be prepared – she's could possibly be speaking about you.
This album is a must hear recording and for those festival promotors reading this review, please do us all a favor and program this band.
Track Listing:
1 Rush | 2 Sad Excuse | 3 Wondering | 4 This Time | 5 In The End | 6 Generation Anything | 7 Introducing | 8 Insecure High Achiever
Line-Up:
Franziska Loos – Vocals | Christopher Olesch – Vibraphone | Calvin Lennig – Bass | Lukas Schwegmann – Drums | Vincent Dombrowski – Alto Saxophone, Flute | Jens Buschenlange – Trumpet | Ruven Weithoener – Trumpet | Ken Dombrowski – Trombone | Yannick Glettenberg – Baritone Saxophone, Bass Clarinet
Release Date: 16 September 2022
Format: CD | Digital
Label: Mons Records


New Release Spotify Playlist
The Jazz In Europe New Release playlist features tracks from the new releases featured on Jazz In Europe. Updated weekly, this playlist is the perfect place to discover new music from the leading jazz musicians currently on the scene. We hope you enjoy this selection.
Last modified: September 10, 2023