Recorded in August 2021 at Kleine Audiowelt studio, Sandhausen, Germany, "Out Into New" is the latest offering, released through Mons Records, from drummer Dirk Schilgen who leads his own quartet for a fourth time.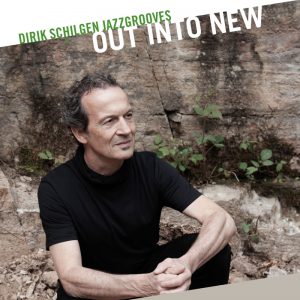 This time around though he retains the services of Matthias TC Debus on bass but adds two new musicians in Thomas Langer on guitar and Gary Fuhrmann on saxophone. Dirik explained "After the release of "On The Move" in 2015 and the tour that followed, I felt it was time for a change. In late 2016 I played at the 'Jazz Night' in Rodgau and it was here that I first met guitarist Thomas Langer. During that gig we also played a number of my own compositions and it felt very comfortable. It was through this experience that the idea to put together a quartet with guitar, bass and sax was born." The result is a whole new more spacious soundscape.
The concept behind this seminal work arises from the tragic loss of Dirik's brother Achim and also his great friend and musical colleague, Christoph Mudrich in early 2020. The fragility of life became very apparent along with what happens as ones life comes to an end.
The seven tracks are all original compositions, written by Schilgen, specifically for this recording. Track one, "Corowood" opens with the sound of a jogger pounding along, representing Schilgen's exercise during lockdown, soon joined by deep double bass notes from Debus and a funky guitar provided by Langer; then Fuhrmann's saxophone strides in and gradually Schilgen's drums meld and the tutti is complete. The athlete rejoins briefly, signifying a slight increase in pace and then the sax and guitar vie for the front with the rock sound of the latter giving way to the sax once more and a fade out as the athlete departs.
Contrasting bass and shimmering cymbals herald the ethereal second offering, "The Beauty Of The Abyss", before Langer's rich toned guitar warms you up like thermal layers protecting you; beautiful sax harmonies infiltrate, bringing your feet to life and introducing guitar melodies that set your head nodding appreciatively. A drum solo from Schilgen leads to strong sax playing and backing vocals from Langer's strings once more. Close your eyes and imagine you're looking down from the top of a mountain, seeing life playing out below.
"All Around And Everywhere" fills the third slot and is a nicely rhythmic and mildly funky straight up jazz track. This features Langer's dexterous fingers bringing the fret to life once more, joined by the rich and melodious blowing of Fuhrmann's horn and another great solo from Schilgen that brings his drumming skills to the fore.
The next song, "Where You're Going", is linked to the title track, which sits as the ending of the album. Both this and "Out Into New" are framed as Bossa Novas with this fourth having a classic 1960's vibe, featuring Langer, this time with an acoustic guitar, providing a different tone whilst the sax takes on a more up tempo melody.
"Know What You Mean" introduces a funky groove with a strong bass solo from Debus and beautiful melodies from the other instruments that lends a mild Latin feel to this fifth track. However, the penultimate composition is very different: its very title, "Deep Winter", you might expect a nature inspired piece with a mysterious feel, and that's what you get; the deep, edgy guitar certainly imbues a dark atmosphere, lending an infectious bluesy feel with thematic sax passages too – just stunning, a treat for your ears.
It's worth mentioning the final track, "Out Into New", again as it wraps up this eclectic collection so well, bringing the listener out of the darkness and into a hopeful future; as Dirik says, "Wherever we may land, let's try to make the best out of it." This track was purposely placed at the close of the album to make a poignant statement that rounds out this most enjoyable collection.
This album is dedicated to Achim Schilgen and Christoph Mudric.
Line-Up:
Dirik Schilgen – Drums, Percussion | Thomas Langer – Guitar | Gary Fuhrmann – Saxophone | Matthias TC Debus – Bass
Track Listing:
1. Corowood | 2. The Beauty Of The Abyss | 3. All Around And Everywhere | 4. Where You're Going | 5. Know What You Mean? | 6. Deep Winter Woods | 7. Out Into New
Release Date: 30 September 2022
Format: CD | Digital
Label: Mons Records


New Release Spotify Playlist
The Jazz In Europe New Release playlist features tracks from the new releases featured on Jazz In Europe. Updated weekly, this playlist is the perfect place to discover new music from the leading jazz musicians currently on the scene. We hope you enjoy this selection.
Last modified: October 4, 2022