Bowled over by irrepressible trombonist-improvisor Alex Paxton's debut album Music For Bosch People last year, it was a no-brainer to want to hear his new release ilolli-pop that is due out on 6th October on Nonclassical label.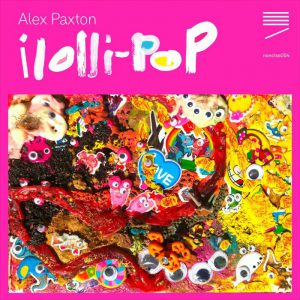 Paxton has become something of a go-to composer for adventurous modern classical, improvising and experimental groups and this new album is mostly a collection of his most recent commissions. The first five tunes, lolli-pop 1 to 5 were commissioned by German group Ensemble Modern, Sometimes Voices by Swiss experimentalists HYPER DUO and Corn-crack Dreams by Scottish Nevis Ensemble. Penultimate track Mouth Song, Take 1 is an improvised trombone solo by Paxton, while ninth and final track is a short reprise of Sometime Voices. Thus, a mixed electro-acoustic bag, the constants being Paxton's carnivalesque exuberance, sense of almost childlike joy and his detailed and maximalist compositional style that nevertheless includes space for improvisation.
1lolli-pop to 5lolli-pop are performed by Paxton and his Dream Musics Ensemble. Flowing one tune into the next, the sound is classic Paxton so includes party balloon-like trombone strangled squeaks, snatches of toy piano, a waterfall of electronic keys following a few bars of lush orchestration and humerous vocalisations and injunctions to the orchestra ("Fantastic, can we all make that noise now please?"). This listener found herself picturing sugar-high toddlers on a speeded-up merry-go-round, tossing jelly tots to dancing revellers.
The pace thankfully slows in numbers 4 and 5, with bubble-like vocalisations, electronic gurgling over atmospheric orchestral noodling, the lyrical trombone quickly disintegrating through some Soft Machine to electronic distortion then blissful silence.
The next track, Sometimes Voices is again performed by the Dream Musics Ensemble, this time with James Larter on drum kit and Paxton on keyboards. Again, an anarchic fairground vibe predominates, some lovely deep tones at two minutes give way to what sounds like a squeaky toy, then electronic whistles and male voices sound like they are going down a helter-skelter. Attractive acoustic drumming just before the 4-minute mark precede a section that reminded this listener strongly of Lukas Ligeti's entrancing Entering: Perceiving Masks; Exiting: Perceiving Faces before things all got a bit Dante's Inferno with tuneful moaning with electronic accompaniment. At nearly nine and a half minutes long this jam-packed and highly colourful piece was a fitting winner of the Chamber Music category in the 2021 Ivor Novello British Composer Award.
Short seventh track Corn-Crack Dreams, the name presumably an interesting take on 'corncrake', the shy bird with a distinctive call like a Mexican matraca toy. This time Paxton takes to a sackbut, a precursor to the trombone, while drum kit duties are performed by Dominykas Snarskis, some nasal male voice adding texture towards the end.
Penultimate Mouth Song, Take 1 is an extended trombone solo improvisation which sounds like an slightly over-long, indistinct speech. Compared to the other tracks, there is less going on for the listener, although perhaps more happening for the soloist.
Final, brief Sometime Voices (Mini) with its eccentric male voice warbling-screaming and squeaky toy sounds is a delightful out-there finale to a clever, rambunctious and hugely playful second album.


New Release Spotify Playlist
The Jazz In Europe New Release playlist features tracks from the new releases featured on Jazz In Europe. Updated weekly, this playlist is the perfect place to discover new music from the leading jazz musicians currently on the scene. We hope you enjoy this selection.
Last modified: October 4, 2022