Having explored the world of larger ensemble writing and performance with the acclaimed Anat Cohen Tentet, with her latest offering "Quartetinho", released last week on her own label, Anzic Records, Cohen now shifts her focus to a smaller, more intimate group sound.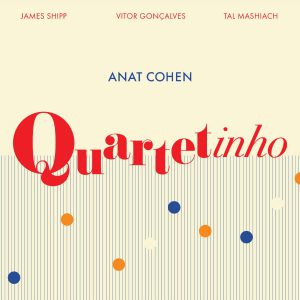 The group's New York-based players, all drawn from the ranks of the Tentet, hail from different corners of the globe: Cohen and bassist Tal Mashiach from Israel, pianist/accordionist Vitor Gonçalves from Rio de Janeiro, and vibraphonist/percussionist James Shipp from the United States. What they share is a deep love for music in all its heterogeneity. It's all amply documented on Quartetinho, which includes originals by Cohen, Mashiach and Shipp along with material by the great masters Antonio Carlos Jobim, Egberto Gismonti and more.
The first Quartetinho live gig took place on March 7, 2020 at the Miller Theatre of Columbia University; on March 8 the Miller shut down, quickly followed by much of the US and the world. "A year and a half later we finally got into the studio to record," Cohen says. "It took a minute, but this is just a beginning. I always encourage the band members to write. My next idea is to go somewhere and spend two weeks writing music together for our next project, bringing all our influences to bear in a non-genre-specific way. Our mix of influences and the enthusiasm and will to collaborate and rehearse is not so often found. It's exciting to find people who really want to get together and play. No matter what we're working on we always come up with ideas, try things, and we're all multi-instrumentalists so there's always a lot of choices we get to make. This kind of 'writing camp' would be a great experience and something I haven't done before."
The music presented on Quartetinho is melodic and lyrical, with a wide array of timbres and subtle details of orchestration. In most cases all four players created the arrangements collaboratively as a group, each bringing their respective gifts on multiple instruments. Cohen plays clarinet and also layers bass clarinet lines and doubles melodies, lending a rich and earthy low-register tone to the mix. Gonçalves, on acoustic piano as well as Rhodes, is equally fluent on accordion for Mashiach's melancholy "The Old Guitar" and Cohen's soulful bass clarinet-centered arrangement of "Going Home," an excerpt from Dvorák's New World Symphony that has become a folk song in its own right. Mashiach steps away from bass to play acoustic guitar on his introspective closing piece "Vivi & Zaco" (with touches of Gonçalves' accordion as well). And Shipp, whose "Baroquen Spirit" opens the album in a rubato chamber-like vein with glimmers of fleeting dissonance, contributes varied percussion as well as harmonically expansive vibraphone.
Cohen's originals run the gamut from the dark Rhodes-infused 6/4 of "Birdie" to the joyous second-line blues of "Louisiana". During the recording session videographer Dana Hertz captured a take of 'Louisiana'. The end cut is shown here above. The group collaborated on arrangements of Jobim's "O Boto" and two by Gismonti, the blazingly fast showstopper "Frevo" and the soaring "Palhaço," with vibrant solos from Cohen, Gonçalves on piano and Shipp on vibes. Shipp brought in a delightfully unusual item, "Boa Tarde Povo," which he first heard performed by the singer Maria do Carmo Barbosa de Melo and associates on a compilation called Música Do Brasil. The funky rhythm, according to Shipp, bears a resemblance to baião beats common to the forró and cocó genres, although the specific pattern is elusive, suggestive of a style with many variations between Bahia and Pernambuco.
Quartetinho is the latest in a series of Brazilian music outings that have come to constitute a major element in Cohen's body of work. She has made two duo albums with seven-string guitarist Marcello Gonçalves (no relation to Vitor), Outra Coisa: The Music of Moacir Santos (2017) and Reconvexo (2021). She also joined Trio Brasileiro (percussionist Alexandre Lora, guitarist Douglas Lora, mandolinist Dudu Maia) on the 2017 Anzic release Rosa Dos Ventos. These projects were recorded in Rio de Janeiro and Brasilia and received GRAMMY nominations for Best World Music Album (Outra Coisa) and Best Latin Jazz Album (Rosa Dos Ventos). Cohen has also worked in the Choro Ensemble, Duduka Da Fonseca's Samba Jazz Quintet and Cyro Batista's Beat the Donkey.
Note, Anat Cohen and Quartetinho will be performing at the Red Sea Jazz Festival in Eilat (Israel) on the 10th of November.
Track Listing:
1. Baroquen Spirit 3:56 | 2. Palhaço 8:21 | 3. Boa Tarde Povo 4:57 | 4. Birdie 6:39 | 5. Canon 3:05 | 6. O Boto 6:24 | 7. The Old Guitar 4:33 | 8. Frevo 4:16 | 9. Louisiana 3:29 | 10. Going Home 6:50 | 11. Vivi & Zaco 4:22
Line-Up:
Anat Cohen: Clarinet, Bass Clarinet | Vitor Gonçalves: Piano, Accordion, Fender Rhodes | Tal Mashiach: Bass, Guitar | James Shipp: Vibraphone, Percussion, Glockenspiel, Analog Synthesizer
Release Date: 7 October 2022
Format: CD | Digital
Label: Anzic Records


New Release Spotify Playlist
The Jazz In Europe New Release playlist features tracks from the new releases featured on Jazz In Europe. Updated weekly, this playlist is the perfect place to discover new music from the leading jazz musicians currently on the scene. We hope you enjoy this selection.
Last modified: October 25, 2022