It's often been said the great musicians are often ahead of their time and this could be quite apt when speaking about Saxophonist/composer Marius Neset.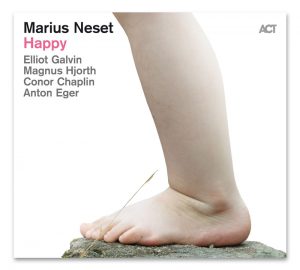 There's little doubt that Neset is one of the most critically and professionally acclaimed musicians on the European jazz scene and never one to be limited by genre, recent concerto-type works written for the London Sinfonietta and the Bergen Philharmonic have redefined the saxophones role as a solo or group-leading instrument with orchestra. Building on this, last week Neset made his debut on the main stage of the Royal Albert Hall, as soloist on 3 September 2022 with an ambitious new work. 'Geyser', one of the main festival commissions of its current season from the prestigious BBC Proms.
So, that said What might it take to translate this respect he has gained among other musicians and from promoters into wider popular acclaim. Well according to German label ACT records, it may be his soon to be released album titled "Happy" where he draws for the first time on the pop, soul and funk of the 70s and 80s: "There is a 'message' in the title of this album," says Neset. "It's very simple, but also a very strong one. We had a great time recording the album. A week in the studio, day and night, everyone was loving it. And that long process of making it has essentially been whittled down…into the happiest moments we had." Neset admits that his compositions in the past have often been influenced by the darker side of world events. In view of the many current crises, however, this time he decided to go for the opposite: this is genuinely happy music, which nevertheless doesn't either deny or abandon anything of Neset's own musical DNA.
When speaking of the music Neset explained "Some pieces are rhythmically very experimental, although they are explicitly inspired by the simplicity and authenticity of soul. The use of keyboards and synth sounds was also new to me. It almost takes me back to 'Golden Explosion', my debut album."
Just as there are new sounds in "Happy", Neset has also enlisted new band-members. Following on from a period in which his attentions have been drawn by writing works for large ensemble, and also his most recent album – for solo saxophone – he returns to the small-group setting, but with only one constant from his most recent quintet, and that is Anton Eger. The Swedish drummer has the capacity to be in synch with Neset's explosive rhythmic ideas like nobody else. Pianist Magnus Hjorth, also from Sweden, is an acquaintance from Neset's early career, and makes a return here. Back in 2005, he was the original pianist in the trio Phronesis, from which Neset over time was to recruit other band members.
There are also completely new British components in Neset's quintet: "I wanted an electric bass player and a keyboard player for the project. I had already met Conor Chaplin at some gigs, and started to imagine his bass sound as I was composing, he is a very fresh and inspiring presence for me. I had, of course, heard a lot of good things about Elliot Galvin. I thought his keyboard playing would be a perfect fit in the quintet, his style being so unconventional. As luck would have it, he agreed with me. Very crucial for the album is the balance that Magnus on the piano and Elliot on the keyboard found for their completely different musical identities. They had an instant chemistry and I'm still blown away by the way their opposite musical natures seem to complement each other."
Neset has also been particularly focused on the bigger structures, the narrative arcs of this album. Therefore, after the groove-infused introduction and a brief excursion to Africa, the album takes off onto new paths and finds its way into the unknown. One particularly inspired flick of the switch is "The Unknown". Here, Neset says, an over-arching influence has been György Ligeti. We might think of Marius Neset as adventurous, elemental and yet with the wish to express melancholy. Here we find him in several new guises: he can also by turn be "classical" or gentle or cheerful. The sheer delight of this new album is bound to win him new fans.
The album will be released by ACT records on the 28th of October 2022 and will be available on CD, LP and of course all digital platforms.
Track Listing:
1. Happy | 02 Wildlife | 3. Good Night | 4. The Unknown | 5. A Hand to Hold | 6. Kingdom | 7. Hearts | 8. Island | 9. Diamon ds 5:03
Line-Up:
Marius Neset, tenor and soprano saxophones | Elliot Galvin, keyboards | Magnus Hjorth, piano | Conor Chaplin, electric bass | Anton Eger, drums & percussion
Release date: 28. October 2022
Format: CD | LP | Digital
Label: ACT Records


New Release Spotify Playlist
The Jazz In Europe New Release playlist features tracks from the new releases featured on Jazz In Europe. Updated weekly, this playlist is the perfect place to discover new music from the leading jazz musicians currently on the scene. We hope you enjoy this selection.
Last modified: September 21, 2022