In the coming weeks the 20th edition of the "Jazz ao Centro festival", held in seven locations in the city of Coimbra, Portugal, will among others Nicole Mitchell, Peter Brötzmann, Alabaster dePlume and Ambrose Akinmusire.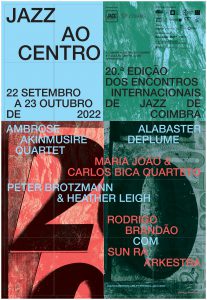 The inaugural concert of the Festival Jazz ao Centro – Encontros Internacionais de Jazz de Coimbra took place on January 18th, 2003, at a time when Coimbra was getting ready to launch the program that celebrated the city as the National Capital of Culture. Regardless of the many formats the festival has known for the last 19 years, there is a set of characteristics that have remained unchanged and among which it is worth highlighting the privileged place given to creation and the unorthodox vision that allows opening space for very diverse artistic approaches, from the most indebted to tradition to those who challenge the boundaries of the genre. Over the years more than 20 albums available in the catalogue of labels such as Clean Feed, Cipsela and JACC Record where recorded during artistic residencies at the festival
The festival opened yesterday with a concert by a group led by Brazilian spoken word artist Rodrigo Brandão that invited, for this occasion, members of the Sun Ra Arkestra where the 98 years old Marshall Allen obviously stands out. They were joined on stage by well knowed musicians from the vibrant Portuguese improvised music scene, such as Rodrigo Amado and Hernâni Faustino.
British musician Alabaster dePlume (September 24th), who released his latest album this year by the prestigious Chicago International Anthem label, American flutist Nicole Mitchell (October 5th) and trumpeter Ambrose Akinmusire (October 22nd), linked to American jazz label Blue Note since 2010, are other international names present in this year's program.
The festival will also host concerts by Peter Brötzmann, a leading figure in European Jazz history. It will be possible to catch him in a solo performance and in a duo setting with Heather Leigh.
Portuguese legends Maria João and Carlos Bica will present their newest album at Convento São Francisco, on October 21st and two days after the same venue will receive the widely appreciated pianist and composer Mário Laginha which will be accompanied by Filarmónica União Taveirense symphonic band.
More Information and be found at the festivals website.
Last modified: September 23, 2022