Recently Austrian based sax player and composer Tobias Hoffmann released his latest album titled "Conspiracy" featuring his new Big Band, the Tobias Hofmann jazz orchestra. In Paul Beard's review of the album published recently here on Jazz In Europe he opened with "What happens when your ambitious musical plans outstrip the line-up of the band that you put together for the first album? Recruit a new selection of musicians and create a Big Band of course!" and this is exactly what he did, no mean feat when this also takes place during a global pandemic.
I first learned about Tobias in 2019 through his previous release "Retrospective" that he recorded with his Nonet. Now, close to three years later, and with a new album out, I thought it was a good idea to catch up with Tobias to find out more about this and the other projects he's currently working on.
Andrew Read: Hi Tobias, thanks for taking the time for this. Let's start at the start. How did you first get into music and in particular what sparked your love of jazz?
Tobias Hoffmann: You are very welcome! Thank you for the great opportunity! I started playing the recorder in elementary school and then switched to the saxophone after 2 or 3 years. I had weekly lessons at the local music school, but at the time I was more into sports and wasn't too interested in the instrument or the music at all to be honest. That changed when I joined the jazz band at the local music school. The teacher who led the band gave me recordings to listen to, and I got to know other musicians. This combination sparked my love for jazz music and playing the saxophone. Also, at the high school I attended, we had a great big band. So I was always playing in larger ensembles and was fascinated by the sound of large jazz ensembles very early in my musical education.
AR: I'd be interested in knowing what what recordings he gave you?
TH: Oh, there were so many, Kind of Blue of course, I remember a Thelonious Monk collection, Herbie Hancock, pretty much the classics. I gave me a really good idea of what jazz is. I'd been listening to a lot of big band jazz but when I first heard those Monk recordings, I thought what the hell is this, it was strange but at the same time fascinating.
AR: You said that back then you weren't interested in music. What changed?
TH: Yeah that's right, of course I went to my weekly lessons and to be honest that was probably the only time in the week that I held the saxophone! Anyway, I remember my parents gave me a book on John Coltrane for Christmas one year and I actually read it. I didn't really know at the time how important he was but I really enjoyed the story. So at some time I got to hear a recording of his, I can't remember what one it was but it really had a huge impact on me at the time, I thought wow, this is jazz, and I started to get interested. Also, It was also around that time that I had a new teacher that was really into jazz and he had a really great way of inspiring his students and pointing out your limits but in a really positive way.
AR: When was it that you decided that music was what you wanted to do professionally.
TH: Well that came a bit later. After high school I started to play in bands and really work on it but I didn't really think I had what it takes to be a professional jazz player so I choose to study to become a classroom music teacher at the university in Hamburg. I remember I had to study a lot of theory and things like choir conducting and to be honest, as much as I'm now into it at the time I really hated it. I remember one of my teachers said to me, I know you really don't want to be doing this, and this was a bit of a wake-up call and that's when I decided to focus on being a saxophone player.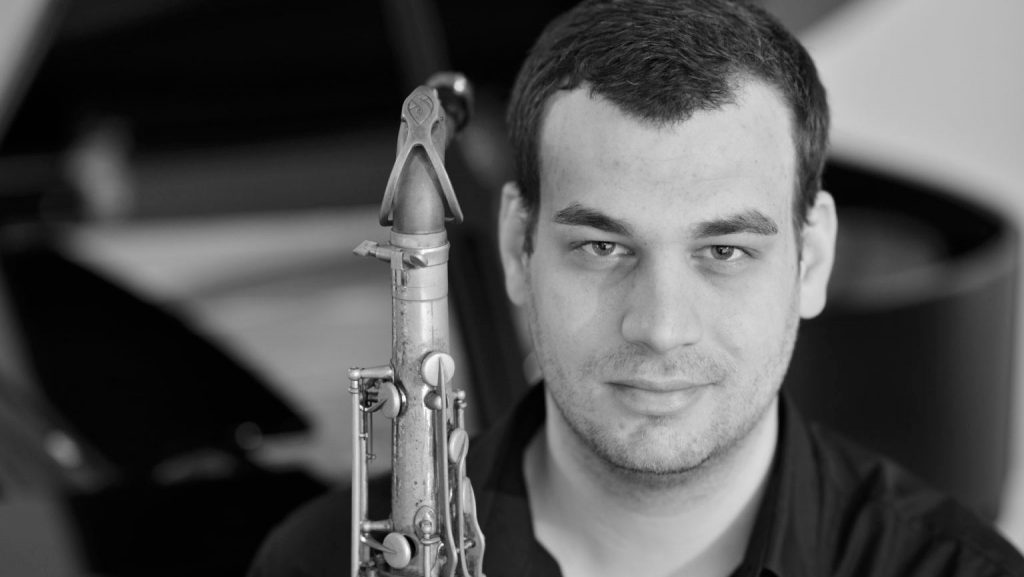 AR: OK, so let's move on. You have done a lot both as a sax player and as a composer/arranger. Do you see yourself more as a horn player that writes or a composer that plays? Or is there no difference for you?
TB: That's a difficult question to answer. My overriding goal is to make no distinction at all, because ever since I became a musician, two hearts have been beating in my chest: that of the saxophonist on the one hand, and that of the composer and arranger on the other. I want to be a musician who can write, arrange and play the instrument to express himself in every possible way.
When I was studying in Austria I spent a lot of time speaking to one of my teachers Andy Middleton about how to integrate your voice as an arranger/composer and player. There aren't that many people that have really done that, I think Bob Mintzer is a great example of that. I was really interested in how to do that, I'm still working on it.
I saw Michael Abene once in a duo setting at Porgy and Bess, and of course I new him well from all the things he's done with the WDR Big Band. He was playing piano and after a few chords you could tell this was Michael. He really has integrated it all, it doesn't matter what setting he's playing in or writing for he still has his own voice and I find that so inspiring.
But foe me it also varies from period to period. Right now I'm in a period where I'm more focused on composing and arranging. But that can change again very quickly and I'm looking forward to the upcoming concerts with the projects I'm involved in. But my main goal is to develop my own voice in whatever I do.
AR; So, can tell me about some of these projects you have coming up?
TH: Yeah sure, one of them is a bigband project with the "Jazz Bigband Graz" with Horst-Michael Schaffer, where I'm playing sax, clarinet and bass clarinet. It's one of the premiere bigbands here in Austria and do a lot of experimenting with rap and electronics and we've just recorded a new album and we're going to doing some gig's with that in October. I'm also in the process of putting a new band together that will be called the "Triple H Society " with Viola Hammer, a great pianist here in Austria and trumpet player Jakob Helling who's also now living in Austria. There not only great players but also fantastic composers and we'll be premiering this in November.
AR: So what will that be, a quintet or quartet?
TH: No, actually it's going to be a tentet!
AR: It seems like most of your projects tend to focus on larger ensembles. What drew you to focus on this area of the genre?
TH: Yes, it seems that way, as I mentioned earlier, playing in big bands was an important part of my musical education, and I still enjoy doing it very much. So I was exposed to the different sounds and possibilities that come with such a large ensemble from early on. When I first started composing and arranging, I wrote more tunes and compositions for smaller groups. But I quickly realized that the material I was working on and the sound I was trying to create was that of a larger ensemble.
When I write music for larger ensembles, I feel that I really have a chance to influence and shape the sound of the music, more so than when I only play the saxophone or only have 4 or 5 instruments at my disposal. Of course, this is very subjective, but for me it is an essential part of my work as a musician.
AR: You mentioned Michael Abene before. In the liner notes for your latest album I read a really nice piece he wrote about your work. It's obvious that Michael appreciates your work. How did you meet Michael and what impact did he have on your style of arranging?
TH: Well as I said, I met Michael Abene in the summer of 2016 at the Viennese jazz club "Porgy & Bess", where he played a duo concert with the saxophonist and flutist Heinrich von Kalnein. I was living in Vienna at the time and knew that he was teaching at the University of Music and Performing Arts in Graz. So I went to see him after the concert, introduced myself and asked him for lessons. He gave me his email address and asked me to contact him, which I did, and we agreed to meet. That led to several meetings and lessons where I learned really a lot from him. Michael influenced me a lot in different ways. He made me aware of many musical things that I hadn't paid enough attention to. For example, the importance of having some variety in my compositions, and he was very good at pointing out when I started to repeat myself or develop "my own clichés". In addition, Michael was always very honest with me and motivating. He always told me what he thought and where he saw weaknesses, but he never put me down. I am really grateful that I was able to spend so much time with him!
AR: Before we speak about the new album, I want to touch on your previous release "Retrospective" featuring your Nonet. Can you tell me a little about the release and how it came about?
TH: The idea for this band came to me during my studies in Vienna. I was writing my thesis in composition, and the topic I had chosen was the analysis of two compositions by the New York trombonist Alan Ferber, who also has a nonet and whose work I admire very much. Then I tried to write a composition based on this analysis, loosely in the style of Alan Ferber. This was the beginning of the compositional process for "Retrospective". Of course there are musically also different influences, but it all started with that research. Once I had enough material for a recording session, I put together a band of musicians who I believed could interpret this music at the highest possible level, and we rehearsed and recorded the music. In the end, we were lucky because we were awarded first prize in the band category of the 2019 Made in New York Jazz Competition, which was international and held online, by judges Mike Stern, Randy Brecker and Lenny White.
AR: Do you see "Retrospective" as a precursor to the latest album and if so why?
TH: In a way, yes, because I think everything you do as a musician is based on what you've done in the past. And I think the new album might have been different if I hadn't recorded "Retrospective." On the other hand, the instrumentation of both groups are very different, and I also wrote different for the jazz orchestra than for the nonet. In my point of view, the nonet is more of a jazz chamber music instrumentation, while the jazz orchestra is more like the symphony orchestra of the jazz music. This difference is enormous and naturally leads to different musical choices.
AR: Let's speak about the new album. It seems to me a fairly drastic step to put together your own Big Band, especially during a pandemic! Can you explain your motivation for this?
TH: When COVID came into the world and we had the first lockdown, I decided to use that time as productively as possible and get more involved with writing music and especially writing music for jazz orchestra. But after a while, I started to wonder what I was writing this music for. I think it is very important for the development as a composer to play and/or record your music to get a certain kind of feedback. Either of the players or the audience.
So I decided to record the music and put together my own band. In a way, it was a pretty drastic step, but on the other hand, the pandemic also had positive aspects. Since there wasn't as much going on, a lot of musicians had a lot of time on their hands and were eager to play and collaborate with other people. I could really feel that energy when we got together to rehearse and record.
AR: Ed Partyka wrote in the albums liner notes "Historically speaking, jazz music was often divided by bands having either a tight ensemble or creative soloists. We have now reached the enviable situation that you can have both, which Tobias Hoffmann's Jazz Orchestra demonstrates admirably." Can you tell us about how you went about putting the band together? Also did you write the music for the players or did you select the players to fit the music?
TH: The band consists of musicians I know from other projects or with whom I played in different bands. I also studied with some of the musicians and some musicians I didn't even know in person but they were recommended to me for this band. But what I really focused on is that they are all experienced players and can handle the situation of rehearsing and recording a lot of challenging music that has never been played before in a short period of time and bringing it to the highest possible musical level. And as Ed says, we are now in the luxurious situation of finding both extremely capable ensemble players who are also great soloists.
When I compose music, I think a lot about what instrument might fit into the piece as a soloist and contribute to the overall sound of the composition. I think I am thinking more about that aspect than the particular players. Sometimes it's also interesting for me to give the same piece to different players and see what they come up with, and sometimes I'm surprised by solos and interpretations that I never would have imagined. So for me it's also a good aspect to write the music not just for certain players. But of course, it also means you have to work with musicians who can handle all kinds of musical challenges. I feel really honored to be able to work with musicians of this caliber.
AR: Can you tell me a little about the artistic vision behind the material we hear on the album?
TH: I'm not sure if there is a certain artistic vision behind all the material. Some compositions have a more rigorous compositional approach, such as "Relentless." This composition is based on a twelve-tone row exercise, and it has been an interesting process as a composer to learn how long to stick to self-imposed rules and restrictions and when to break free from them and follow your inner voice. Other compositions, such as "Awakening," are more influenced by the style of other composers and arrangers. In this particular case, the composition is heavily influenced by Bob Brookmeyer.
In general, I try to write music that challenges both the listener and the musicians. But at the same time, I want the music, with all its intricate sections, intriguing melodies, and sometimes abstract harmonies, to remain accessible in some way, at least to people who enjoy listening to this kind of music.
AR: We've all seen what has been happening in the world as far as crazy conspiracy theories go. Can you tell me a little about why you choose this title?
TH: I wrote this composition while reading and learning about various conspiracy theories from the past and of current ones. I realized how dangerous those can be, not only for the people who believe in them, but for our society as well. In general I am a person who is interested in politics and sociology. And I am thinking quite often about the state of society and where we are going and what is right and wrong. Of course all this is highly subjective and sometimes impossible to judge. Besides that, I like the word itself and the energy I can relate with it. It somehow touched me and I decided to title the composition that way. When putting the program for the CD together, I realized that the song would make a good title track and so I decided that the CD will be called like that as well.
AR: Personally I found one of the most interesting pieces on the album is "Imposter Syndrome". I think this physiological state is something common for many musicians, can you tell us some background information about this piece?
TH: It was around 2018/19 when I read an article about the "impostor syndrome." The term describes a psychological pattern where people doubt their abilities, talents, or accomplishments and are afraid of being exposed as impostors. I can relate to this feeling very well and it drives me crazy sometimes. That's why I tried to write a very energetic composition that captures my energy and mood when thinking about this topic. But as hard as it is sometimes, for me personally, there is also some of the magic and beauty of music in it. Writing and playing music challenges me on so many levels every day. To face that challenge, to regularly start with a blank sheet of paper or to develop an idea from scratch, is something quite fascinating to me. So I try to ignore the other feelings as much as I can and focus on the task at hand: Making music and trying to improve as a musician!
AR: Do you have plans to perform this music live with the band or was this largely a studio only project?
TH: So far it is a studio only project. I hope that we will be able to play and perform the music live at a certain moment. But I can't announce specific dates at the moment.
AR: Right, please let us know when the dates have been announced. Tobias, thanks so much for taking the time to speak with me. It's a great album and I wish you all the success you deserve with it.
TH: Thank you for the interview, It was an honor and pleasure.
To find out more about Tobias Hoffmann you can visit his website. More information about his new album "Conspiracy" and other releases on Mons Records can be found at their website.
You can also read Paul Beard's review of the album here.
Last modified: September 23, 2022