Recently German trumpet player Matthias Schwengler released his third album with his band "Soulcrane" on the Mons Records label titled "Soulcrane & Strings". As the title suggests, this album sees the bands standard line-up of Saxophone, trumpet, guitar and bass augmented with a string quintet. Having enjoyed the bands previous release "Another Step we Take" when "Soulcrane & Strings" arrived on my desk my interest was immediately peaked and I reached out to Matthias to find out more.
Matthias is currently based in Cologne, where he leads two of his own combos, Soulcrane and his sextet that performs under the name SchwengelBOP. Next to his two groups as a leader, Matthias is also a frequent guest with a number of Europe's top Big Bands including the WDR Big Band and is highly active as a side-man. Below is my conversation with Matthias.
Andrew Read: Matthais, thanks for taking the time to speak to me today. So let's start at the beginning, how did your musical journey begin and in particular what was it that brought you to jazz?
Matthias Schwengler: Well I guess I first discovered music when I attended the music school in my home town in Germany. So it was there that I started to play the trumpet. At the school they had a student Big Band there and I was asked if I would play in it and that was the moment I first discovered jazz. When I joined I knew nothing about jazz but I thought "why not" so I gave it a try. I remember they gave me some albums to listen to by Autro Sandoval, Maynard Ferguson, you know all of the famous lead players, and I just fell in love with the music.
AR: Did you start with studying jazz?
MS: No, I actually first studied classical trumpet, that school was still fairly traditional and my teacher was a classical player. When I finished high school, I went to the conservatorium in Osnabrück (Germany – Ed) where I actually wanted to study classical music but once there, I ended up also studying jazz as well. After this I went to Amsterdam to study lead trumpet and after that to Cologne, where I finished my Bachelors degree. I then took a two year break from studying, but then eventually I went to the conservatorium in Essen where I did my Masters degree.
AR: When I look at your projects as a leader, I see you have your main band "Soulcrane", but also have "SchwengelBOP" a Sextet. I don't see a lot of news coming through on that front. Are you still pushing this or has it taken a backseat to Soulcrane?
MS: Well, funny you should ask that! Next month we're going on tour with that group but I have to say I've decided that this will be the last. Of course if someone calls and wants to have the sextet I'll do it, but really, right now I want to focus my attention on Soulcrane. I'm also working with Mark Forster at the moment. Mark is pretty well known in the pop scene here in Germany so this gives me the luxury of being able to cut back on things a bit and focus on my main projects.
AR: It's quite interesting that a lot of your previous work has been with big bands yet musically Soulcrane is the complete opposite!
MS: Yes, what I'm doing with Souldcrane is definitely different to what I've done with big bands. With Soulcrane I was looking to do something that was small and intimate, I think I can best describe Soulcrane as "chamber jazz'.
AR: For sure, let's come back to Soulcrane a little later. I first wanted to speak a little more about the Big Band side of things. You mentioned you studied "lead trumpet" in Amsterdam, playing lead is a real specialty, tell me what drew you to this?
MS: Well, it all started when I realized that I could play high and loud. Here in Germany we have a huge Big Band tradition and there are bands in almost all cities where you can learn and get experience. So I found I was being called for lead trumpet a lot and in that time I really learned a lot, especially at the many of the workshops I attended.
One thing led to another and I ended up subbing with some of the professional Big Bands, like Peter Herbolzheimer's band, The Concertgebouw Big Band, mind you that was just filling in for rehearsals with them when I was still in Amsterdam, and now I'm based here in Cologne, I've been playing with the WDR Big Band. In most situations when I'm called for Big Band work I end up playing lead, of course that's not the case with the WDR, I mean Andy Haderer is just amazing, he's the God for playing lead.
AR: Your right, Andy is amazing. You mentioned playing high and loud, but I think you should also add high and loud and in tune!
MS: Ha, yes of course, but that's a given. If you play out of tune you're not going to called!
AR: Well speaking about playing high and loud, you don't play like that in Soulcrane!
MS: No, not at all. I was playing so much lead and while I really like that, with Soulcrane, I wanted to focus on my soloing and you're right, Soulcrane is the complete opposite, it's far more intimate.
AR: This is your second album with Soulcrane, The first album you had Mathew Halpin as special guest. Mathew is back on this album, does this mean that Soulcrane has become a Quartet?
MS: Well, to start, this new album is actually the third. We did an album back in 2016 that came out in early 2017, but this was really just an experiment for me. I'd just finished my study and I wanted to go for it. I had the opportunity, to record but, to honest, I just wanted to see how it's done. I had no idea at the time what was involved in bringing out an album.
So your right, "Another Step We Take" was the first serious album we did. And yes, after we did the "Another Step We Take" album, Mathew did became part of the band. It just felt so natural working with him and after we'd done a few concerts, I sat down with Philip and Reza and we all agreed that Mathew would be great to have in the band. With Mathew in the band it also took a bit of pressure of me by having an extra melody instrument available, I loved the sound and extra arrangement possibilities it gave.
Unfortunately, Mathew is going leave to concentrate on his own projects, so I'm now in the process of thinking what to do moving forward. In the short term, I'll replace him with another sax player but in the longer term I'm thinking we might go back to the trio format and just invite other players on a project by project basis. I've also got this idea to work with a vocalist, not in the conventional way, I want to use the voice more as an extra instrument. There all just ideas at the moment so we'll just see where it all goes.
AR: Right, let's move on to the new album, Soulcrane & Strings. What was the story behind this?
MS: I've always loved jazz albums that have strings on them. "Charlie Parker with strings", "Chet Baker and strings" and one of my all time favourites, "Clark after dark" with Clark Terry. When I first started thinking about a new album, I was looking for something to enhance Soulcrane's "chamber-like" warm and intimate sounds and adding strings seemed like a great idea.
AR: You actually started working on this album around the same time "Another Step We Take" came out!
MS: The decision to record a new album directly after the release of Another Step We Take in 2020 was largely due to the Corona Pandemic There were no concerts and I looked for inspiration in other things. It has been my lifelong dream to make an album with a large string orchestra at some stage in my career and this line-up is the first step in that direction.
AR: Why did you choose for 2 violas and 3 cellos over a standard quartet?
MS: We specifically chose violas and cellos over a standard string quartet and I think it worked out really well, in my opinion, they are a better fit for the music we make. With their warm and somewhat dark sound, the cellos and violas perfectly complemented the sound of the band. I wanted something different from the "conventional" setting.
AR: Adding strings to a jazz environment can be a risky business, you know it can be great but it can also really suck. Now, having heard album album, I can certainly say that it falls in the first category, the string arrangements work really well. Tell me about how you went about doing the arrangements?
MS: I actually didn't do the arrangements. For the album we decided to work with an external arranger. We decided to ask Florian Ross, a really great arranger here in Cologne. I've always liked his arrangements and was thrilled that he was into doing it.
I think it's exactly the way you said, if it's not done right it can really suck and I didn't feel that I was advanced enough at the time to do the job that was needed. I've always focused more on playing than arranging, so I thought, fuck it, let's pay someone to do it properly. To be honest, it took a lot of pressure off and I learnt a lot during the process.
AR: How did you meet Florian?
MS: Well, I first met him while I was studying in Amsterdam and with both of us living in Cologne we'd always end up meeting in different circumstances, we worked together a few times in the WDR Big Band. What I really liked about working with Florian is that he's really quick at getting the idea of what you want, what the music should look like and what it needs. In fact, first suggested to use just lower strings. The first idea was to use just 4 cellos but that was a route I didn't want to take so we eventually we choose for a quintet of 3 cellos and the 2 violas.
AR: You mentioned you learned a lot during the process, what did you learn?
MS: Oh, I don't know where to start, there was so much. In the string arrangements that I've done I tended to use the strings more of a pad with lots of long notes and chords but Florian took a totally different approach. He used a lot more polyphony and at times he almost used the strings as a percussion instrument. I also really liked his approach to phrasing, but I think for me the most valuable thing I learned was how to write the articulation for strings.
AR: You mentioned that this album could be the first step toward doing a full orchestral string album. Can you elaborate on this? – What would that album look like?
MS: Well, I love orchestral music. It offers so many possibilities and I love the idea of writing music for a full orchestra. I always try to tell stories with my music, sometimes I even think of it as film music. Just take the tunes "Pirin's Pearls" or "Two Bodhi Tree Leaves"… they both convey specific moments and feelings of my life. An orchestra gives you even more space to reflect on those moments. That doesn't mean that emotions can't be expressed in a small group. On the contrary… it's just very different. I love both ways of doing so.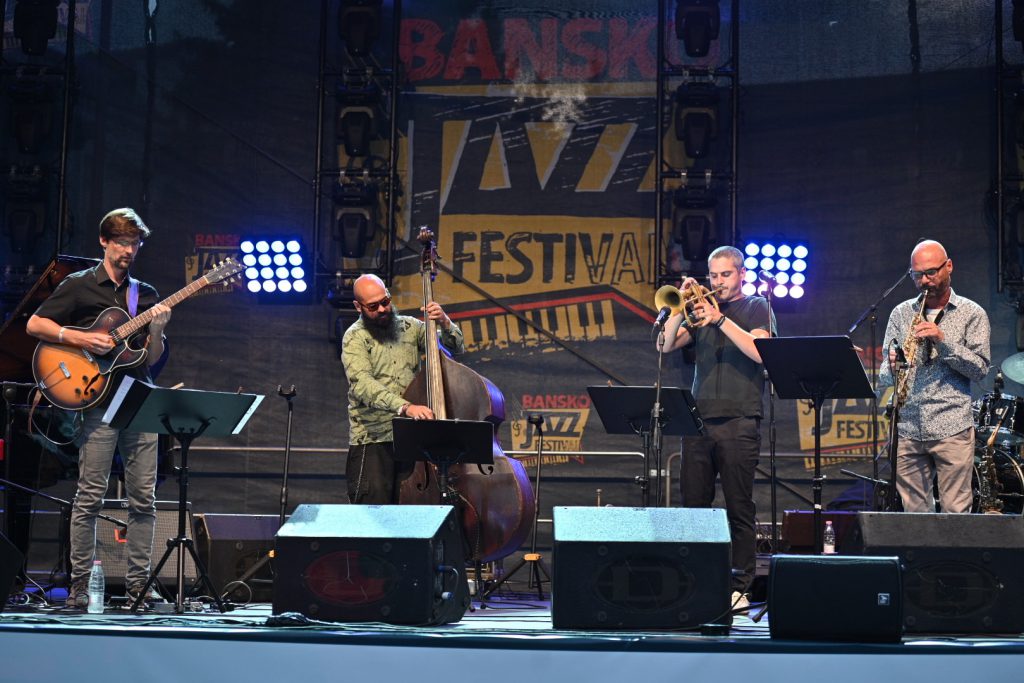 AR: In the press release for the album I read that the pieces on the album were inspired by places and events during the pandemic, including Craft Beer. Tell me more about this and especially your beer passion.
MS: As a German I grew up surrounded by people telling me that Germany has the best beer. And for years I thought the same, that is until I found out that there is so much more to discover than just the "usual" beer styles. Don't get me wrong, Germany has great beer but it seems that because of that Germans are less willing to try something new beyond their beloved pilsener or helles.
Anyway, for the last few years I have been interested in other beer styles: where they come from, who drinks them, and how to brew them. With my girlfriend living in London, an absolute paradise for craft beer lovers, I was able to dig deeper into the modern craft beer scene.
During the pandemic in 2020 I finally started brewing beer with my father and it was a real success – both the beer we made and sharing my passion with my father. Understanding how beer is made and learning through practice made a big difference in the experience of drinking beer. You are probably wondering what this has to do with music…
Well, I was a bit shocked myself how much I suddenly got into brewing and beer. There was so much energy flowing into this. Reading articles online, books, watching videos, going to tastings, breweries, bars etc. At the same time I was also reflecting on the question of what is my inspiration for making music. I guess that was a consequence of not having concerts at the beginning of the pandemic. The three beer-related pieces on the album are a direct result of all the energy and joy emerging from making and discovering new beer.
AR: I get it, I did some home brewing years ago myself and it's also a very creative process. So moving on, do you plan to perform with the strings live? – If so, when and where?
MS: Yes, definitely. We already had three concerts and once the album is out, I'm hoping to book more concerts. We already have one upcoming concert at the Summerjazz Festival in August 2023 in Pinneberg and a few other locations and festivals have also expressed interest in having us.
AR: What's next for Soulcrane and/or yourself from a musical perspective?
MS: At the moment we're planning to work with musicians from the Balkan region starting this summer with a tour in Bulgaria. Afterwards we will expand this work and invite several artists to Germany. And, as I mentioned earlier, I have this idea of adding a vocalist to the quartet – I think that this could enhance the intimacy of the Soulcrane sound. .
Last but not least: coming from Lead-playing and Big Bands, I always had a dream to write my own Big Band program. I have no idea when exactly I will do this, but it is definitely on my wish list.
AR: Matthias, thank so much for taking the time to speak with me and next time I'm in Cologne, let's drink some beer.
MS: For sure, the first one is on me!
For more information on Matthias Schwengler please check out his website. Details on the new album and other releases from Mons Records can be found here at their website.
Last modified: October 15, 2022