In just the few short years since her emergence, pianist Connie Han has tackled the pantheon of jazz with her own fiery contemporary style, managing to shake up a staid jazz scene with her meteoric rise and compelling musical voice.
Back in early 2020 we published a feature interview with Connie in the Winter 2020 edition of the magazine just after the release of her previous album "Iron Starlet". Since then there has been a lot of water under the bridge and now Connie is set for the release of her new album.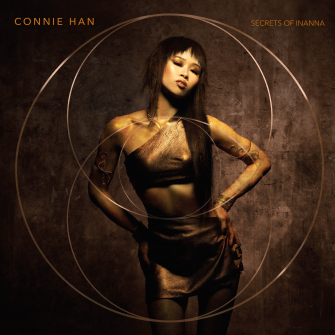 While the lineage of jazz masters such as Mulgrew Miller, McCoy Tyner and Kenny Kirkland has deeply influenced her, Han has sought much further back to find the spiritual kinship that inspired her stunning new album, Secrets of Inanna – millennia, in fact, all the way to the Sumerian mythology of ancient Mesopotamia. Due out September 23 on Mack Avenue Records, the album finds Han taking a daring leap forward by embodying the brazen courage and charisma of Inanna, the goddess of love, sensuality, fertility and war.
Han says, "Beloved by her people as the Queen of Heaven and Earth, she represents a shining beacon of femininity, grace, and poise. This multifaceted goddess is self-assured in her unabashed pride, sexual conquests and audacity. Belligerent and feisty, Inanna stops at nothing to achieve her objectives as a passionate woman with an iron resolve and insatiable lust for power."
A deity possessing such complex and powerful characteristics deserves an homage that is equally rich and vivid, and Han has more than done her justice with Secrets of Inanna. The music was conceived and written in partnership with the pianist's longtime producer and drummer, Bill Wysaske, and features bass great John Patitucci and veteran tenor saxophonist Rich Perry, with contributions by Katisse Buckingham on alto flute and piccolo. Deploying just these brilliant musicians in varying configurations and imaginative arrangements, Han and Wysaske conjure a wide spectrum of moods and emotions for their epic journey.
Secrets of Inanna largely draws inspiration from The Descent of Inanna, the ancient Sumerian epic detailing the goddess' journey into the underworld from her domain in heaven. Along the way she must confront her older sister Ereshkigal, the Dark Queen of the Underworld, and thereby her own inner darkness; in the process she is killed and reborn as the Morning Star, eventually to be echoed in later tales of Venus, Ishtar and Aphrodite.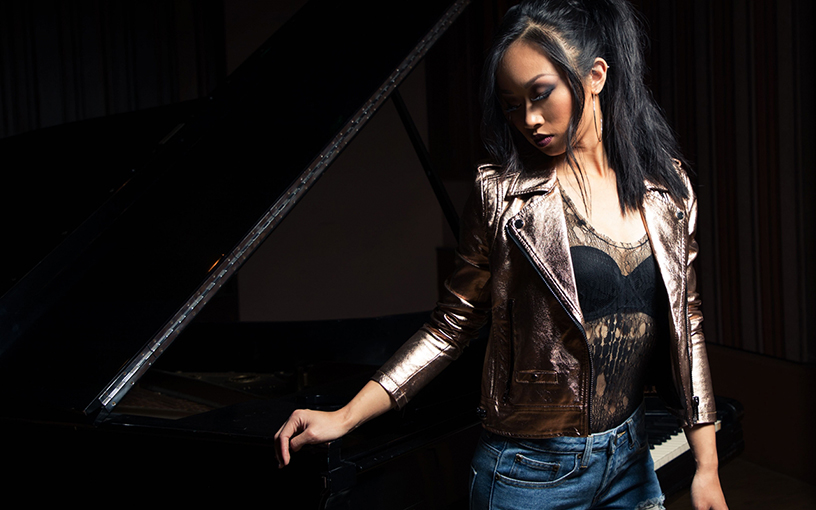 Realizing the complexity and profound emotions this music called for, Wysaske called upon John Patitucci and Rich Perry as ideal collaborators. The bassist has worked with virtually every major name in the jazz pantheon, including long-lasting, essential relationships with Chick Corea, Herbie Hancock and Wayne Shorter. Perry's instantly recognizable tenor sound has graced the Thad Jones/Mel Lewis and Vanguard Jazz Orchestra for four and a half decades, alongside work with the likes of Chet Baker, Paul Bley, Fred Hersch and the Maria Schneider Orchestra.
"There was instantly a beautiful chemistry with the four of us," Wysaske says. "The beauty of improvised music is that you're relying on the expertise, the power and the experience of everyone, and at any given moment anything could happen. And I think we got so many great moments with John and Rich. With Patitucci's virtuosity and rhythmic precision and Rich Perry's enveloping sound and utter sophistication, they really brought their experience and veteran sound to the table."
Wysaske's singular approach to composition is illuminated by the album's lush opening track, "Prima Materia." The title refers to the primeval elements from which the universe was formed – and to which Inanna is reduced by her sister in order to be reborn as Queen of Heaven. The ethereal texture created by alto flute, piccolo, and Han doubling on Rhodes and piano hints at the wonder and mystery comprising the essential material of creation. The instrumentation returns for the album's closer, "Enki's Gift."
While Wysaske's compositions embody the light and beauty of Inanna, Han's writing explores the darkest depths of Inanna's soul. This juxtaposition is made clear through Han's sinister voice as a composer on originals such as "Ereshkigal of the Underworld" — a bracing portrait of the Dark Queen, and "Gilgamesh and the Celestial Bull" – an intrepid display of dexterity between Han and Wysaske that underscores the destruction of Uruk as told by the Epic of Gilgamesh.
Perry's lyrical brilliance is gorgeously displayed on "Vesica Piscis," a captivating duet with Han. "Rich is a one-in-a-million tenor player," Wysaske hails. "There are plenty of moments throughout this album where Connie just unloads the tank when it comes to her strength and technique and musicianship. But on this one she just creates all of this beautiful real estate for Rich Perry to luxuriate in. I've never heard anything like it."
Wysaske himself gets a few moments in the spotlight for the solo piece "Ninshubur's Lament," a prelude to his joyous waltz "Wind Rose Goddess." In addition to their original compositions, Han and Wysaske chose a pair of thematically appropriate cover tunes: Rodgers Grant's "Morning Star," originally recorded by Hubert Laws in 1972, and Chick Corea's "Desert Air," from his landmark album with Gary Burton, Crystal Silence.
Inanna's adventures constitute a classic hero's journey, a structure that reverberates through countless mythological traditions to the blockbusters of modern-day popular culture. On a more intimate scale it also resonates with the artistic struggle, which Han quickly seized upon while reading the epic story.
The pianist explains, "I firmly believe that to create art with substance and quality, the artist must sacrifice a portion of her soul — physically, mentally and spiritually. That to create something truly beautiful, the artist must delve into the savage darkness that lives inside us all. To me, The Descent of Inanna serves as a perfect allegory to this universal struggle among creative artists. Inanna paid the ultimate sacrifice of her own life in the underworld — all to confront her inner demons to become a whole and complete being."
For more information on Connie Han please visit her website. In addition, her new album is now available on pre-order here at the Mack Avenue website.
Last modified: September 1, 2022