What happens when your ambitious musical plans outstrip the line-up of the band that you put together for the first album? Recruit a new selection of musicians and create a Big Band of course!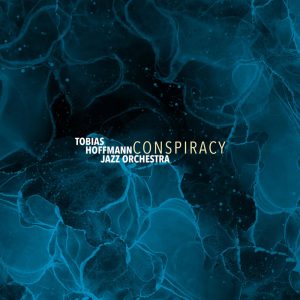 Born in Göppingen in 1988, the German saxophonist and composer Tobias Hoffmann discovered his passion for the saxophone, and music generally, whilst at school. Then, higher education took him to the University for Music, Drama and media in Hannover; from here he crossed the border into The Netherlands where, in 2013, he gained a Bachelor of Arts (BA). He knew he had to also take on Jazz Saxophone at the Musik- und Kunstuniversität Wien and graduated with a Master of Arts (MA) with distinction in 2015.
After a string of accolades and stints composing, arranging and conducting with various ensembles and projects, Hoffmann's efforts culminated in the 2019 album "Retrospective" with his Tobias Hoffmann Nonet, which was awarded first prize in the Band category at the international online Made in New York Jazz Competition 2019 by a top-class jury that included the judges Lenny White, Randy Brecker and Mike Stern.
This well-earned success prompted further ambitions and he soon realised that what he was composing would need a larger group of musicians to do the work justice and so he began seeking people who would combine into a big band, now known as the Tobias Hoffmann Jazz Orchestra. The start of a new decade brought excitement but also doubt that the time was right, with the pandemic still rife across Europe. As he says, "I was really not sure whether it would be the right moment to bring a large jazz ensemble to the studio and record an album of challenging instrumental big band music in that period of time. But there was a soft voice telling me that it was worth going for it."
The resulting album, "Conspiracy", was recorded at the end of August 2021 at Studio 2 at ORF Radiokulturhaus in Vienna, Austria by Ingrid Song and Robert Pavlecka; it was then mixed and mastered by Werner Angerer at Acoustic Art Studio. The arrangement of the whole collection has a very modern, sharp feel to it, a real tour de force.

First up is the seven and a bit minute title track, "Conspiracy" of which Hoffmann says, "This is one of the most challenging compositions I have ever written. It not only challenges the listeners but the musicians alike. I am very proud that this composition was awarded 3rd prize at the "Bill Conti Big Band Contest 2021", which was organised by the American Society of Music Arrangers and Composers based in Los Angeles (ASMAC). From the outset there is a strong intent to engage the listener, with a boisterous tutti intro that leads into the main theme; a tense bridge in the middle, befitting a Hitchcock thriller soundtrack, becomes a Robert Unterköfler blown tenor saxophone solo that calms the mood before the other sections rejoin, carrying through to the finale.
The second aural delight is "Elegy", which features the horns without any rhythm section and this provides such a contrast to the rest of the songs and highlights Hoffmann's ability to create different moods and tempos.
For the third track, "December Song", inspired by Grammy winning composer Vince Mendoza, Andy Scofield solos on the Alto saxophone over a warm piano intro before the whole band get their chance to shine together, flowing in and out with the sax voice and those beautiful muted trombones punctuating too: a super traditional feel.
Not that you should need to be roused but track four is named "Awakening" and is quite somber to begin with, representing a time in Hoffmann's life that was complex, when he was struggling somewhat; but being a resolute sort of person, he realised that difficulties actually offer opportunities. A predominantly horn led intro gives way to Jakob Helling's crisp flugelhorn leading the listener into more complete, hopeful sounds from the rest of the orchestra.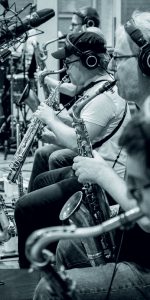 By track five there's no turning back and "Relentless" is an interpretation of a twelve-tone row exercise that Hoffman remembers learning with his tutor a few years ago. Here is a piece driven by fresh ideas, based though on early jazz sounds, with driving horns and quieter periods featuring interesting percussion and melodic alto saxophone passages provided by Patrick Dunst. Hoffman is rightly proud that this composition won first prize in the Original Composition – Large Ensemble at the 45th Annual Downbeat Student Music Awards held in 2022.
"Trailblazers" fills the next slot and here, Jonas Brickmann and Kasperi Sarikoski provide the solos on baritone sax and trombone respectively. The sound at times is bluesy, which is deliberate. Special sections enable the trombones to really shine through and also be part of the main tutti sections. This track is dedicated to all the artists from the big band era that have influenced this composer.
Back in those heady days of the big bands, who dominated the jazz scene from the late '20s to the mid '40s, the guitar was not considered so worthy and it is lovely to hear the warm arpeggiated chords of this important jazz instrument, covering the intro to "Renegade" before this Darcy James Argue inspired song continues with trumpet solo work performed by Simon Plötzeneder. Tobias explains on the sleeve notes that "I used incomplete chords and chord voicings to push a contemporary harmonic sound"; it sure works well.
Up next is the pacy track "Impostor Syndrome", the title being a psychological pattern in humans where they doubt their own skills and accomplishments leading to feelings of being a fraud. Here, soloists Martin Harmes on tenor sax and Robert Nykrin on trombone contribute to the energy that permeates this song, until an extended piano cadence creates a chilly feeling interlude before the other sections join in once more.
The last two compositions here are linked, with Daniel Holzleitner's solo trombone leading the way into the "Who Knows Intro" with the other trombones overlaying a slightly too modern beat. This contemporary feel does however forewarn you of what's to come in finale to this inspirational album of music. "Who knows" features Vilkka Wahl on electric guitar, lending a real rock edge – does this work? I'll let you decide!
Overall, this is an eminently successful, skillfully composed and arranged disc that brings something for lots of musical tastes and will secure Tobias Hoffmann a whole new audience… and rightly so.
Line-Up:
Tobias Hoffmann Jazz Orchestra, conducted by Tobias Hoffman
Track Listing:
1. Conspiracy | 2. Elegy | 3. December Song | 4. Awakening | 5. Relentless | 6. Trailblazers |
7. Renegade | 8. Impostor Syndrome | 9. Who Knows Intro | 10. Who Knows
Release Date: 9 September 2022
Format: CD | Digital
Label: Mons Records


New Release Spotify Playlist
The Jazz In Europe New Release playlist features tracks from the new releases featured on Jazz In Europe. Updated weekly, this playlist is the perfect place to discover new music from the leading jazz musicians currently on the scene. We hope you enjoy this selection.
Last modified: September 10, 2023