Recently I had the pleasure of receiving a pre-release streaming link for a new album by the forward-thinking Odense Jazz Orchestra featuring music from Frederik Lundin. The full album is set for release on Danish label April Records on November 11 however you can get a pre-release taste of the album with the single "Now Or Never" that is now available on all streaming platforms. You can also find this track featured on our New Release Spotify playlist.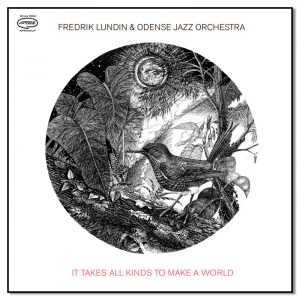 "It Takes All Kinds To Make A World" pairs saxophonist and composer Frederik Lundin with the Odense Jazz Orchestra, conducted by the bands artistic director Torben Sminge, in what was described in the press release as "… an original set of intricately composed music which bridges the gap between avant-garde emotion and heavy groove". This couldn't be more accurate, intricately composed avant-garde emotion and heavy groove are all highly relevant terms that can be used to provide a written picture this album. On the other hand, I believe this terminology also does the album an injustice. Often terms as avant-garde and  intricate conjure up a feeling of inaccessibility and this is not the case. It's a given that this is not an easy listening album and I would rather describe it as provocative, intriguing and most of all exciting.
Forward-thinking is a perfect adjective to describe the Odense Jazz Orchestra who's mission statement declares to "challenge the big band format by constantly seeking artistic challenges" and this recording is definitely no exception to this vision. The Odense Jazz Orchestra was formed in 1994 and is an active part of the Danish professional big band scene and it's line-up includes some of the best musicians, composers and arrangers associated with the Funen music scene. As mentioned in the opening to this review the project is a collaboration with saxophonist and composer Frederik Lundin, who not only composed and arranged the music, but is also featured as a soloist on three of the six tracks.
The albums press-release points out that thematically the album "…explores themes of conflict, frustration and environmental crises, painting musical pictures of the human impact on society and our planet." Generally the music contained in this set could best be described as provocative, it's not an album to put on in the background, this an album that demands the listeners attention. The arrangements are have a highly personal and quite "Out of the Box" when compared to the work of other arrangers, they are multilayered, intriguing and contain more twists and turns than an Italian mountain road.
Moving on to the music, the album opens with a statement titled "Desperate Times, Desperate Measures". Featuring an intro that would be at home in a 1960's horror movie, the track quickly develops a frantic groove as the base for Lundin's mezzo soprano sax exploration before passing the baton to Tomasz Dabrowski for an equally impressive solo. It's desperate Measures indeed and one can feel the desperation throughout the piece until the energy is exhausted and the track runs out of steam. A great opening to a great set.
The sound track feel continues with "Gormenghast", opening with sound effects, a trumpet call to action and a general feeling of foreboding highlighted by a bass motive played by the bass clarinets. The track slowly gives way making room once for Lundin stretch out over the dense arrangement. In any arrangement the use of tension and release is vital and this track display's this in spades.
"Walk With Me, My Friend" brings some respite from the darkness of the previous tracks, once again a spectacular arrangement with many subtle surprises hiding within.
"Glossolalia" is without a doubt one of the albums highlights featuring a truly amazing solo from Lundin on tenor sax. The use of backgrounds is quite unique here and the rhythm section compliments both the backgrounds and solo punctuating where appropriate and propelling where necessary. 3 minutes 48 seconds worth of fascinating music.
It was stated that this album is Inspired by the fearless nature of 70s music and to a degree I would agree with this. There are some elements that do nod to albums such as Bitches Brew or early albums from Weather Report however this album looks forward and any nod to the past is only that, a brief nod and nothing more. This can be heard in the following track "Now OR Never" that according to Lundin not only poses the question as to weather we will choose to take the steps to save the planet or not but also points to the need to be in the moment.
The album closes with the title track "It Takes All Kinds To Make A World". In my opinion this is possibly one of the most interesting pieces on the album. However, to be honest, a statement as that is a bit of a tough call with so much intriguing music presented in this set. It's somewhat difficult to put my thoughts into words when describing this piece so perhaps the description by Lundin that appears in the albums liner-notes will be of interest:
"It Takes All Kinds to Make a World opens with a field recording from the 80's of the mating call of the male Kaua'i 'o'o bird (Moho braccatus) of Hawaii. He turned out to be the last known survivor of his species, thus his call was never answered by a mate. His call is instead picked up and echoed by the band, which also falters and stops. After a short pause, the song resumes, but now in a much slower tempo. This time the song is joined by other voices, and the music continues and evolves for a while, until everything again peters out. This is still not the end however; now the song picks up from another point, with more vigor and many voices, and reassembles into a different and more powerful organism.

At the end we revisit the original, lyrical theme, this time with many different voices joining the chorus. My piece is at the same time a requiem for all those of our fellow species, that we, the human race, has managed to wipe out, as well as a call for humility, tolerance, benevolence, openheartedness, curiosity and open-mindedness."

– Frederik Lundin
This is perhaps one of the most exciting Big Band Albums I've had the pleasure of hearing so far this year. Often modern big band albums can sound like a "science project" for the arranger, but there is none of this here. The arrangements sound very organic with the use of of bombastic tutti sections giving way to intriguing soundscapes all driven by an amazing rhythm section. This album is not for those listeners with a week constitution however it all makes sense. Frederik Lundin has done an amazing job to presenting an album that has all the impact of a large ensemble while keeping the freedom and flexibility of a small band.
I highly recommend this album to all adventurous lovers of Big Band music and I urge the more conservative listener to take a chance. The Press release made the bold statement that the album is "an undeniably modern, transportive listening experience" and I couldn't agree more.
The album will be released via April Records on the 11th of November and will be available on LP and all streaming platforms.
Track Listing:
1. Desperate Times, Desperate Measures (5:12) | 2. Gormenghast (9:01) | 3. Walk With Me, My Friend (7:47) | 4. Glossolalia 3:46) | 5. Now OR Never (6:11) | 6. It Takes All Kinds To Make A World (9:34)
Line-Up:
Morten Øberg – Alto and Soprano Saxophones, Clarinet, Flutes | Guy Moscoso – Alto Saxophone, Clarinet Flute (Alto Saxophone Solo on 6) | Finn Henriksen – Tenor Saxophone, Clarinet, Flute | Hans Mydtskov – Tenor Saxophone, Clarinet, Bass Clarinet (Tenor Saxophone Solo on 5) | Ole Visby – Baritone Saxophone, Bass Clarinet, Contrabass Clarinet (Bass Clarinet Lead on 3) | Ari Bragi Karason – Trumpet | Tomasz Dabrowski – Trumpet (1, 2, 3 and 6, solo on 1 and 2) | Jesper Riis – Trumpet (4 and 5) | Jakob Holdensen – Trumpet, | Hans Christian Ilskov Erbs – Trumpet, Flugelhorn | Stefan Ringgive – Trombone, Flugabone (Trombone Solo on 5) | Mikkel Aagaard – Trombone (Solo on 6) | Anders Ringaard Andersen – Trombone, Accordion | John Kristensen – Bass Trombone, Tuba | Makiko Hirabayashi – Piano, Rhodes, Synthesizer | Morten Nordal – Electric and Acoustic Guitars, Lap Steel, Dobro and Loops (Guitar Solo on 6) | Kasper Tegel – Bass | Chano Olskær – Drums
Release Date: November 11, 2022
Format: LP | Digital
Label: April Records


New Release Spotify Playlist
The Jazz In Europe New Release playlist features tracks from the new releases featured on Jazz In Europe. Updated weekly, this playlist is the perfect place to discover new music from the leading jazz musicians currently on the scene. We hope you enjoy this selection.
Last modified: September 10, 2023