Recently Blue Note Records announced a November 18 release for "Revival: Live at Pookie's Pub", a thrilling previously unissued live recording of Elvin Jones' quartet that captures the legendary drummer's emergence as a bandleader at a little-known club in New York City where he had a weekly residency after leaving John Coltrane's band in 1966.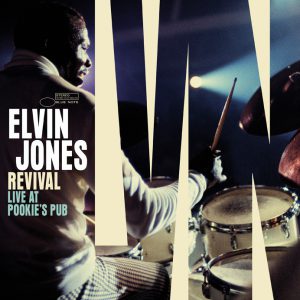 The album will be released in a deluxe 180 gram 3-LP set or a  double CD set. Both include an extensive booklet with stunning photos by Francis Wolff, Ozier Muhammad, Christian Rose, and others; essays by GRAMMY-winning author and co-producer Ashley Kahn, co-producer Zev Feldman, executive producer Don Was, and the original recording engineer Bob Falesch. You will also find interviews and statements by drummers Alvin Queen and Michael Shrieve, pianist Richie Beirach, and Elvin Jones band alumni Pat LaBarbera, Gene Perla, and Dave Liebman.
Featuring Joe Farrell on tenor saxophone, Billy Greene on piano, and Wilbur Little on bass, Revival was recorded between July 28-30, 1967, just two weeks after Coltrane died on July 17. The album finds the band stretching out on expansive versions of standards and originals brought in by the band members such as Jones' present to his wife "Keiko's Birthday March" which is currently available as a pre-release single on all major streaming platforms.
The projects co-producer Zev Feldman stated in a recent interview with this magazine,  "I first heard about these recordings way back in 2011 when my friend Adam Nussbaum introduced me to an engineer Bob Falesch, who had recorded Elvin Jones at a little-known bar in NYC called Pookie's Pub. I was completely taken with the music from the first moment I heard it. This was Elvin setting out on his own as a leader with a weekly residency, where he got to stretch out and develop his band concept. This was one of my handful of passion projects that I presented to Don Was and Justin Seltzer when I came on board at Blue Note in 2018. Both Don and Justin shared my passion and it was just a matter of time before we could line everything up for a release. I'm thrilled as I believe I've found the best home at Blue Note. What better label to keep Elvin's legacy burning bright than Blue Note? This is going to be a must-have for Elvin fans."
When speaking about the production Zev continued "My other co-producer David Weiss worked on audio editing with Sheldon Zaharko from Zeb Productions in Canada for the CD and digital editions, and he worked with the legendary Bernie Grundman on the vinyl edition. Once again, the design team of Todd Gallopo and Tory Davis at Meat and Potatoes, outdid themselves with this edgy, but feel good, cover art and package design."
Elvin Jones was one of the most influential drummers in jazz history. He was born in Pontiac, Michigan on September 9, 1927, the youngest of 10 children that also included two elder brothers—Thad and Hank—who would also become jazz legends. After moving to New York City, Jones worked with the likes of Miles Davis, Charles Mingus, and Sonny Rollins before joining forces with John Coltrane and becoming a member of the saxophonist's seminal quartet.
During the 1960s, Jones recorded on numerous classic Blue Note albums including Freddie Hubbard Ready for Freddie, Wayne Shorter Speak No Evil, Joe Henderson Inner Urge, Larry Young Unity, and McCoy Tyner The Real McCoy. After leaving Coltrane's group, Jones signed with Blue Note as a leader in 1968 and began recording a series of remarkable albums for the label through the early 1970s that included Puttin' It Together, The Ultimate, Poly-Currents, Genesis, and Mr. Jones.
Blue note president Don Was stated "This hidden treasure is the missing link charting the trajectory from Elvin Jones' tenure in the John Coltrane Quartet to the subsequent formation of his legendary trio with Joe Farrell and Jimmy Garrison."
The full album will be released on Blue Note Records on November 18th and will be available as a 3-LP or 2-CD set and of course on all the major streaming platforms.
More Information can be found at the Blue Note Records website.
Track Listing:
Disc 1 – A Side: 1. Keiko's Birthday March (21:11) | B Side: 1. Gingerbread Boy (featuring Larry Young) (8:32) | 2. 13 Avenue B (16:39)
Disc 2 – A Side: 1. My Funny Valentine (8:24) | 2. M.E. (20:06) | B Side: 1. On the Trail (19:46) |
Disc 3 – A Side: 1. Softly as In A Morning Sunrise (18:23) | 2. Raunchy Rita (3:55) | B Side: 1. Oleo (16:14)
Line Up:
Elvin Jones – drums | Joe Farrell – tenor saxophone, flute | Billy Greene – piano | Larry Young – piano (on "Gingerbread Boy") | Wilbur Little – bass
Release Date: 18 November 2022
Format: LP | CD | Digital
Label: Blue Note Records
Editors Note: Recently we sat down with Zev Feldman for an extensive interview. During the interview we spoke at length about this release, Zev's new Ahmad Jamal project, his new label and a great deal more. keep an eye out in the coming month or two for this interview.
Last modified: September 29, 2022