On the 2nd September 2022, Storyville Records will release Michel Petrucciani "Solo in Denmark", an album featuring the French piano prodigy in a solo performance recorded in 1990 at the Silkeborg Church in Denmark.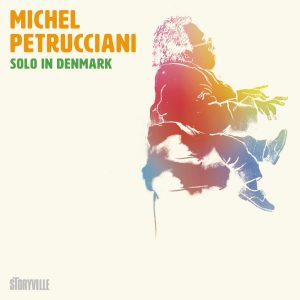 Michel was one of the most popular pianists in the 1990's due to his extraordinary technique, his astounding musical outlook and extremely dynamic playing style. His music is simply timeless and magical, seemingly coming straight from his soul. As he is often quoted: "I'm not playing to your head, but to your soul. When I play, I'm like a bird flying over the landscape, and I can land anywhere."
Petrucciani was a highly charismatic and high-spirited character, despite being hindered by a genetic disease called osteogenesis imperfecta, or brittle bone disease. He was extremely short, standing at three feet. Luckily, his hands were of normal size, but he had special modifications to reach the piano's pedals.
Petrucciani started playing in the family band with his guitarist father and bassist brother. At the age of 15 he had the opportunity to play with Kenny Clarke and Clark Terry and two years later made his first recording.
In 1982 Petrucciani moved to the United State, where he convinced Charles Lloyd to go out on the road again and he toured with Lloyd's quartet. Behind the grand piano, he was a giant with his inexhaustible imagination and seemingly endless inclination to push himself in new directions musically. Originally heavily influenced by Bill Evans, and to a lesser extent Keith Jarrett, he developed into a powerful, one-of-a-kind, pianist with his own individual voice on the international jazz scene.
This album, recorded on June 23, 1990, at the Silkeborg Riverboat Jazz Festival in Denmark, this album is a tour de force that leads the listener through a series of the most iconic motifs in jazz, all of which are deconstructed and transformed by an outstanding craftsman and embellished along the way by a true master. And he also allows himself to insert unexpected twists and turns that are guaranteed to make the listener smile. Pay special attention to his small rhythmic and melodic tags, little hints for the well-trained ear. They reveal a musician who never grows complacent or takes himself too seriously.
Here the totality of Petrucciani's talents are exhibited in an intimate setting, where he stuns the crowd with his inventive and blindingly rapid playing. The music emanating from the man simply grabs everybody's attention. Arrangements by jazz legends like Duke Ellington and Thelonious Monk get the cheeky Petrucciani treatment with his rather audacious approach to jazz standards. MP had the ability to effortlessly travel through the history of jazz on his piano, fascinating his audience in the process. This concert clearly displays why MP quickly developed into a truly exceptional member of the international jazz scene.
For MP, joyful playing with the music was a necessity of life. He lived and breathed for the opportunity to show it his love and respect. And all we have to do is open our ears, mind and soul and accept the gems from a musical individualist who has made an indelible impression on thousands of jazz listeners around the world.
Solo in Denmark is simply another chapter in the remarkable story of a man who perceived himself as a servant of the music.
More information can be found at the Storyville Records website.
Last modified: August 18, 2022