Welcome to the fourth interview in our Women in Jazz Media series 'Something New with Esther Bennett'. Exploring new albums through conversation directly with the artist to share a little insight into their work. As one of the London Jazz scenes' most experienced, highly respected and widely loved jazz vocalists, Esther juxtaposes sensitivity and a sparky sense of humour in all her work and we are thrilled to have her involved in this new series to help platform new female led jazz releases across the world.
Having just been awarded 'Best Newcomer' at the 2022 Parliamentary Jazz Awards saxophonist and composer, Emma Rawicz is making waves on the UK music scene. She has been described as "An astonishing new talent" (Jamie Cullum – BBC Radio 2), 'a force to be reckoned with' (Jazzwise) and 'a fast-rising star' (London Jazz News).
Her debut album 'Incantation' featuring all original compositions and inspired by contemporary jazz, jazz fusion, soul and folk, has shades of Wayne Shorter, Chris Potter and Kenny Garrett, but with a fresh edge that combines her UK and US influences. The album moves between driving, jazz-funk inspired numbers with tracks 'Voodoo' and 'Incantation', whilst offering sincere, brooding moments on 'Orison' and the moving Afro-Cuban flavoured 'Omen'. Not content with just showcasing her saxophone and composition chops, Emma's vocal and flute playing skills also transport the listener to new sound worlds.
"I wrote Voodoo, the first track on the album, based on a crazy, abstract, colourful piece of art; I just experimented with sound and found the composition out of it. Then I chose other words based on this theme – like incantation, omen, wishbone, etc. – and used those words as prompts for composition."
Hi Emma, first of all of course I must congratulate you on your Parliamentary Jazz Award in the Best Jazz Newcomer Category. So well deserved and I'm so pleased as you know I'm already a fan! How do you feel about that! (The award….not me being a fan.. )
ER: Thanks Esther, that's really nice of you! It was a complete surprise to be honest, but I feel very grateful to have been given the award. When it comes to the idea of "winning" anything in a creative field, I must say that at times it doesn't quite feel that the concept of an award falls in line with what it means to be an artist, but nonetheless it was really very flattering to have my efforts over this past year recognised, so I'm nothing but grateful for the support.
You are very young and yet your playing is advanced and well beyond your years. Can we have some history of your playing and musical education? Right from the beginning and up until the present day.
ER: To be honest, I haven't been playing jazz, nor the saxophone, for very long. I picked both up around four years ago, at the age of sixteen, so I still feel quite new to it all really. I was however lucky to encounter music in various other ways prior to that, as I played the violin and piano in mainly classical settings from around age 6 to 16, as well as composing as much as possible. When I picked up the saxophone, I was lucky enough to spend a year studying at the Junior Guildhall School of Music and Drama, before going on to spend my sixth form at Chetham's School of Music, after which I began my studies in a jazz degree at the Royal Academy of Music, of which I have just completed my second year. I feel like a lot of the opportunities I have been lucky enough to encounter have all happened quite quickly for me, and I still feel a bit in awe of it all, and very lucky to have been able to study at each and every one of these amazing schools. Prior to these, I had no specialist musical education at all.
Who are your musical influences past & present, here, across the pond and in Europe?
 ER: There are far too many to list here, but my top few would probably be Joe Henderson, Joni Mitchell, Tigran Hamasyan, Baden Powell, Nikki Iles and Mark Lockheart. Recently I have also been absolutely loving Fini Bearman's music.
You released this album in May and launched it at Ronnie Scott's Jazz Club! Was this the first time that you've played there? Was it your first headline gig there? How was that experience for you?
ER: The first time I played at Ronnie's was actually in June 2021, for my first headline gig there. I actually wrote almost all of the music on my debut album for that gig, and we recorded it just a few days later. It was therefore really special to be able to return to the iconic club to launch the album, less than a year after my first appearance there. It's a wonderful club that I hope to return to many times, and one that I have been fortunate enough to play at many times besides my own headline shows, with great bands such as the Lovers of Invention, Myele Manzanza and more.
About the album – there seems to be a theme; "Incantation,  "Rune",  "Omen" – What's that about and where did the inspiration for these titles come from?
ER: I love to have a creative brief or stimulus of some sort when I write music. The first tune I wrote for the album was "Voodoo", a composition inspired by a piece of crazy abstract art, and I felt it had a strong, clear sound, so I decided to pick other titles relating to that theme, and see what kind of music evolved out of that idea. As a result, I think the album has quite a cohesive sound, which I'm really happy about, and I hope it provides listeners with something of a snapshot of who I was both as a composer and player around the time of recording.
About the musicians – though highly proficient and experienced players – the musicians who you play with and with whom you have recorded this album manage to excel themselves whilst allowing you to really shine. Tell us more about them and why you chose them to work with on this project.
ER: I have been fortunate enough to play and work with a wide range of really wonderful musicians over the relatively short span of my career thus far. Two very key figures for me feature on Incantation: Ant Law and Scottie Thompson. While they're at very different career stages — Scottie is the wonderful piano player on my album, and is in the same year as me at the Royal Academy of Music, and Ant is of course my guitar player, himself a very established voice on the scene. Both of these musicians have been a crucial part of my development both as a player and a writer, and were integral to developing the sound of the album. They also really helped me through various anxieties surrounding the process of releasing my music for the first time, and indeed if it were not for them, the album may never have been released! Other very important musicians that I have worked with include Ivo Neame, David Preston, Asaf Sirkis, Conor Chaplin and more — all of whom have played a huge part in my music.
A little more about you as a musical artist: You were born and raised in Cornwall and you are of Polish Heritage. How do you feel that these two places have influenced you musically?Have they had any influence on your playing and your composing?
ER: I grew up in rural Devon, which is very different from London — sometimes I feel like I'm still adjusting! I didn't really get started playing jazz when I still lived there, so I'm unsure if there's a real direct influence on my playing or writing now, but it's definitely where I was when I was first inspired to pursue music, by my amazing teachers at school, so it occupies a special place in my heart nonetheless. As for my Polish heritage, I have to say it is not something I feel I know very much about at the moment, but I plan to investigate it much more and hope to learn more about Polish music itself. That said, I have always found that I have a particular affinity with European jazz and folk music, so perhaps that has something to do with it!
About your playing – as a (not very articulate) alto sax player myself and being around some of the best jazz players for the last 30 years – I know how much practice and shedding playing  to your level takes. A difficult question but, do you think this kind of discipline becomes habitual if one is in the right environment and given the opportunity or do you think that a particular personality trait or traits determine this kind of discipline and determination (I'm not suggesting for one minute, that any of this makes one a better person or even a superior artist but, as someone who knew that that discipline was not "in me" I'm fascinated by the subject – so indulge me if you will or care to)
ER: I think that the right way to practise is different for everyone. I am lucky in the respect that I find it quite easy to stay motivated and become absorbed in my practice, which I know is not the case for everybody. I do think it is possible to learn discipline and also (more importantly) work out what works best for you as an individual. For some people the best approach simply won't be locking themselves in a practice room for hours, and might include more time spent listening to music or going to hear live gigs. The fundamental thing for me is finding out how to stay inspired and excited about what we do, and remember that music isn't sport: instead of trying to "win a race" it's more important to play music in an inspired, creative and honest way.
Finally – though you've not been on the planet for too long and though you are growing up in more egalitarian times and with many more opportunities for women – how do you see the future for women in jazz and how do you see their role in it; both playing and business wise?
ER: I think that there is still a lot that needs to change in the environment for women working in the jazz industry — but it is a process that I am sure is in progress as we speak. Thanks to many hugely supportive and inclusive musicians on the scene, many of whom I have been lucky to play with, I personally don't often feel out of place when playing at a gig or even sitting in on a jam session, which is certainly a massive step forward. For me the goal is to walk into a playing or music business situation and to feel comfortable and respected, regardless of the gender split in the room.
Oh,  one more…… And one I always ask (out of sheer nosiness) when a song on an album is dedicated to someone in particular. Who's Vera?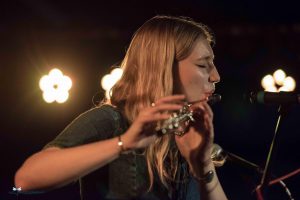 ER: Vera was my grandmother — she was a huge inspiration to me not just musically but in life, and one of the loveliest and most caring people I have had the pleasure of knowing. Naturally I still miss her a lot, but writing a tune for her and not just playing it on gigs but knowing that the music is available for anybody anywhere in the world to enjoy, seems like a fitting tribute.
To support Emma's work, please visit her website here
Latest album available here
Last modified: August 14, 2022