Recently German based saxophonist Denis Gäbel's latest album, the "Mingus Sessions" landed in my Jazz In Europe inbox. After hearing the recording and discovering the albums back story I felt the desire to reach out to Denis and find out more about this project. It was around this time that I learned from Denis' label, Mons Records, that this is not the only album from Denis to be released this year. Also in the pipeline is his follow-up album with "The Good Spirits", a trans Atlantic project that Denis debuted back in 2018.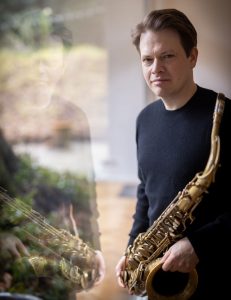 Denis Gäbel is currently one of the most sought-after saxophonists in Germany having performed both on stage and in the studio alongside the world's very best jazz musicians. Denis can be heard on numerous recordings as a side-man and as a leader has produced six albums, including the latest Mingus Sessions album. Recently Denis was appointed lead tenor player with the HR Big Band (the Frankfurt Radio Big Band) and prior to this taught at the University of Mainz and held a Professorship at the Music and Arts University of the City of Vienna. So without further ado, let's get into the interview.
Andrew Read: So Denis, thanks for taking the time to speak with us. Let's start with a bit of background information. I've read that you come from a musical family, can you tell us how this influenced your early musical journey?
Denis Gäbel: Well music was a natural part of our family life when I was growing up. My father was a great lover of classical music, especially opera (and Count Basie when we were on holiday). My mother also loves music and plays the saxophone and clarinet. My three brothers and I were allowed to try out as many instruments as we wanted. I think there were times when we were all registered at the music school with 2-3 instruments. We each had our own stereo system, which often ran in parallel and were at times very loud. My parents were really relaxed about it and they were happy that we enjoyed the music. So basically music has always been part of my life.
AR: I understand you started out playing cello. What brought you to the saxophone?
DG: Yes, it started with the cello. We had a very ambitious school orchestra in which I learned a lot and I played the cello up until I graduated from high school. I always found the cello difficult from a technical perspective, I found it quite exhausting to be honest and didn't feel like practicing that much. Then one day when I held my mother's saxophone for the first time, I think I was about 11 at the time, it was a completely different story. I was able to start playing straight away. I would pick it up every day and just improvise.
In my home town of Ibbenbüren, there were some good saxophone teachers and an exceptionally good jazz exchange program with high schools and jazz colleges in Texas and California. Every summer the Americans would either came to us or we would fly over to the USA. One of my main mentors was saxophonist Tim Ishii from Texas and Gary Pratt from California. They were really great and experienced jazz coaches and I was really lucky that our local music school ran this exchange program.
AR: That's really interesting and to think that was going on in Ibbenbüren. I've read that around the same time that you picked up the sax that you had your "jazz epiphany" while watching an Art Blakey concert on TV. Can you tell us a little about this?
DG: Yes, for sure. At that time (circa 1990 – ed), there were regular afternoon jazz concerts on German television and I got stuck on this special for Art Blakey's 70th birthday. I think I was about 12, but anyway, I was totally fascinated. ZDF (one of the German public television and radio broadcasters – ed) had invited a large number of musicians that had all played with Blakey to join him on his birthday. It was a gigantic jam session with Freddie Hubbard, Wayne Shorter, Benny Golson, Roy Haynes, Jackie McLean and many others. That concert really got to me and I think that was when I really started to get into jazz.
AR: Before we move on to speak a bit more about your current album and the follow-up to the Good Spirits, there are a couple of things I wanted to ask you that peaked my interest when I was researching for this interview. I read that you co-authored the book "Saxophone for Dummies". This is not something I would have expected so how did this come about?
DG: Well, that was over 10 years ago. My colleague Michael Villmow got the request from the publisher and brought me on board. Writing a book like this, which is aimed primarily at people who are taking their first steps on the saxophone, was a completely different experience. It was really challenging to go back to the very beginning and describe a way of getting to know the instrument.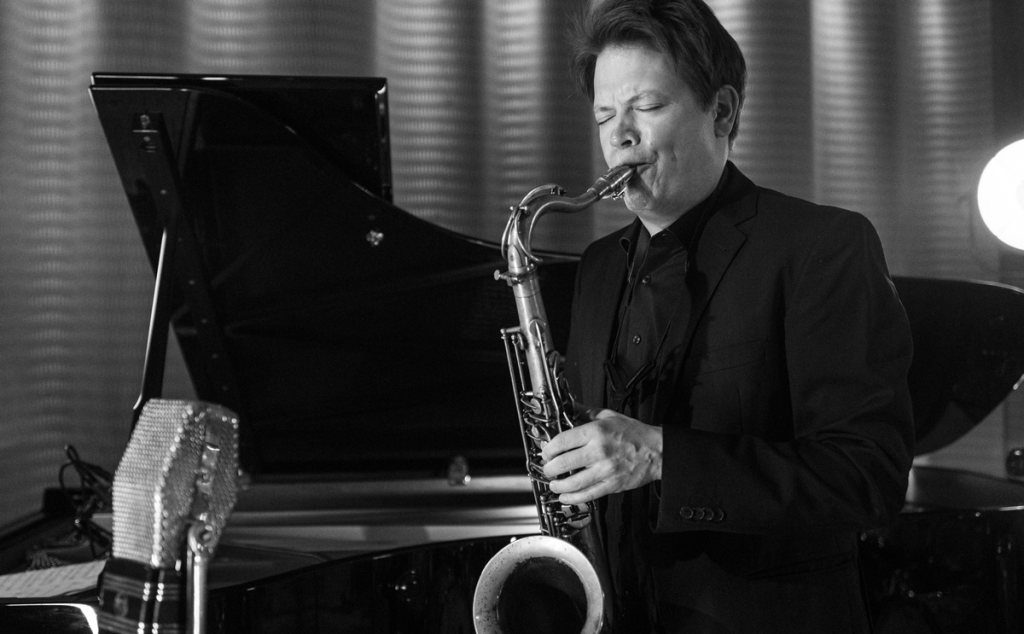 AR: That's interesting. I can imagine you really had to think about it.
DG: Yeah, it was a whole different mind set to have to think about how to explain play the sax to someone who has never played the instrument before. You know, I had to go back and start with the very basics – OK you have this instrument and a mouth piece that you have to push air through it to make the sound – I mean, I'm talking about the very basics and it was kind of interesting to really think about it from a whole different perspective. I've done a lot of teaching but this was something completely different.
AR: Speaking of teaching, I've read that you hold a Professorship at the Music and Arts University of the City of Vienna. Is education an important part of your career or do you prefer to focus on purely performing?
DG: Well, I used to teach there but at the moment I'm not teaching at all. I've done quite a bit of teaching in the past, I taught at the University of Mainz from about 2010 until, I think, early 2020. And then during the pandemic, I got the job as a professor in Vienna. I wasn't there long, I think only about a year. When the job with the with the Frankfurt Radio Big Band came along it just wasn't possible to combine the two so I left the job.
AR: Yes, I can imagine that it would have been difficult to combine the two.
DG: Yes for sure. It feels a little bit weird that I was there for only a year but, it would have been far to much to try and fit it all in. Also, I still have a lot of my other projects I need to focus on so for now, I'm just concentrating on the performing side of things. That said, I do like teaching and I'm sure I will go back to that at some time.
AR: You mentioned the Frankfurt Radio Big Band and I wanted to speak to you about that a little later on, but OK, let's move on to that now. I did read in a press release recently that you have just been appointed as lead tenor in the Big Band in Frankfurt. How did this come about?
DG: Besides my own small band projects, I really enjoy being part of a big band. The HR Big Band (Frankfurt Radio Big Band) is a fantastic ensemble that I've been following for many years. When the position came up, I applied for the job and it was a great honour winning the audition. I'm very happy there and we've already worked with great musicians like Jim McKneely, Camille Thurman and Jörg Achim Keller over the past few months.
AR: At this point we moved on to speak about the two new albums that Denis has recorded. As I mentioned in my introduction, Denis has just released his latest album titled the Mingus Sessions and later in the year he will release the follow-up to his 2018 Good Spirits album that he recorded with his Trans-Atlantic ensemble featuring bassist Reuben Rogers and Clarence Penn on drums and German pianist Sebastian Sternal.
Denis, let's talk about the Mingus album. I understand that Mingus was a huge influence when you were growing up and still is. When did you first discover the music of Mingus?
DG: I had my first contact with the music of Mingus at the age of 13 at the Jungend Jazzt competition. Since then, I've been a passionate fan of his work. The first Mingus album I heard was his "Blues and Roots" and still to this day it's my favorite album.
AR: It's not a common thing that a 13 year old would suddenly get hooked on the music of Mingus. What was it about the music that grabbed you?
DG: Oh, that's a hard one. I remember the teacher brought in "Moanin" and I think it was a very good idea to use that song. It's really catchy and a bit bluesy with plenty of space to improvise. It's sort of a bit wild and it was perfect for a kid as it's not that harmonically complex so you can just go for it. I don't know exactly what it was about Mingus, I guess I was just open for it at the time but his music has never left me.
AR: I understand that you were not planning to record the album?
DG: Yeah, that's correct. I had a slot to record an album at Deutschlandfunk. The plan was to record a new album with my Good Spirits band but then the pandemic hit and it was not possible to get the guys over here to record. I didn't want to loose the spot, so I had the idea of using the Deutschlandfunk slot to record an album with the music of Charles Mingus, after all, in 2022 Charles Mingus would have celebrated his 100th birthday. The plan was to use a basic saxophone trio with Robert Landfermann on double bass, Leif Berger on drums and myself on tenor saxophone. Seeing that there were many musicians at that time with empty diaries, I invited one guest per track to come to the studio where we would just jam on his compositions without making any major arrangements.
AR: When I listen to the album, It doesn't sound like a "Jam Album", there's a lot going on there and it sounds quite structured. So I take it that there was some musical concept for the material before the "tape was running". So how did you go about it?
DG: Well, I had a long list of songs that I could to choose from, so when I started to narrow it down, I thought, well this one could work with this person and so on and this is where I started. I exchanged a lot of ideas with Robert Landfermann, the bassist on the album, and just before we went into the studio we finally had a list of what we were going to record. The good thing is that we all knew the music well and, because it was during the pandemic, everyone had time so we could get in the studio and really focus and experiment with the feel or the tempo etc without to much time stress. It was really great to make music like this, it was freeing in a way.
AR: let's talk about the guests you choose. You mentioned that many musicians had empty diaries at the time but I assume this was not the only criteria. How did you select the players and choose what tracks to have them perform on? Did they have a say in it?
DG: I know all these players from the scene, we'd all worked together in various ways on many different gigs and projects over the years. So with that in mind, I knew very early on who I wanted to play on the recording. It was the one good thing about the pandemic, everyone had the time!
About the second part of your question, it was a combination of both. With some of guests I asked them if they had a certain song they wanted to do but, for most of them I suggested a couple of ideas and we then just worked it out in the studio. Actually, many of the songs would have worked with more than one guest and some of the songs, like Jump Monk, we recorded two versions, one with Axel and another one with Shannon. Later, I just choose what one to use for the album.
AR; Given the way the project was put together with so many different players I guess it's going to be difficult to tour or perform it live.
DG: Yeah, but we do have an event coming up in Cologne at the "Stadtgarten". It's sort of a mini Mingus festival and we've invited Charles McPherson to come over. There will be a few different groups, for example, John Goldsby and Billy Test from the WDR Big Band will put together a group and all of the players on my Mingus album will be there. It's going to be a two day event and we're calling it "Mingus 100". It should be great, I'm really looking forward to it.
AR: I want to move on to the Good Spirits band. Can you tell me how this project came to be?
DG: For my first album with this project "The Good Spirits" I put together a kind of New York dream team (with Kevin Hays, Scott Colley & Clarence Penn). I remember when I was studying in New York I was at the Village Vanguard one night and Dave Douglas was there with his quintet and Clarence was playing, the whole things was amazing but I always remember Clarence's playing. Anyway, after that I moved back to Germany and just went on with my thing, but the next time I was in New York, I heard Clarence again, by now it's about 10 years later. I had this crazy idea that I wanted to connect with him and do a recording. So I reached out and he was up for it. We then looked for other players and that's when Kevin Hays and Scott Colley came onboard. So this was the start of it. In the end it was a session band, which fortunately clicked really well in the studio. The feeling was great there too.
Later on I wanted to do a tour with the project but it was just impossible to get exactly that line-up together as far as scheduling goes. So I ended up using Clarence and Reuben and adding Sebastian Sternal, a really great pianist from here in Germany. We were on the road for 14 days and the chemistry both on and behind the stage was great from the start. I loved how passionately, intensively and at the same time relaxed everyone dealt with the music and we had that "real band" feeling within a short time – created by these "good spirits". After that it was clear to me that I wanted to record an album with exactly this line-up. It took a while because of the pandemic.
AR: The music on this album is stylistically somewhat different to the first album. Was this intentional? And, do you think the change in personnel had an impact on this?
DG: Of course, the respective musicians make a big difference. On "The Good Spirits – Part 2" Sebastian, Reuben and Clarence shape the music in their own way from the first to the last second. The compositions contain certain guidelines in terms of form, melody and harmony. But it was important to me to just let it run. I wanted to develop the pieces together and capture as many impulses from the band as possible. The three are just so strong and at the same time attentive musicians that you don't really have to say anything. It was really exciting and some songs went in a completely different direction than I might have initially imagined.
My arrangements on the previous album (of course the album also lives from the power and spirit of the band) were a bit denser and I had planned a lot more in advance in terms of processes, tempos and grooves. Of course that had something to do with the tighter schedule, but maybe also with the way I composed and conceptualized at the time. I think I've evolved there.
AR: When did you write the compositions?
DG: I composed most of it in early 2020. Originally we would have been on tour with the band and then we would have recorded the album. Because of the pandemic, we only got together for a few concerts at the end of 2021 and then recorded in the "Altes Pfandhaus" concert room in Cologne. I wanted to have an atmosphere that was as close to live as possible when recording and that was great there with the help of our audio engineers Nico Raschke It's quite possible. It was mixed and mastered by the wonderful Katsuhiko Naito in New York, who also made the first album.
AR: Will you be performing with the band live? And if yes can you give me some details?
DG: Yes definitely. This year we have the following dates and hopefully there will be a lot more to come.
26 October – Bird's Eye, Basel
27 October – Klangbrücke, Aachen
28 October – Karlsruhe Jazz Club, Karlsruhe
29 October – Birdland Neuburg a.i.e. Danube
30 October – Kulturkirche, Darmstadt
1 November – King Georg Cologne
AR: Denis, thanks for this and to close off, I want to ask you that excluding the up-coming album and the concerts, what's still on your musical bucket list?
DG: In the last two years, I've done many albums that I have been involved with as a sideman. For example, I'm looking forward to touring with the bands of Lars Duppler, Jonas Sorgenfrei and Sebastian Gahler. As a musician, you always keep going. I'm currently reading Michael Brecker's new biography and it's just making my fingers itch to practice and keep developing my playing and to compose. There is still so much to do.
AR: Yeah, that's for sure, there's always still much to do. Once again thanks for taking the time to speak with me and I'll look forward catch you live at one of the October dates.
DG: That would be great, It was a pleasure.
Check out Denis' Mingus album on all of the streaming platforms and keep an eye out for the Good Spirits – Part 2 album later in the year.
You can find out more on Denis and his projects on his website here. More information on this album and other releases from Mons Records can be found here.
Last modified: August 27, 2022