German vocalist Erik Leuthäuser is known for his unique ability to tell a story and find connections between the past and present. He has ventured into that grey area between jazz and indie pop on his 2018 album "Wünsch" (with Greg Cohen, Kurt Rosenwinkel, Joey Baron, and others). Now, together with pianist Wolfgang Köhler, Erik has released a number of duo albums that explore the world of cabaret-jazz and the work of some of it's lessor known artists and performers. Following the release of his latest album in his duo series I decided to reach out to Erik to find out more.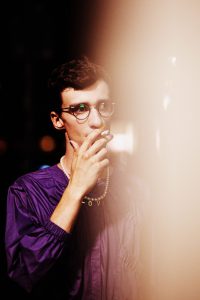 Originally from the German city of Dresden, Erik comes from a musical family. With his father being a jazz guitarist, Erik recalls that there was always jazz music playing in at home. "I was around 10 years old, I think when I first discovered the music of Ella Fitzgerald and Billy Holiday. This was the start of my love of jazz music. As a kid I was already singing a lot. I can remember singing Beatles songs with my father and eventually we started to sing some standards. That's when I decided I wanted to focus on jazz. Not long after that I started learning piano.
Growing up in Dresden, Erik then had the opportunity to go to one of the few music focused high schools in Germany at the time with a jazz program in the curriculum. "The school was attached to the University of Music in Dresden so I was able to do all of my "A Levels" but still focus on studying jazz." Erik explained. Eventually Erik moved to Berlin where he studied at the Jazz Institute and it was in this period that Erik recorded his first album "In the Land of Oo-Bla-Dee". Released on Mons records in 2015, the album was an exploration of the vocalese style with German lyrics set to Be-Bop classics and a selection of well known standards.
For a debut album, "In the Land of Oo-Bla-Dee" is quite an extensive outing featuring 18 tracks and two different ensembles. Erik stated in the liner notes for the album that it is "… an album featuring eighteen songs from two musical worlds, which none the less have much in common." These two worlds that Erik spoke about are the 9 bebop compositions with German vocalese texts written by Leuthäuser himself. Secondly there are a further 9 arrangements of American Songbook standards recorded the LA based trioKAIT.
Speaking about this album Erik said "I started to write German vocalese texts to bebop pieces for fun. With my rhythm section at the time, Silke Krause and Lars Födisch, I felt I had found musicians who also liked that type of music. The pieces with trioKAIT came about differently. I met Kait, the pianist in the trio, by chance at her concert in 'b-flat' in Berlin back in 2013 I think. We played together during the session afterwards and a year later we went into the studio and recorded these tracks."
He went on to say "There are quite a lot of personal references on that album! I wrote all of the German vocalese lyrics and they are mostly about my favourite artists, their lives and work. But those lyrics are also about my own personal day-to-day life as a music student. Even on the pieces I did with trioKAIT there are references to myself, especially on my composition "Our Place (Frank's Place)" or on "I Was Telling Him But Now I Cry Alone (Betty Carter Medley)". On that song, I combined two lesser-known pieces sung by Betty Carter, because lyrically I thought they were the perfect fit."
Around the same time Erik also became interested in exploring styles and this eventually led to the "Wünsch" album that appeared on MPS records in 2018. "Wünsch" was a totally different kettle of fish to his debut album. "While I was studying here in Berlin at the Jazz Institute, I felt I wanted to expand my musical horizons, I don't see this as a pure jazz album, there's a lot of different things there including some indie pop influences. It's actually a bit of everything" explained Erik.
That said the album is not at all disjointed. Erik went on to say "In the end it doesn't matter where and how these songs came to me. All of this is very personal. I paid little attention to the style or a target audience. I just tied all my musical ideas together and made music out of them."
The fact that "Wünsch" is so multifaceted is largely due to the ability of the musicians to engage with Leuthäuser's ideas. The album was produced by bassist Greg Cohen with appearances by Guitarist Kurt Rosenwinkel, drummer Joey Baron and a long list of well known Berlin session players. Speaking of how it all came together Erik explained. "Well I knew Greg (Cohen – ed) from the jazz institute and he was always very supportive, he brought in Joey Baron and I brought in Kurt Rosenwinkel, we'd played together before at Montreux and fortunately he liked the music. With Kurt living in Berlin it all came together without to many scheduling issues. I was also really pleased to have Elias Stemeseder on piano and keyboards. I think he's one of the best piano players, especially that modern style. He's mostly in New York but he's often here in Berlin and the timing just worked out."
The "Wünsch" album contains reinterpretations of songs, such as Friedrich Hollaender's "Wenn ich mir werben", others are poems and songs set to music, such as by Dorothea Kehr. There are a few standards by Wayne Shorter and Duke Ellington, which Leuthäuser provided with German lyrics, and finally there are a number songs that are entirely his own compositions.
While "Wünsch" was quite successful, this ended up not being the direction that Erik would choose to take "After doing Wünsch and experimenting with loops and electronics I decided I wanted to focus more on story telling. That's not to say that "Wünsch" was not about story telling, the songs on that album were my stories, it was personal and very German focused. What I wanted to do was tell stories that were more consistent with mainstream jazz. At the time I was listening a lot to Susannah McCorkle, her story and her music really touched me, her ability to tell a story through song was just so authentic. I was very taken with that cabaret-jazz style that was popular in New York. There wasn't a lot on improvisation, it was all abut story telling and I really liked that."
Erik decided that this was an area of art that he wanted to explore and after listening to the albums that Irene Kral and Alan Broadbent did back in the 1970's, he decided to move in this direction. Erik explained "I'd just done this gig at the A-Trane club in Berlin with Judy Niemack and I had this crazy idea to do a duo there with the music of Irene Kral and Alan Broadbent and also record it. So once I had locked in the date I called Wolfgang Köhler, who I knew from the Jazz Institute and we started working on it."
The gig took place in June 2019 as did the recording and the result was released on Mons Records in February 2020, just prior to the pandemic. The title "In the land of Irene Kral and Alan Broadbent" is of course a nod to his first album but was also the launch of a series of duo albums that carry the name "In the land of…" and explore the repertoire of composers and/or performers that have inspired Erik throughout the years.
"I love working in a duo format, it gives you a lot of space to work with" said Erik. "I mean the less people involved means the less things that can go wrong in the communication, you know it's easier to talk to just two people than have a group discussion. For me as a singer, I really feel safe when I know I have a great piano player with me, and I think that's probably the case for most singers. I really love working with Wolfgang, he's such a great player and when we play together I feel I can just let myself go and everything will be alright.
Recording live comes with it's advantages, the interaction with a live audience adds a special atmosphere, however, it also provides a number challenges and specifically when the recording is in such a small setting. Erik admitted that he was somewhat anxious prior to the performance, "I've always wanted to be able to do a live recording, it's a whole different thing recording live in front of an audience rather than in the studio. The studio can be a bit clinical at times. But I have to admit I was a bit nervous. To do two sets and have every song be really good and not fuck up or be out of tune when you know, in the background, the tapes running – that can be tough. But, we were really well prepared and everything went well. Once we started I felt good and just got into the zone."
Hot on the heals of the Irene Kral album, in June 2021, Erik released his follow-up album. Also recorded live at the A-Trane, but this time zooming in on the music of Kent Carlson, a songwriter from Los Angeles, who has been singing in the MDR Rundfunkchor in Leipzig since 2010. "Kent attended my concerts regularly and we developed a friendship … I was happy to meet another queer person with a deep understanding and knowledge of vocal jazz and the standards. This combination is rare. At some point, Kent called me and asked if I might like to sing his songs. When I received the scores, we were in like Flynn." explained Erik.
In July this year, third album in the series was released titled "In the land of Ronny Whyte", and as you can deduce from the title focuses on the music of Ronny Whyte. "I've always loved the work of Ronny, in fact, he was one of the inspirations behind my love of this style. His songwriting has humour, beauty; it's timeless. Some of his songs could become standards."
Ronny Whyte is a stalwart on the New York scene, and while his name may not be on the tip of everyone's tongue, Whyte is an ASCAP Award-winning songwriter. His lyric "Forget the Woman" was recorded by Tony Bennett and his music for "The Party Upstairs" won the MAC Award for Best Song of 2006. In addition he has recorded eleven CDs for Audiophile label and it's through these recordings that Erik first learned about Ronny and conceived the idea to record this album as a tribute.
This album is somewhat of a departure from the last two in the series in so far as it was a studio recording. Another departure from his standard format was the appearance on the album from Mr Whyte himself. While the majority of the album was recorded in Berlin, in late April 2021, Erik spent two weeks with Whyte at his Pennsylvania and New Jersey homes. During that time, the two went into the Teaneck studios in New Jersey where the recorded a duet on "People, Places, Things" and Ronny recorded a solo piece, "My Heart Has a Mind of Its Own," a composition by Whyte with a setting of a lyric by his late husband, Jack Burns hereby finishing off the album.
This new album and indeed the two previous ones are all available on CD and on all the usual streaming platforms via Mons Records.
There's little doubt that Erik is a unique vocalist, he has a strong vision and a rock solid commitment to what he is doing and I'm sure we will be hearing a lot more from him in the coming years. While you can find out more about Erik on his website, if you do have the chance to check him out live, I'm sure you will be surprised.
Last modified: August 30, 2022