Bassist and composer Ilaria Capalbo recently released her brilliant album, Karthago, her first as a leader. Already established in the scene as an exceptional bassist, having worked with artist such as Norma Winstone and Steffano di Battista, Ilaria is also one of the co-leaders of the Kosmos trio and a member of the Chihiro Yamanaka's European Trio.
It was an absolute joy to talk to Ilaira about her work and we started off discussing her travels, how she came to be settled in Stockholm and how it compared to the jazz scene in Naples.
 I ended up here in Stockholm because when I was studying for my Masters, which was a few years ago now, I applied and was awarded a scholarship for studying a year abroad and so I got into a programme here in Stockholm and I liked it very much. I moved back to Italy, but I decided that I wanted to be back here and that was just before the pandemic.
I think that in my case there was quite a lively jazz scene in Naples but the thing that most appealed to me here in Sweden was the amount of original projects that were coming out. Anything new that comes into Italy seems to be more focused around 'big names' whereas I found a little more space here.
 The pandemic affected all of us in many different ways and for some artists it was a time of incredible productivity, but as always, with challenges. I can only imagine how hard it must have been for Ilaria, both personally and musically, moving to a new country and then finding everything was locked down.
I had a lot of time during the pandemic and also, I was confronted with a lot of things -moving to another country was one thing and moving at such a 'special' time was another. When you move to another country you really want to maybe meet other people, start doing stuff together, go out… but none of that was possible. I decided that I could work instead and so I started writing.
Ilaria has been active on the scene for quite a while and has a huge amount of experience as a bassist but this was her first album project as the leader. We talked about her compositional process and her vision for the album.
It was a long process actually, not the writing itself but imagining how it could sound with the people that I had listened to but I kind of had this feeling… It's one of those rare times when you have a picture that you have the time to paint in your mind and then it is nearly the same when it comes out. You know how sometimes when you write the song, it's not really real until you play it? I had actually a lot of time to think of this in detail and it ended up the way that I had pictured it.
The album is stunning and understandably has received incredible reviews. Bass and compositions from Ilaira with an inspired group of musicians: Thomas Backman (alto sax, clarinet) Fredrik Nordström (tenor /baritone sax) Andreas Hourdakis (guitar) Fredrik Rundqvist (drums) Tobias Wiklund (cornet) and Mats Äleklint (trombone).
I spent a lot of time listening to their own records and whenever possible I would play with them. This whole project actually started because one of the musicians, Thomas Backman, he's also a colleague of mine at my day job (teaching), we started this little tradition that we would meet up half an hour before and just play a little bit.
Taking on any project as a leader for the first time, can be daunting, especially during the pandemic and especially having just moved to a new country. Ilaria has demonstrated her inspirational leadership skills and resilience through this project.
It was fun and I loved it. I was talking to a friend and I was saying that I'm not the same person, it seems very weird but it's because I didn't have that much confidence before. It wasn't something that came easy to me, but it worked very well. The thing with writing, well it is a little bit like you're playing an instrument and you need to practise…and it's a bit abstract and it can be scary, but I enjoyed it and it was the perfect pandemic activity!
Ilaria clearly has a passion and significant knowledge of history, especially Italian history and the album Karthago is inspired by the legendary Queen Dido and the city she founded.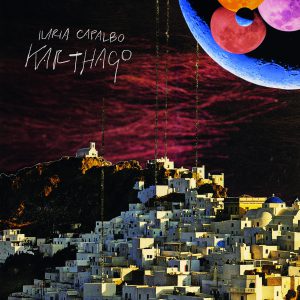 You might say that it's like a concept album and I am very much into history. Where I'm from in Italy, we study that in school, and we are told all of these stories. I wanted to take the theme of Karthago, the City, and Queen Dido – it's history but it's also mythology, sort of linked, which is usually was happens in the Mediterranean. There are a lot of sources that can be found, like poetry for example and I liked the theme of the city because Karthago actually was a real place and it can still be seen. It was a huge power in the Mediterranean, until Rome came along, and they inevitably clashed because they were too big for each other and they fought for dominance.
One thing I was intrigued by was the fact that it was a Queen that founded the city and brought it to prosperity and there's a lot of literature on Queen Dido, but it was also a tale of resilience. Yes, it was erased but it resisted for a very long time and so I saw it as a way of being yourself no matter what, a tale of empowerment. I exist and because I exist, I'm going to fight back and after that point it doesn't really matter if I am defeated because I am remembered, so it was a bit of a metaphor for a lot of things.
I think so she was clever, but she was a vulnerable at the same time. They say that the founding of the city happened because she fled from her hometown into the spot where Karthago was founded and she had the permission from the king of this area to build a town. But he said you can have this cow skin and that's going to be your land as much as this skin can cover. So, she cut it into, like super thin strips and she put it around the whole area.
There is much to say about the fascinating story of Queen Dido and we talked about how Ilaria embedded this in her music.
There is a narration on the course of the whole album. The title tune 'Karthago' for example, is a little bit emblematic you might say, and I hope that it comes across. I mean one good thing is that when I brought the music to the musicians, they kind of had that vision immediately so it's like an apocalyptic tune, and they play it like that when we play it live. It's dense and it's one bass line for the whole tune and the bass has this role of keeping everything together but also unleashing chaos at some points and that worked well also in the record. There's also another tune that is particularly relevant, it's the first tune that is called 'Beloved' and with that it was kind of a tribute to everything that is held dear, that is part of the vulnerability in that song but also its celebratory.
And finally, I asked Ilaria, with the significant depth to her album, not just the historical elements, but musically, what did she hope an audience would take away from a performance.
I think that's a very good question and I mean it would be nice if they questioned? If they went a bit behind the music because then you can explain and then it becomes a message.
To purchase 'Karthago', please click here
To follow Ilaria's work, please click here
Last modified: August 22, 2022