On September the 8th, French ex-pat guitarist Guillaume Muller will return to Paris of a one-off concert at the Sunset Sunside club. For this concert Guillaume will be joined by pianist Jim Funnell, bassist Gabriel Midon and Jeff Boudreaux on the drums.
Guillaume left his native France a number of years ago to study at Boston's temple of jazz education, the Berklee School of Music. After graduating he moved to New York and has now fully entrenched himself into the New York the scene. Pianist Jim Funnell, also a graduate of Berklee, followed a similar path and also appeared on Guillaume's first album however, some time back, moved from New York back to Paris. When I received the news that the two will re-connect for a concert in Paris my interest was peaked. With this in mind I reached out to Guillaume to find out more about this concert and what he's been up to since moving to the other side of the big pond.
Guillaume started his journey in music somewhat later in life, in fact it wasn't until he was in high school that he first picked up the instrument. A number of his then friends were playing in a rock bands and this inspired Guillaume to start playing. As is often the case he was initially self taught, he explained "I started by playing Blues, Pop and Rock, and from there I naturally got into jazz, swing, bebop and then slowly discovered more contemporary and modern players. It was around that point that I started to take some lessons." After graduating from high school he studied law however, the love of the guitar is a hard relationship to shake and eventually took the upper hand. "I was studying law but to be honest, it seemed like I was more and more heading toward music." he explained. Guillaume knew by this time that music was something he wanted to pursue seriously.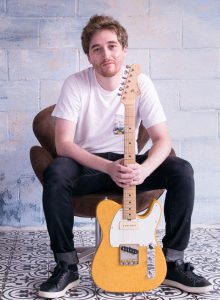 After graduating with his degree in law, Guillaume remembered that his first guitar teacher had studied at Berklee back in the 1980's. He recalled "When I studied with him he would share a lot of the material and always encouraged me to visit Boston. So when I had the chance, I applied to Berklee and ended up getting a grant to pursue my studies there." He went on to say "Moving to Boston was such a great experience. Aside from discovering a new country, a new school and a new way of life, I got to meet some amazing musicians from whom I was able to learn a lot. This experience really broadened my mind. The music/jazz scene in Boston is rather small but it's really friendly as the scene is mostly comprised of students and faculty from Berklee but also the other local colleges and schools. I learned a lot from playing with the students and teachers there. Wally's or the school's classroom were a great place to hang."
After graduating from Berklee Guillaume choose to move to New York. "I wanted to experience what it's like to live as a musician in NYC. If you compare New York to Boston, New York is Bigger, faster – stronger – I think there is nothing quite like New York. It is a really harsh yet inspiring place to be. The music scene is huge and really diverse and some of the best musicians in the world live here and perform every night. It's a great place to grow as a musician – as a human being, well – but it's not easy, it can be harsh sometimes."
After working his way into the scene, performing at many of the cities clubs and developing a teaching network, Guillaume enrolled at NYU to do a masters degree in Jazz performance and composition. "I wanted to focus on composing as well as playing, so I thought doing a masters degree would not only be a good opportunity to meet more musicians and develop a local network but also to dig deeper into composition. I am really happy I attended NYU as I was able once again to meet and hang with outstanding musicians, students and teachers." explained Guillaume. This eventually led to the recording of his first album titled "Sketches of Sound". Guillaume explained further "As it turned out the final project for my master degree was to make a record with my compositions. The school made a recording studio available for us, so I hired an engineer, put the band together and we had about 6 hours to record 7 tracks, no overdubs. I guess it was an album on a budget! But, I am really proud of the result. This album is my first attempt at recording original compositions. I tried to define my own voice as a composer and musician as well as paying my respects to the music and the musicians who have inspired me. This is why I called it Sketches of Sound. I am trying to define and establish what I want to convey and I thought it would be appropriate to define this first album as a sketch and lay the basis for something I will try to refine and bring new elements to in the future".
The album was released late in 2019 however not long after the release the pandemic hit. New York shut down, killing off the planed concerts around the album release. "Covid was really rough in New York in early 2020. I had just released the album and was booking shows to promote its release, but everything got halted. Most of my work (teaching, performing) was gone and I needed to apply for a new visa – so all this on top of a worldwide virus – These were trying times. I decided to focus on my instrument, I had more time to work on my craft, practice, compose, transcribe and started drafting my first educational music method." The result of the enforced pause was a great deal of new music that he will record on a follow up album. The first album was comprised of a number of different formats from quintet with sax and piano to quartet with either piano or sax and the standard guitar trio. The next album will take a different path and be fully recorded in trio format. When speaking of this Guillaume said "As things got back to normal this spring, I had the opportunity to premiere some of the new material live at the Culture Lab L.I.C, here in New York. I've always been interested in the trio format and how it allows for more conversation and interaction between the musicians. I feel music becomes more controlled and opened at the same time."
I was interested to know whether or not the change in format would also bring a change on compositional style. He explained "I think I will still write in a similar way regardless of the format I'm writing for. That being said, I try to keep an open mind and not get stuck in some kind of "composition formula". In other words, I may change my approach to composing a tune but it will not be based on the format of my project. I like to think it will only be influenced by the composition itself."
At present Guillaume doesn't have a set timeline for recording the new album. When I asked him he replied "it's hard to say, perhaps sometime in 2023, but ideally when I feel ready but first I want to do the material live and develop it in the trio format. I imposed myself a deadline on the previous album but, I think I would like to give myself more time to see how the tunes and the band evolve this time. The reactions to the new music have been really great here and I'll be interested to see how the music is received back in Europe."
With this in mind, Guillaume will perform not only a few of the tracks from the first CD but also many of the new compositions at the coming Paris concert. I asked Guillaume about the concert in Paris and how it came about. "Well I was not actually planning to do a tour in Europe but I was planning a short trip to see my family. When I heard that Jim Funnell, whom I met in New York, 4-5 years ago and played on the first album, had moved to Europe and was now based in Paris, I thought it would be crazy not to do something. " With a date available at the iconic Paris venue "the Sunset Sunside" club and bassist Gabriel Midon and drummer Jeff Boudreaux, who came highly recommended by Jim, available to play the plan was set.
I've always been interested in following younger musicians on their journey and I believe Guillaume Muller is an artist to keep your eye on. His first album is a great debut and I believe that the concert in Paris will be one not to miss.
The concert will be on Thursday the 8th of September and starts at 8:30. Tickets are available via the Sunset Sunside website here below.

Last modified: September 10, 2022