The Kalpadruma Collective was founded in 2017 by Asha Parkinson, an up-and-coming young musician and composer looking to cross genre boundaries and diversify the styles of jazz she grew up playing. A source of great inspiration for the group can be linked to the concept of 'Kalpadruma' itself; a mythological and divine tree which grants all life's desires.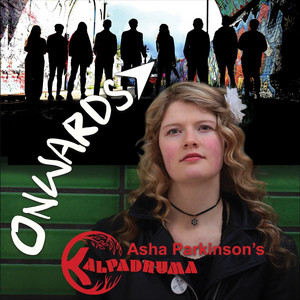 The collective explores connections between Arabic, Turkish, Indian, contemporary classical and jazz music, collaborating with the likes of the South Asian Youth Orchestra and the Orchestra of Syrian Musicians. Furthermore, the ensemble follows a manifesto ( read in full on Parkinson's website):
To create a sound world that is an authentic meeting point between genres
To promote working across cultural boundaries (through interactive workshops and concerts)
To commission composers from minority groups e.g refugee groups and the LGBTQIA+ community.
Onwards is a musical tapestry built upon varying cultural sound worlds, instrumental virtuosity, and experimentalism. The album was formed after four years of seeking an authentic musical meeting point between the ensemble's various sonic and cultural backgrounds. A degree of unpredictability and excitement comes from listening to each track on the album. This perhaps doesn't just stem from Parkinson's unique compositional style, but also the diverse musical personalities from within the collective.
The first track 'El duende me protégé' is a web of contrasts and uncertainty: the soothing vocal introduction transitions spontaneously into a striking and dissonant chordal section, led by strings and piano. Parkinson's experimental flare makes it hard to predict where the music will go next, with each instrument piloting its own musical path and narrative through new melodic, harmonic, and textural ideas. Elsa Hackett's rich and reassuring tone remains prominent amongst the busy accompaniment, along with Gareth Lockrane's impressive piccolo solo, which experiments with the track's conflicting harmonic structures.
The collective's wide sonic range can be heard particularly in the ambient introduction of 'Within the mist'. Eliza Oakes' free-moving and angular melody lines contribute to this ambience, copied by the cello soon after, transforming this melody into something more melancholic and retrospective.
This gloomy and wistful track is instantly polarized by 'Alright then!' which has a lighter and bouncier feel, featuring Parkinson herself on alto saxophone. From this motif-driven and percussive backing, a distorted speech-like rap emerges featuring political messages, interjected by woodwind trills, disjunct flute lines and muted trumpets. The motif drives the harmony throughout the music; when it drops out a more experimental and free-jazz feel takes over.
The album's title track seems almost polytonal, with the vocal melody (Eliza Oakes) running parallel to the percussive and salsa-like piano accompaniment. Parkinson's tenor solo coalesces the diverse and experimental features present within the music, while also paying tribute to her jazz education.
Both tracks 5 and 6 feature the qanun, an Arabic string instrument played by guest Konstantinos Glynos. Its incredible tone contrasts the rest of the instrumentation, allowing it to shine through and dominate the music.
The collective's drive in creating music which incorporates features from all over the world, while also experimenting with styles associated with free jazz, makes this an incredibly exciting album to listen to. Composers like Parkinson, who go above and beyond to bring musical genres together should be celebrated, particularly in the face of increasing globalisation and multiculturalism.
Line-up:
Composer/bandleader/ alto/soprano/tenor saxophone- Asha Parkinson
Qanun- Konstantinos Glynos / Piccolo- Gareth Lockrane / Voice- Eliza Oakes and Elsa Hackett / Lead violin- Olivia Ziani / Violin- Serguei Gonzalez Pavlova and Brenna Jean Carey /
Viola- Sally Belcher and, Andrew Liddell  / Cello- Sam Vincent  / Flute- Daniel Swani  / Trumpet- George Jefford and Josh Short  / Bass clarinet and baritone saxophone- Joe Thwates and  Ben Crane 
Piano- Harry Baker and Tim Lallement  / Guitar- Charlie Heywood and Emily Roberts  / Drum Kit- Tristan Butler, Dave Adsett and Theo Guttenplan  / Percussion- Tristan Butler and Joe Parks 
Track Listing:
El Duende me protégé

Within the mist

Alright then

Snowdrift on the sand

Onwards

Integrate?
To follow Asha Parkinson, visit her website here
Last modified: September 10, 2022