"In the land of Ronny Whyte" is the latest offering from German based vocalist Erik Leuthäuser along with his long time collaborator, pianist Wolfgang Köhler. Continuing on with his series of duo recordings that fully focus on the repertoire of a specific composer, this time Erik turns attention to the compositions of American pianist/composer, Ronny Whyte.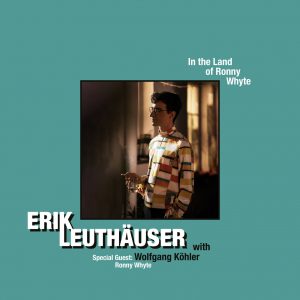 While for most listeners, Ronny Whyte is far from a household name, in the USA he has achieved some prominence in the jazz-cabaret scene. Not being personally familiar with Mr Whyte's work the press release accompanying this album does provide some background. In the release it states: "Whyte is an ASCAP Award-winning songwriter. His lyric "Forget the Woman" was recorded by Tony Bennett and his music for "The Party Upstairs" won the MAC Award for Best Song of 2006."
Ronny Whyte recorded eleven CDs for Audiophile label and it's through these recordings that Erik first learned about Ronny and conceived the idea to record this album as a tribute. The album focus's mainly on Whyte's compositions however there are two American Songbook standards that have been mainstays in Whyte's live shows.
The format for most of the arrangements that appear on this recording remains largely unchanged from the rest of the "In the land of…." series and fall firmly into the classic jazz-cabaret format. With his previous albums being extremely well received I can imagine that you would not want to change a winning formula. However, this release does differ from the previous albums in so much as this recording also this album includes a number of duet performances with the composer himself. A further and perhaps more important difference is the way this album was recorded, unlike the previous albums, this album is a studio recording where as the forerunners were all recorded live.
Being familiar with Erik's previous outings, I would say that one of the most charming aspects of these recordings was the interaction with audience. Although this is missing on this recording the benefits of the studio more than compensate. The performances are still equally spontaneous however there is an extra sense of refinement that more than compensates for the lack of audience engagement.
Perhaps it's the controlled studio environment or the fact that both Wolfgang and Erik have been playing together now for many years but on this recording the two seem to blend so well that it's almost impossible too imagine that you are hearing two players. In the rubato passages, no matter where Erik takes it Wolfgang seems to already know where it's going.
On the album Ronny Whyte himself makes an appearance on two songs. The first in in a Duet with Erik on "People, Places, Things" and the second is "My Heart Has a Mind of Its Own," that Whyte performs himself. I found the duet to be an interesting juxtaposition, over the years Erik has developed a unique and very charming vocal style of his own however Whyte vocal is firmly rooted into the crooner tradition.
I particularly enjoyed the albums closing track, "Berlin Ist 'ne Berüchtigte Stadt". This track differs from the rest of the material, not only for the fact that it's in German, but also due the fact that it's co-written by by Leuthäuser and Whyte. This track took me back to that Berlin cabaret tradition that was so popular in the post world war one period or what is more commonly known as the Weimar Republic.
This album is a great addition to Erik's "In the land of series" and while it may not appeal to all jazz fans, there will be a large market that will just lap this up. Personally I can't wait to see what repertoire Erik chooses to dive into next.
Track Listing:
1 Here's Looking At You | 2 People, Places, Things | 3 Something To Write Home About | 4 Paris In The Snow | 5 Always December | 6 My Heart Has A Mind Of It's Own | 7 I'll Tell You What | 8 The Lady's In Love With You | 9 Are You With Me | 10 A Face Like Yours | 11 The Legacy | 12 The Ballad Of The Sad Young Men | 13 Berlin Ist 'ne Beruchtigte Stadt.
Line-Up:
Erik Leuthäuser, vocals | Wolfgang Köhler, piano | Ronny Whyte, piano & vocals (tracks 2 & 6)
Release date: 22 July 2022
Format: CD | Digital
Label: Mons Records
Last modified: August 23, 2022