Le Coq Records continues its exploration of the boundless piano trio setting with The Jon Cowherd Trio's Pride and Joy, an exemplary session featuring three of the most imaginative, sensitive and wide-ranging artists in modern jazz: pianist Cowherd, bassist John Patitucci and drummer Brian Blade. They're joined on three tracks by saxophonist Chris Potter and percussionist Alex Acuña.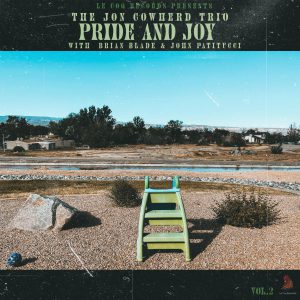 Pride and Joy follows in the spirit of its critically acclaimed 2021 predecessor, which teamed Patitucci with drummer Vinnie Colaiuta and pianist Bill Cunliffe. While with this last album Cunliffe, Patitucci and Colaiuta were convening themselves as a trio for the first time on that date (despite a long-shared history in various settings and combinations), Pride and Joy reunites a trio with deep roots together. Cowherd and Blade have shared a close relationship for more than 25 years, ever since their college days at New Orleans' Loyola University. The two co-founded the Grammy-nominated Brian Blade and the Fellowship Band, one of the most revered ensembles in contemporary music. It was through Blade that Cowherd met Patitucci, the drummer's bandmate in the Wayne Shorter Quartet. The trio embarked on several tours of Europe and the States around the turn of the millennium, then joined with guitarist Bill Frisell to record Cowherd's 2013 leader debut for Blue Note Records, Mercy.
The new album is thus a reunion of old friends in spirited musical conversation. It comes at a time of great change for Cowherd, obliquely referenced in the album title as well as its evocative cover art. Pride and Joy first and foremost refers to the pianist's two-and-a-half-year-old daughter Sofiane. In addition to the expansion of his family, Cowherd has relocated from New York City, where he's lived and worked for nearly three decades, to Grand Junction, Colorado. The album's cover is a view of the family's new backyard and the arid, rocky desert landscape that it looks out upon, a far cry from the cramped, bustling metropolitan landscape of NYC. Poetically, the toy ladder seems to suggest an ascent into the unknown with a touch of childlike wonder and whimsy.
"It's beautiful here," Cowherd says, while admitting that the change of environs will take some time to get used to. "We're in the middle of reddish brown mesas and mountains, and it's just gorgeous. It's a great place to relax." Not that he's done much of that lately. In recent months Cowherd has logged considerable road miles on tour with guitar great John Scofield's new band Yankee Go Home as well as with Blade and the Fellowship Band, both of whom have new albums planned for the near future.
Album opener "Grand Mesa" offers the perfect soundtrack to the vista that Cowherd now calls home. The soaring piece reflects the vast open spaces and alluring horizons, especially with the roiling undercurrent of Acuña's percussion and Chris Potter's venturesome tenor playing. The move is also referenced in "The Colorado Experiment," a more acute-angled composition for the trio. The latter bears some influence from the late, great Chick Corea, whose 1968 album Now He Sings, Now He Sobs was an object of intense study for Cowherd during the pandemic. Corea is also the inspiration – along with one of his own primary influences, Thelonious Monk – for Patitucci's lively composition "Chickmonk," a salute to Patitucci's longtime boss in both his Akoustic and Elektric Bands.
The tender "Little Scorpio" refers to Cowherd's daughter, also the inspiration for the album's lyrical title track. "Sofiane is a Scorpio and a fiery redhead," the pianist explains. "When I wrote that music, I felt there was something kind of childlike and loving about it, so I dedicated it to her." "Honest Man" is another dedication, this one for one of Cowherd's most formative teachers, Marsalis family patriarch Ellis Marsalis, who passed away in April 2020 of complications from COVID-19. The piece was a commission from the Jazz Coalition, an organization formed by industry professionals, musicians and supporters to provide assistance to artists suffering during the lockdown. "Ellis Marsalis was my first jazz teacher," Cowherd explains. "He was very serious about jazz and the definition of jazz, and he set me straight. He was always a very straight shooter and he gave me a lot of criticism that I needed to hear. So, I wrote this song thinking about his honesty and directness."
"Plainfield" shifts the landscape back to the less picturesque east coast, namely the New Jersey hometown of piano icon Bill Evans, whose influence is evident on the introspective tune, which doubles Cowherd's incisive pianism with Hammond organ atmospherics. The album ends with Cowherd alone at the piano on "Quilt City Blues," a gospel-inflected piece written for him by Brian Blade. The title refers to Cowherd's hometown of Paducah, Kentucky, which proudly proclaims itself the "Quilt Capital of the World."
Pride and Joy is the latest addition to Le Coq Records' rapidly growing catalogue of essential jazz releases. Cowherd, Patitucci and Blade have all become integral members of the Le Coq family, contributing as players and/or arrangers to many of the label's recent offerings. The aptly named Pride and Joy gives the trio a welcome opportunity to step into the spotlight and exemplify both of those emotions.
More information on this and other releases from Le Coq Records can be found here.
Last modified: July 18, 2022