Earlier this year Swiss double bass player Dominik Schürmann released his latest CD titled "Moons Ago" on the German jazz label Mons Records. Having recently reviewed the album and enjoying it a great deal I thought I would reach out to Dominik for some more background on this Swiss bassist. You can read the interview below.
Andrew Read: Dominik, thanks for taking the time to speak with us. I've enjoyed your latest album a great deal. Can you tell us a bit about how the album came to be?
Dominik Schürmann: Thanks Andrew. I'm glad you like our album! The album "Moons Ago" was conceived during the Corona break. Before Corona I was constantly working, playing almost every day, my workload was always very full. When the pandemic came, I suddenly had a lot of free time so I used this time to compose, among other things. Then, when a few compositions were ready, the next step was to plan a recording. It's the first time that I've produced an album with only my own compositions. I love to compose and have wanted to record and album like this for a long time. Finally I had the time and opportunity so it just had to happen.
AR: Max Ionata plays an integral role on the recording. How did this collaboration come about and did his presence in the project influence the compositions and/or the arrangements?
DS: Well, the procedure was reversed. First I wrote the pieces and then I looked for the right musicians. After we completed the tracking sessions, Max told me that he felt the pieces were tailor-made for him. I took a lot of time to look for the right soloist to interpret of my pieces. I came across Ionata through YouTube recordings, his unbelievably beautiful warm sound and his melodic tasteful playing, in the tradition of the old great masters, absolutely inspired me. He was part of my dream line-up. He also agreed to the project without hesitation when I sent him audio samples of my music. Ionata was lucky find!
AR: The other players on the album, pianist Yuri Storione and drummer Janis Jaunalksnis are new to me. Can you tell us a little about how you came to work with these players?
DS: I got to know both musicians through my contact with the Jazzcampus in Basel, the internationally renowned jazz school in Switzerland. Both Yuri and Janis moved to Basel, Switzerland, to study and further their education. They are extremely talented and, like me, deeply rooted in the jazz tradition. You quickly notice whether the interaction with a musician works well, we got along very well musically and personally right away. I'm glad that both musicians have chosen Basel as their permanent residence. I've been working with Yuri and Jãnis for a few years now and I am convinced that it will continue for a long time.
AR: The album harks back stylistically to the east coast style of the late 1950's and 1960's. What was the motivation for revisiting this style and did the choice of players affect the decision in any way?
DS: I don't really think about the chronology of my music, for me it's not tied to a style epoch, but timeless. I'm only focused on the message of the music, with individuality and with swing and groove. But it is also the case that many of my great role models come from the 1950s and 1960s. So it's no coincidence that my songs and their interpretation are reminiscent of that time. I also try to write pieces based on logical harmonic structures as was the case at that time. I often miss this harmonic logic in today's so-called "avant-garde".
AR: With the pandemic effectively killing off live performances for close to two years can you speak a bit about what kept you busy in this period.
DS: As I mentioned earlier, I kept myself busy by writing and arranging a lot of music. In addition to the album "Moons Ago", three other recordings were made that I was allowed to participate in during the Corona period. I was very grateful for these opportunities during the pandemic because without live performances and the interaction with other musicians, it is difficult to keep up the motivation. Especially as a bass player who primarily accompanies other musicians. And of course, as usual, I spent the whole time dealing intensively with music in general and with my bass.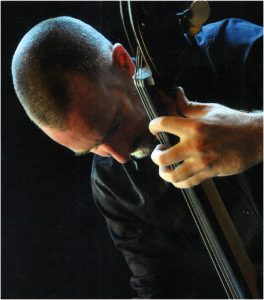 AR: Speaking of Yuri Storione, in 2021 you released a trio album with Yuri on piano and drummer Jorge Rossy. Musically this album is quite different from Moons Ago. Do you see this as a separate project and how does this new line-up for the current album with Max fit with your other projects?
DS: That's the exciting thing about jazz, In a perfect world every musician lets his or her own personality flow into a project creating a completely new and unique sound. Of course this is dependent on which musicians are taking part in a project. Yuri Storione contributed half of the tracks on the album "This Time The Dream's On Us" with Jorge Rossy. Yuri's compositions have a completely different structure and character than my pieces. That was very enriching and our songs complemented each other perfectly. I think the project with my trio and Max Ionata has the same anatomy as the other projects, it's created by the creativity and input of each musicians own personal language.
AR: I'd like to speak a little about your background as a musician. Your father was a jazz musician, how much impact did this have on your early development as a musician.
DS: Thanks to my father being a jazz pianist I had the opportunity to perform live from a very early age. We often played together at private parties and thanks to my father I was able to memorize a lot of jazz standards and other popular music pieces when I was still quite young. This fact quickly turned out to be a great advantage and I was often asked to be a sideman for appearances. Of course, I also benefited a lot from my father musically and learned a lot about the music business from him.
AR: What was it that drew you to the bass?
DS: What fascinated me from the start was the swing feeling, to which the bass contributes significantly. Dealing with the timing and the interaction with the fellow musicians. The realization that the right bass tones have the decisive influence on the whole band sound also came quickly. That always excited me. I've never really been a musician who really likes to be in the spotlight. I really like soloing, but what really interests me is timing and tasteful accompaniment. As a bassist, you can get the band singing with good timing and the right tones. I'm convinced that bassists who can accompany well have more gigs than bassists who may be able to solo with virtuosity but who are actually not interested in accompanying other soloists.
AR: You've done a great deal of work as a sideman however also led and co-led many projects. Where does your priority lie, as a band leader or as a sideman?
DS: It doesn't matter to me if I'm a sideman or a bandleader, I don't really have a preference for either role, the goal is always that the interaction with the fellow musicians works well. Of course, as a bandleader, I can have more influence on the music and I can make more decisions myself: I can determine the pieces and also make other musical decisions. Teamwork and mutual exchange are always indispensable and a matter of course. As a sideman, I have other advantages. I have the opportunity to meet new musicians and new music. Two different starting positions, both of which have their appeal for me.
AR: What's next, from a musical perspective for Dominik Schürmann?
DS: At the moment I have two CD productions planned. In May of this year I was in the studio with another piano trio I'm a member of, the Gutfleisch-Schürmann-Frey Trio, with the great harmonica and vibraphone player Hendrik Meurkens from New York. The album will be released over the following year I expect. I'm also planning my biggest music project to date: In co-production with Swiss radio, I'm arranging some of my songs for an 11-piece ensemble. Most of the arrangements have already been completed and the rehearsals with the ensemble are just beginning. Production is scheduled to be completed by the end of 2023, it's a lot of work and a lot of fun. And of course not to forget my two planned tours with my trio featuring Max Ionata in autumn 2022 and spring 2023 in Germany and Switzerland, which I am really looking forward to!
AR: Thanks Dominik for taking the time to speak to us.
DS: Your Welcome.
For more information on Dominik Schürmann please check out his website. For information on Dominik's latest album, Moons Ago, click here.
Last modified: July 11, 2022