Higher Perception is the first album by the Duo titled The New York Duo comprising of guitarist Christian Zatta and pianist Robinson de Montmollin. The Album was released on the German label Mons Records earlier this year and is available on CD, LP and of course all streaming platforms.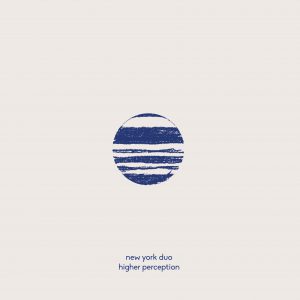 Historically in the jazz world, duo recordings featuring piano and guitar bring a number of challenges with them due to possible clashes arising between these two largely harmonic instruments. Playing in this format requires a certain sensibility and a great deal of listening from both musicians.
Personally my most notable piano guitar duo has to be the one formed by Jim Hall and Bill Evans ("Undercurrent" and "Intermodulation"). I had the great fortune to discuss, quite some time ago, these aspects directly with Jim Hall and he was quite clear in saying that it was wonderful playing with Bill in a Duo context because, being such a great musician and understanding the potential for clashing voicings he would often not use his left hand during his solos allowing Jim to comp with a degree of freedom.
I immediately noticed these same sensibilities on this new album "Higher Perception" by the New York Duo and with that in mind I think the title is the perfect reflection of a way these two musicians are interacting on this recording at such a high level. On first listening, you can feel the energy from the beginning of the first track "Song for Armenia" where both musicians introduce themselves. Calling the project the "New York Duo" is more geographical than a statement of style, essentially the project was founded while both musicians were residing in the "Big apple", however from a musical perspective, the compositions and performance style is far more European than American. I enjoyed the way these melodies and in particular the solo's seem to drive the listener to unexpected spaces creating a bright and crystalline atmosphere.
The album consists of eight tracks, six original compositions along with two arrangements, the first being the well worn standard "Body and Soul" and the second being Joe Henderson's "A Shade of Jade". Each of the tracks reflects stories inspired by personal experiences and contemporary events as well as paying respect to the musicians they love and admire for example the tune "Keith" is obviously a nod to Keith Jarrett. The two clearly have a great respect for the tradition however at the same time they are able to refresh the music interpreting it with new original ideas and emotional aspects.
One aspect of this album that I really enjoyed was the way the two were able to blend the sound of their instruments, at times melting into what would appear as a single instrument while, at other times they create a distance where the two seem to looking at each other from afar and conversing from different perspectives. The original compositions on the album are highly interesting with a great deal of melodic and harmonic depth yet at all times very accessible. Personal highlights are the energetic closing track "Saint Marks Avenue" and etheral "Back and Forth" that brought back memories of an early Pat Metheny. I found their reading of "Body and Soul" remarkable, I loved the rarefied intro and the way they revisited the harmony offering the listener a new vision to this old classic.
The album definitely tells a story and if you want to be absorbed by the music definitely check it out. It's a gem made by intimacy, confidence inspired by contemporary events.
Line-Up:
Christian Zatta, guitar | Robinson de Montmollin, piano
Track Listing:
1. Song For Armenia | 2. Digital Reality | 3. Body and Soul | 4. Fortunate Boy | 5. A Shade of Jade | 6. Keith | 7. Back and Forth | 8. Saint Marks Avenue
Release Date: 18 February 2022
Format: CD | LP | Digital
Label: Mons Records


New Release Spotify Playlist
The Jazz In Europe New Release playlist features tracks from the new releases featured on Jazz In Europe. Updated weekly, this playlist is the perfect place to discover new music from the leading jazz musicians currently on the scene. We hope you enjoy this selection.
Last modified: July 7, 2022