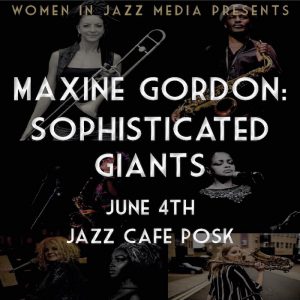 Women in Jazz Media presents 'Maxine Gordon – Sophisticated Giants', an evening of celebration of the inspirational work of award-winning Arts Advocate, Jazz Historian, Archivist, Scholar, Manager and Producer Maxine Gordon.  As well as performances of the music of Dexter Gordon from some of the Uk's leading saxophonists, this event gives us a fantastic opportunity to celebrate Maxine's forthcoming book 'Jazz Quartette' which explores the work of Shirley Scott, Maxine Sullivan, Velma Middleton and Melba Liston. This is a rare opportunity to hear the music of these artists and we are thrilled to have pianist Wendy Kirkland, vocalist Vimala Rowe and trombonist Laura Impallomeni performing their music on this special night.
Saturday 4th June, 8.30pm, Jazz Café POSK. Tickets here
We asked the brilliant musician, trumpeter/flugelhorn player Charlotte Keeffe to speak to the artists performing, about their process, how they have been preparing and what to expect on the night. Exploring the music of these legendary women has been a fascinating project for everyone.
CK: Please briefly introduce yourselves to us and share what really inspires you about the artist you are representing and therefore the music you will be playing as part of this special night?
WK: My name is Wendy Kirkland. I'm a pianist, Hammond player and singer. Shirley Scott is a huge inspiration to me because she was a very talented, prolific and long-established female jazz musician, famed for her Hammond skills. Listening to her, it is clear she had some of the same influences as the famed Larry Young, who enjoyed greater recognition later on. Shirley had a tasteful, melodic and modern sound which veered away from the cliches of the Hammond world.
CK: How are your thoughts and ideas shaping up for your performance on Saturday 4th June? What can we expect to hear from you on the night? You don't have to let us know exact piece choices right now, this is more of an invitation to share with us where you're at with your preparations.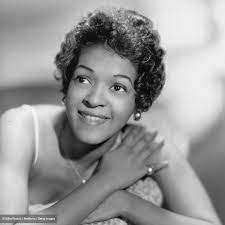 WK: Although there isn't a Hammond organ at the venue, there is a lovely piano and I'll be looking forward to showcasing two of Shirley's compositions from her album One For Me, produced by none other than Maxine Gordon. I couldn't find the charts, so I transcribed them. I think they deserve more than an airing on the night, and I plan to include them in my set from now on because they are hidden gems.
CK: How have you approached learning someone else's voice whilst maintaining your own powerful voice?
WK: I'm not sure I could manage to learn someone else's voice! I've just tried to distil the parts of Shirley's playing that stand out, in other words her tastefulness, soulfulness, modernistic elements…I tend to favour bluesy and soulful motifs in my work in general anyway.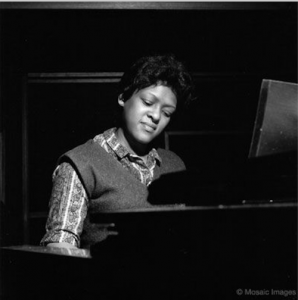 CK: Do you have a favourite song, piece and/or a story about the artist and/or the music you will be playing that you'd like to share with us now?"
WK: Shirley was the "Queen of the organ" and someone called me a "Righteous Mama" when I was playing the organ a few years ago. I'd have loved to duet with her, if I had the chance.
Huge thank you to Charlotte and Wendy for sharing your thoughts!
Shirley Scott's legacy is significant and the partnership and friendship she had with Maxine Gordon was something incredibly special. It was in fact Shirley Scott that encouraged Maxine to enrol at CUNY, New York, where she earned her degree in Sociology and African American Studies which in turn led to her increased passion for education, a passion shared with Shirley Scott, that has benefitted us all in so many ways. There is much to explore here and Maxine's upcoming book will allow us a much needed insight and a well overdue exploration into Shirley Scott's life and work. For now, please do enjoy this short documentary from, Jazz Night In America which celebrates Shirley Scott through the words of two of her final proteges and bandmates.
Thank you to Maxine Gordon for the photos of Shirley Scott.
To find out more about Wendy Kirkland, please visit here
To find out about Charlotte Keeffe, please visit here
For tickets to the June 4th event at Jazz Cafe Posk, London, click here
Last modified: July 11, 2022