The award-winning trumpeter, pianist and composer Sebastian Studnitzky is a brilliant artist, whose wealth of experience and love of jazz not only inspires but firmly reminds the world of the strength of the German jazz scene. As a performer, he has worked with Nils Landgren's Funk Unit, Jazzanova, Mezzoforte, Wolfgang Haffner, Dominic Miller, Bodek Janke and many more. He founded the record label Contemplate, has been a professor at the Dresden University of Music since 2014 and he is also the founder of the award winning XJazz festival.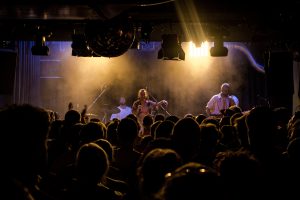 I attended the XJazz festival in Berlin for the first time this year and what an incredible festival it was. A stunning line up with a beautifully rich and diverse array of artists, venues and music to suit everyone including Theo Crocker, Lady Blackbird, Angel Bat Dawid, Nubya Garcia and so much more.
Speaking to the truly inspirational founder and artistic director Sebastian Studnitzky, it is clear he has an exciting vision and you can genuinely feel the passion he has for his work and it is so very addictive. There is no ego here either, he celebrates and values all of the festival team and it was very apparent to me that Sebastian is an extraordinary human being. It was an absolute joy to speak to him for this two-part interview exploring his work.
The XJazz Festival first opened in 2014 and 8 years later, it is of no surprise that the festival recently won the Deutscher Jazzpreis festival of the year award and to my mind, it a brilliant example of how a jazz festival should be. But these things take time, energy, money, artistic vision and determination. I asked Sebastian how it all started.
My music is, quite hard to say, eclectic? I like electronic music and back then there wasn't really a structure for that kind of music, and I struggled to fit in. All the labels either wanted a 'jazz' trumpet player or a neoclassic piano player, you know? I was launching my own record company, my own small label with a friend, for my music and the music of some of my friends and we also had a little booking agency for my stuff and for 3/4 bands, just trying to organise some gigs. We thought about doing a little festival, invite our friends and make a festival in this area of the city and the idea was so great and it was just the right time. It got out of control, immediately, and it became way too big, crazy big!
Sebastian's experiences of struggling to fit in, as a musician, is clearly a factor in the organisation of XJazz, where the feeling of community, support and being valued is felt loud and clear. Everyone's voice is heard. The history of Jazz in Germany is complex and although I'm not going to explore it here, it is safe to say jazz has not always been welcomed and there have been many barriers (literally!). But the German jazz scene is now absolutely thriving, and Berlin is considered by many, to be the focal point of this exciting scene. Sebastian explains that:
From beginning we always wanted to have a big focus on Berlin, because it's such an international town and you can easily book an international festival with artists that live in the neighbourhood – even a lot of famous US guys, they live in Berlin.
The result of the mix of international and home-grown talent in Berlin along with the already established strength of the electronic music scene brings such a rich diversity to the jazz scene and in turn the festival.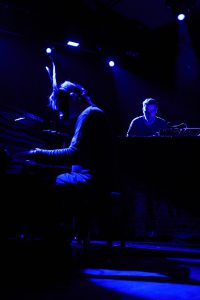 From the beginning the electronic scene was very important for us. Everyone has all the vinyl's at home, they have all the ECM, Blue Note etc. and it's the same in UK with Giles Peterson. There's a big tradition in DJ's being very connected to Jazz. There's a history of lots of DJs always using samples from Blue Note records etc. so there's almost no DJ who is not a jazz lover. We saw this big potential, all the influences and opinion leaders and you know most of them are vinyl lovers, most of them like to collect Jazz and talk about the culture. And on the other hand, if you go to any coffee place in this neighbourhood, in most of the places you listen to Jazz, which you will have noticed.
I really did. I spent four days in Berlin, and jazz was everywhere and not just because of the festival. It was wonderful.
And of course, there are so many young musicians here because 10/15 years ago, Berlin was crazy cheap, compared to all the other big cities, so all the young jazz musicians moved to Berlin. All the guys came from UK, from US, they all moved here to Berlin to create this great vivid scene and there are also constantly new guys in town.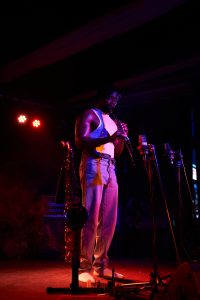 The history of Jazz education in Germany is significant and in fact, the first ever jazz program in the world was launched by the Hoch Conservatory in Frankfurt in 1928. Sebastian has been a professor at the Dresden University of Music since 2014, a university rich in history having been founded in 1856 and he is clearly passionate about not only training the next generation of jazz musicians but giving them a platform. I asked Sebastian how he balanced nurturing home-grown talent with the challenges of programming an international festival.
The history, like 10 years ago, German festivals were very commercial. They were either very commercial or they were based on funding needs. So, it was either the very avant garde or the very intellectual stuff going on or the big Swedish, American stars, so little bit boring you know? There was not really a space for the young players, and this is also simply because old men were programming – they booked old men, so the audience were old men…So we booked a lot of young bands and suddenly our audiences were 30 something…
Sebastian and I spent some time discussing jazz audiences and how to respect the legacy of jazz while welcoming – and encouraging the new. Box ticking and the jazz police came up…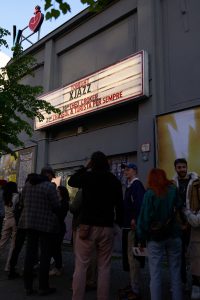 When we first started the festival there were a lot of discussions. But you know the young guys, they studied jazz, yes, but they also play in hip hop bands. There are so many young acts from UK actually that are super famous, things that the jazz police would say 'this is not jazz', but with these kind of acts, you get a large audience, a young audience and they're open for everything. We always try to find a good mixture, like booking some of the hipster acts which attract a lot of audience.
As with all the top festivals, artists from around the world all want to perform. Programmers get inundated with requests, so I asked Sebastian about the selection process.
In a way it's crazy unorganised and super organic. We almost never meet all together and discuss whether should book this band or that band. There are 5/6 people in the curation team, and everybody just drops band names and we know each other so well that we trust each other. Everybody has a different background, we have somebody who is a bit younger and he's monitoring what is hip in the scene, another person is more in contact with the big agencies and record labels to find out about new releases etc. I'm teaching at the music schools and I'm a musician, so I find out from the musician's perspective. We also have a DJ in the team, so it's a very good balance.
This year also we have a guest creator Natalie Greffel – super young amazing musician. She's a good example actually. When I was teaching at this institute here, I was in the Jury for her final concert and I heard her and booked her right away for XJazz. Now this is the third or fourth time that she is playing for us. We put the young people straight to stage.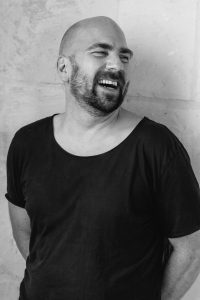 There are many discussions about the gender balance of festivals – not just in jazz – with some signing up to a 50/50 gender balance directive. While some have welcomed this, some find this restrictive and not a solution to the problem.  One of the striking elements of XJazz is the brilliant diversity of the line-up. I asked Sebastian how he achieved this.
I'm a big fan of equal chances but if it comes to quotas, it gets a little bit tricky you know? In our case it was never a problem because it was just organic you know? It's not like we're saying, ok, now we need to have so many male bands, so many female… this is when it gets stiff …what you should say is just, this is a great band. I mean with such a big line up, we never had the situation that we really had to look at that. Natalie is in the team because she's just an amazing musician you know? I think this is what is happening in the young generation. It's not so much the thing about gender, that's the older generation. It all came very organically and I'm actually I'm super happy about it.
And super happy he should be! A truly brilliant line up. Join us soon for the second part of this interview where we discuss the future plans for the festival, international partnerships and a little bit about Sebastian's music.
To find out more about XJazz please visit here
Photos courtesy of XJazz.
Last modified: July 14, 2022