Welcome to the third interview in our Women in Jazz Media series 'Something New with Esther Bennett'. Exploring new albums through conversation directly with the artist to share a little insight into their work. As one of the London Jazz scenes' most experienced, highly respected and widely loved jazz vocalists, Esther Bennett juxtaposes sensitivity and a sparky sense of humour in all her work and we are thrilled to have her involved in this series to help platform new female led jazz releases across the world.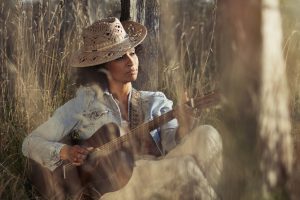 German-Nigerian soul, jazz and pop singer and singer-songwriter TOKUNBO is a significant presence on the German music scene. Five German Jazz Awards, multiple radio and TV interviews and a host of international tours, she has performed alongside an incredible range of artists including Gregory Porter and Dee Dee Bridgewater.  Her new album Golden Days (reviewed here by Paulette Jackson) is 'a breath of fresh air' and 'a perfect fit for today's time'.
EB: Hi Tokunbo! It's been lovely listening to your album and finding out all about you. My first question is the obvious one for our readers – tell us about your musical history and career from the beginning? Your collaboration as lead singer with the acoustic soul jazz combo Tok Tok Tok, where you gained many great accolades and awards, to the beginning of your career as a solo artist to the present day.
T: I began my career as the lead singer of Tok Tok Tok, a band I co-founded during my days as a student at the Academy of Music in Hanover, Germany, with saxophonist Morten Klein. Within a relatively short period of time we went from newcomers to household names within a certain range of jazz listeners. We released 13 albums, toured the world from Spain to Israel, from Turkey to Brazil, from France to Ukraine, and received five German Jazz Awards as well as the Grand Prix Sacem in France.
 After 15 years in which we went from creating very unique renditions of rock, soul and pop classics with unconventional instrumentation to recording our own original material, from playing as a trio without any harmony instruments to working with an orchestra, we each had our individual musical ideas and decided to pursue them in seperate projects. Thus, my path as a solo artist began. Since then I have recorded three solo albums with my original songs which went on to receive high critical acclaim and several awards.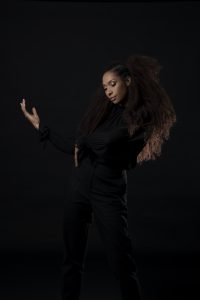 I am the first artist of colour and the first non-American artist to be awarded the International Acoustic Music Award as Best Female Artist, and most recently, my new album 'Golden Days' has won the Silver Medal at the Global Music Awards. Furthermore, 'Golden Days' has received mass media attention being featured several times on National mainstream tv in Germany. I've played international tours with my albums, been invited to open the show for Gregory Porter and to collaborate with NDR Philharmonic Orchestra. This year I've been appointed to the Jury of the German Jazz Prize as well as the Eurovision Song Contest.
EB: You have been given the illustrious title "Queen of Folk Noir" and the country element of your music is very clear in the song "Ray" but, can you elaborate upon this and your other musical influences? How the new genre and term "Folk Noir" came to be?
T: Working on my solo debut 'Queendom Come' I was looking for a genre name that would fit the unique mix of filigree folk guitar as well as the slightly dark tones that my first album featured. 'Folk Noir' hit the nail on the head for me. Ever since, my style has evolved in increments and every album displays a different facette of my Folk Noir style, if you will. My sophomore album 'The Swan' was influenced by the birth of my son and most ideas for the songs hit me in bed, as crazy as it sounds. I reduced my pace and went with the flow, and it became a wonderfully vulnerable and sweet time and – in spite of the lack of sleep – I felt really inspired. The album became a collection of songs on navigating the transitions we go through in life and you can hear the element of vulnerability in the lightness of the sound.
My new album 'Golden Days' on the other hand was born in the pandemic. As lockdown went on and I realised we were far from returning to anything known to us anytime soon, I decided I wanted to emerge from this crisis with new music and a new album. So, I started writing in every spare moment I could find next to my caring responsibilities for our small child. I would retreat to our little garden cottage whenever possible, often in the dead of night, to work on the songs. Not only was I adamant about writing this album but also about creating something positive and hopeful in this period of unprecedented challenge. Thinking of Toni Morrison's quote 'Write the book you want to read' I asked myself what my ideal soundtrack would be and might that be something the world needs now. Which is why 'Golden Days' is much more uplifting than my previous albums. It is yet another shade of Folk Noir, warmer and lighter.
EB: Let's talk about the musicians you have chosen to work with for this album – who are they, what your musical history and relationship with them is and why are they special to you and your music.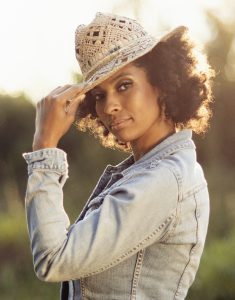 T: When I set out to write and produce my solo debut, I teamed up with two old friends of mine, guitarist Ulrich Rode and drummer Matthias 'Maze' Meusel with whom I studied at the Academy of Music. Ever since, I've been accompanied by them in the process of creating the songs and the sound that I envision for my albums. After beginning the song writing journey for 'Golden Days' alone, the three of us worked intensely on completing the song writing for the album together. Both are exceptional composers, arrangers and producers whose conviction it is to bring out my strengths and sweet spots.
Ulrich is a master when it comes to guitar sounds. He develops sound textures with much love for detail. And while he always has a playful arrangement idea up his sleeve, he always keeps the overarching concept in mind. With his guitar parts he sets the perfect tone and atmosphere giving the songs maturity. Matthias is dedicated to bringing out the essence of a song through strong melodies, both within vocal and instrumental parts. Furthermore, he has created a unique drum sound for each of my albums, and on 'Golden Days' he uses unconventional percussion elements in his rhythm arrangements which amalgamate with Christian Flohr's bass line hooks.  Christian was our bass player with Tok Tok Tok, and it's safe to say I've been playing with him almost all my adult life including all the world tours we played.  Multi-instrumentalist Anne de Wolff makes my team complete. With the many instruments she plays from strings to trombone, from reed organ to vibraphone she adds shimmering colours to the canvas of my songs. Not only does working with these exceptional musicians make me feel like a child in a toy store, moreover, I'm playing with my sand pit buddies, and touring as well as the album productions feel like a trip to summer camp. My band's support especially since becoming a mother has enabled me to move forward in the way that I have in the last years.
EB: Listening to your album, it's clear that home and the people in and from it, mean a lot to you. (I'm particularly enjoying the track "Home Again" at the moment). Tell us more about home – past and present, places and people – exactly what does mean to you and how it has influenced your music and song writing?
T: Collecting the lyrics and stories for 'Golden Days' during the first lockdown I kept revisiting memories, or let's say they kept revisiting me – it's what most frequently came up in the situation of isolation. 'Home Again' travels back to a childhood friendship that slips away. The song is full with images that I connect with, a sense of home and security, something I felt was needed in the challenging times that we were dealing with.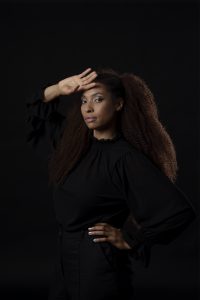 Growing up on two continents, Africa and Europe, and traveling between the two cultures of my parents, I had to create my own definition of home. After feeling torn between two very different worlds I actually found the answer to my inner query of where I belonged in the US, where I spent a year as an exchange student. There, it dawned on me that rather than feeling that I have to decide between the cultures of my parents, I could embrace the fact that I have the best of both worlds and more within me: I am everything I want to be. And I am equipped with the ability to find a sense of home within every place on this planet if I choose to, and most importantly, within myself. This, is also the message of my album 'Golden Days': even when we are facing the ultimate challenge and when we are confronted with the absolute unknown we can find strength and regain a feeling of security in the memory of intense positive experiences and important relationships within our lives. 'Where are the Golden Days? Maybe they're near, maybe they're here.'
EB: Your songs and their lyrical and storytelling narrative suggest (to me) a great love for literature and poetry as well as for song writing. Is this correct? Which songwriters have influenced you most and who, if any, are your heroes from the world of literature and poetry?
T: Literature and poetry have indeed had a substantial influence on my writing. When writing the lyrics for my album 'The Swan' I had just read Bob Dylan's autobiography 'Chronicles 1', a masterpiece of poetic writing to me. It spurred me on to let poetry bleed into my own writing, starting with the album title which was inspired by the fairy tale 'The Seven Swans' and touches on the album's theme of transition. 'Headlights' from that album is full of references to Shakespeare. And when writing the lyrics to 'White Noise', a politically driven song we wrote at the beginning of the Trump era, I was looking for an imagery that would reflect the sensation of bewilderment after the 2017 election in a subtle way without hitting on the obvious. I found that imagery in the upside-down world in 'Alice in Wonderland'.
Besides my gravity towards poetry I am passionate about stories that take you through the keyhole right into a situation in a relatable way. The author Paul Auster and particularly his 'Brooklyn Follies' has been an influence in this style of storytelling which I envisioned for 'Golden Days'. Naturally, Paul Simon is one of the greatest storytellers, he never fails to take me on a journey, and I listened to his album 'Still crazy after all these years' a lot. Country music is all about relatable storytelling and has been an influence in that aspect as well. I've been inhaling the music of Johnny Cash, Sheryl Crow, Alison Krauss and also Ray LaMontagne. In terms of musical influences for 'Golden Days' we had the great songwriters of the 70s in mind when we set out to complete the songs, especially The Carpenters, James Taylor and Carol King with their classics.
EB: Being of dual nationality and born of a Nigerian Father and German mother – clearly English will not be the only language you speak. Have you explored song writing and singing in any other language or languages? Tell us about this and how you feel their flavours, patterns and moods differ from the English language and if you think they may have influenced your song writing either consciously or subconsciously.
T: I do feel at home in quite a few languages. I used to sing Jobim's Bossa Nova songs in Portuguese which I loved – the sound of the language is simply beautiful. I've also sung in Spanish both in a salsa band as well as a band covering songs by the Flamenco pop group Ketama. That was a long time ago and though I enjoyed it very much, at one point I wanted to focus on singing in a language I could express my own lyrics in without boundaries.
I've been revisiting singing in different languages over the years, though. At one of our concerts with Tok Tok Tok I sang a song by Jaques Brel on French national radio. And I decided to give my fans in France, Brazil and Portugal a gift by recording my song 'Cast Away' in French as well as Portuguese. I am very proud of these renditions and I've always enjoyed surprising my audience by singing in their respective language when I was on tour in different countries.
EB: The question that I (and I'm sure everyone who listens to it) wants to know is – Who is it you are singing about in the track 'House of Cards '? It's such a beautiful and deeply heartfelt lyric with an intriguing narrative. Of course, if it's intensely personal and you prefer not to say then, all privacy will be respected.
T: 'House of Cards' was actually inspired by actor and comedian Jim Carey's commencement speech at MIU. I was really moved when he spoke of how he became a comedian, living the dream his father had buried and how hard it is to let your armour go and not to fulfil the role that people identify you with. I've observed this sensation universal to what many artists go through. When there is an overall expectation to permanently be the persona you are known for in the public – it can be hard to find that moment or that place where you feel safe to just be yourself.
EB: Finally – when can we see you perform this album live in London and England?
T: Having spent much time as a child visiting with close friends in Britain – my parents met in Cornwall – it would be one of my greatest dreams come true to tour in Britain and naturally, to perform 'Golden Days' in London.
To support Tokunbo work, please visit her website here
Latest album available here
Photography by Anne De Wolff
Tokunbo on Facebook
Tokunbo on Instagram
Tokunbo on You Tube
Last modified: September 28, 2022