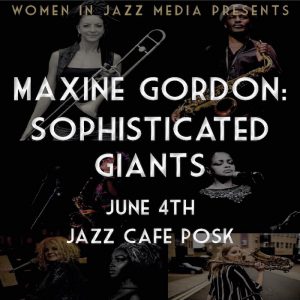 Women in Jazz Media presents 'Maxine Gordon – Sophisticated Giants', an evening of celebration of the inspirational work of award-winning Arts Advocate, Jazz Historian, Archivist, Scholar, Manager and Producer Maxine Gordon. A rare visit to the UK has sparked a wonderful opportunity to celebrate Maxine's forthcoming book 'Jazz Quartette' with the music of Shirley Scott, Maxine Sullivan, Velma Middleton and Melba Liston performed by some of the UK's leading jazz artists. The evening will also feature four of the most exciting saxophonists on the UK jazz scene today – Hannah Horton, Camilla George, Emma Rawicz and Tony Kofi paying tribute to Maxine's award-winning book 'Sophisticated Giant' and her life with one of the world's greatest saxophonists Dexter Gordon. It really is going to be a unique and very special night.
Saturday 4th June, 8.30pm, Jazz Café POSK. Tickets here
As we count down the days, I will be shining a light on the saxophonists involved as we pay tribute to Dexter Gordon through a shared love of communicating with our 'instrumental voice' – the saxophone. First up, I chatted to rising multi-reeds star and natural-born improviser Hannah Horton.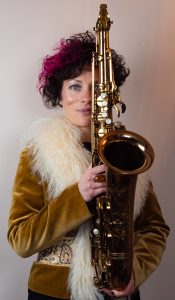 Having studied at the prestigious Junior Guildhall School of Music and Trinity College of Music, Hannah is turning heads on the UK jazz scene following release of her 2nd album 'Inside Out' in September 2021, with a sell-out launch gig at prestigious 606 Club in London. Hannah will be performing a selection of Dexter Gordon tracks on 4th June. Dexter Gordon was a hard-swinging bebop musician and it will be fascinating to hear how Hannah interprets the music to her own melodic and lyrical, yet bold and gritty style.
Dexter started playing alto saxophone when he was fourteen, and at fifteen switched to tenor when his mother bought him the larger horn to fit his larger body.
KC – Hannah, you seem to have done the opposite, choosing to play the large baritone saxophone. How do you find gigging on such a large, heavy instrument and what attracted you to the baritone?
HH – "I just love the lower timbre instruments! I saved up for my baritone and have never looked back, or should I say looked far upwards past the tenor sax! The baritone to me has so much warmth, emotion and flexibility. She can sing at the top yet be punchy and cheeky down at the bottom of the instrument. I've certainly had to build up my stamina on the baritone and it is much heavier than the tenor (which I also perform). Vinyasa yoga and cycling have helped with developing strength both in body and lungs for a full show on the baritone."
Dexter craved a 'normal' life.
KC – Do you think there is such a thing as a 'normal' life in the world of a jazz musician?
HH – "No! But then who's to say what 'normal' is? Everyone, as humans, are different and we lead different lives. How one jazz musician leads their life and what they aspire to is always different to others. That's what makes us all unique isn't it? Throughout our lives we grow, our opinions and beliefs develop and change as does our musical journey. Sometimes it can feel tough and emotional staying true to ourselves artistically but I'd like to think it will generally come good in the end!"
In his music Dexter was letting everyone know "this is me, and this is my style, and this is what I do. I'm playing the saxophone with power."
KC – How do you let everyone know your style?
HH – "My style is very melodic with lots of energy and emotion from within. Having trained on my sax (and other wind instruments) since the age of 10, I incorporate a lot of technique and advanced technique in my playing naturally. Like all players I have a tone and style that is unique to me."
KC – I am interested to know which Dexter Gordon tracks have you chosen to play on the night and why?
HH – "I love Latin tracks and as Dexter recorded this one on his album 'Cheese Cake' the first one was an easy choice – 'Manha De Carnival'. Secondly, I have chosen 'Don't Explain'. Dexter plays this ballad with a firm touch and is one of his standout ballads to me. Finally, 'Hanky Panky'.  I was first introduced to this tune of Dexter's by the wonderful late Tina May. Obviously, Tina has been in my thoughts a lot and therefore this tune was an easy choice."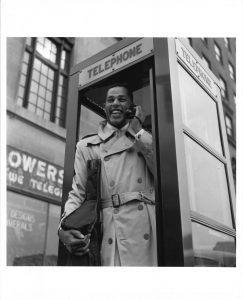 Dexter took positives even from negative situations. He stated that even his spell in prison had positives: "You get some rest. You build your body back."
KC – The last couple of years with the covid-19 pandemic have had negative implications for jazz musicians. Have you been able to take any positives from it?
HH – "The pandemic has affected everyone. We all weathered the same storm but in different ways and I'm sure we will talk about our lives during that time for as long as we live. The past 2.5 years have been some of my most intense and emotional yet. My father lost his battle with cancer just before lockdown and as an only child I found it extremely hard not being able to be with my mother as much as I wanted to. Grieving and not being able to see my friends and family was really tough, but my music became my solace. I wrote lots of new pieces and that's how my new album 'Inside Out' came about. Over time, during the pandemic, I worked through the lows and sadness, I understood myself more and, in a way, 'Inside Out' became my way of switching my emotions and turning a corner in my head. It's a hugely personal album and every track has a deep meaning to me, whether an original or standard. Recording it in the studio during lockdown and releasing in September 2021 when restrictions were starting to ease feels very symbolic."
Dexter brought everything to his music. Maxine Gordon stated: "the good, the bad, and the ugly were transformed when he played his horn."
KC – Do you feel that playing music transforms any stress, problems or worry you may have?
HH – "Anyone who knows me will tell you playing my sax is my daily medicine! If I don't play, even for a short time, every day I feel down and not myself. I have a routine of practice which is a kind of meditation to me. It calms my mind and makes me feel grounded. Whenever you play an instrument, you have to concentrate which automatically stops all the other thoughts in your head and gives you time out from your problems or worries. I'd highly recommend it!"
Dexter once had a dream that had a serious impact on his saxophone practise. In the dream, his late friend Ben Webster walked into the bedroom and said: "Hey Dex, I heard you can't play anymore." Dexter replied: "That's not true," to which Ben replied: "Well, if it's not true, prove it. Get up and start practising."  The very next day Dexter seriously turned up the intensity of his practising for the first time in years.
KC – What motivates you to practise and how disciplined are you?
HH – "I could go on and on about this like the total sax nerd I am, so I'll try and condense this answer. Part of my personality is always wanting to feel prepared – yes, I was a girl guide lol! So, I always like to be gig-ready and on top of my playing. I just hate that feeling of not having played for a few days and your lip feeling all wrong and your fingers like sausages. Then there's the finding a reed stress, and maybe your tone isn't so good because your embouchure hasn't been used for a few days. So really, I like to play/practise every day. Obviously, there's the odd exception, but generally every day."
Dexter stated: "My life has a happy ending."
KC – What is happiness to you?
HH – "My life now."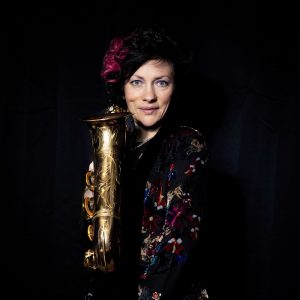 A happy conclusion and all that remains to be said is that Hannah will undoubtedly bring her passion and love for the saxophone to her performance on 4th June…she's also sure to be very well-prepared!
To find out more about Hannah, please visit her site here
To book tickets for Sophisticated Giants at Jazz Cafe Posk, London, please click here
Photos of Hannah Horton by Nick Sleep
We are very grateful to Maxine Gordon for permission to publish the photos of Dexter Gordon.
Last modified: May 20, 2022