When I interviewed jazz vocalist and composer Marta Capponi last year to discuss her recent album, Life Within, I spoke of her indefinable magical quality and sparkle. I referred to her goddess like qualities – beauty, brilliance – and an uncommon element that cannot be defined but is very clearly present.  Anyone who was in the audience at the 606 Club, London, Feb 28th, will know exactly what I was referring to.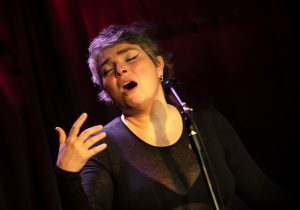 'When I sing, I feel in my own place, living in the moment; I feel in my own skin. I feel the warmth flowing throughout my body; I am at peace and able to convey all my emotion' Marta Capponi
Born in Rome but currently based in London, Marta Capponi is known for her rich vocals and captivating performances but until this night, I had not experienced her in a live performance. Her album Life Within, her first under her own name, is stunning and I was hugely excited to see her live, but I will be honest and say I had very high expectations and I rarely review vocalists. The event was an album launch, but with a different group of musicians to those on her album, apart from the brilliant Ross Stanley (Hammond) with Alban Claret on Guitar and Joel Barford on Drums. This incredible line up came about due to last minute changes and they were introduced as 'the best unrehearsed band in London'. Well if this is what an unrehearsed band sounds like, then rehearsals are, quite frankly, no longer needed.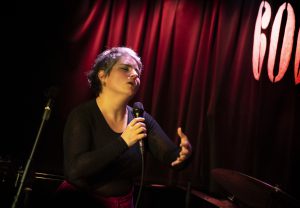 The set comprised of songs from the album – including 'East of The Sun' and 'Honeysuckle Rose' along with some other equally gorgeous jazz standards such as 'Never Let Me Go'. It is always a challenge for vocalists to present such classic songs and show respect for legacy whilst also representing their own unique interpretation. Marta does this in abundance and to say it is astounding, is an understatement. Her joy…her energy…the clear love of the music and performance and playfulness, brings to mind, without a doubt, more than a hint of Ella. The depth of emotion she shared with us in her beautifully haunting performance of 'Never Let Me Go' gave us a touch of Billie. Her astounding improvisational skills combine all of her expertise, technical skills and sense of freedom at a level rarely seen and the audience at times gasped. Marta somehow seems to combine the legacy of jazz, of the great vocalists with her own artistry and it not only inspires, it reminds us why we love those classic songs – and the artists – and in turn, Marta, so much. Technically, yes, her voice is superb – warmth, depth, range, flexibility – but it is the honesty and love that she communicates through her voice that make it her superpower. She is her voice.
After the event, Marta said 'it was like magic'. She is not wrong. We all felt it. There is something truly magical about Marta Capponi. When I interviewed her, she said that she doesn't define herself as a jazz singer and now I can understand this a little better. Her connection with a song cannot be separated and watching her live, if feels like she actually is the song. If you get the opportunity to be see Marta and be part of this connection, it will be truly unforgettable.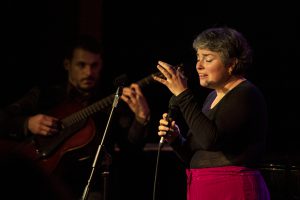 Photography by Tatiana Gorilovsky
Last modified: April 9, 2022