Alina Bzhezhinska's debut performance on the main stage at Ronnie Scott's was a truly unforgettable night. I have never witnessed anything like it. If anyone was ever in any doubt about the power of music, Alina and her incredible musicians, made it very clear.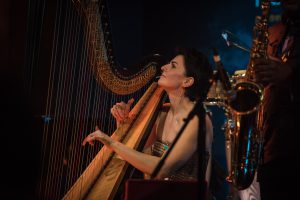 Yes, all the musicians were truly outstanding, but this really goes without saying with such an incredible line up. Mikele Montolli (bass) Adam Teixeira (drums) and Joel Prime (percussion) supported and shone to perfection. I have seen them perform together before and they always demonstrate a beautiful connectedness that is only possible with shared technical artistry and a strong emotional connection.
The special guests? I don't even know how to begin. Vimala Rowe. This is a vocalist that brings truth to the stage. Watching the way she feels the music and interprets lyrics is addictive. You follow every note, every hand movement and you are there with her, fully immersed.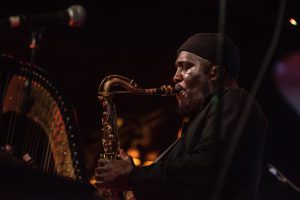 Saxophonist Tony Kofi. He is often quoted as saying 'My sound and approach to music is to tell the truth no matter what. I've always believed that music is synonymous with life', well he played the truth and what truth!  His performance tonight of Coltrane's 'Alabama' brought me to tears. The intensity and power of his playing transported us not only back to the time of the horrors for which it was written, but reflecting on today's horrors, with a rawness, beauty and grace, which you would think isn't even possible. He, as did Coltrane, very clearly proved that sometimes, words are not needed.
Trumpeter Jay Phelps. His insatiable energy and excitement are always present, but tonight I witnessed a beautifully tender side to his playing, and his performance in 'For Carrol', a piece dedicated to Alina's teacher Carrol McLaughlin who was her 'musical and life guru but we lost her so suddenly and too early…' was haunting and brilliant.
Tony Kofi and Jay Phelps together was something truly magical. I have never seen these two artists play together and my goodness, we all need to see that more. The chemistry that exuded from them both was so exciting, and I don't think I have seen anything quite like it. Mutual respect, virtuosity and joy for their art.
The strength that it must have taken Alina to perform tonight cannot be underestimated. She shared with us the reality of her fears and experiences, her family, her friends and her country. She spoke of her frustration and of feeling helpless and her tireless work, organising fund-raising events and raising money to help those that are still there in the Ukraine and those that are fleeing. She has raised over £3,000 so far and helped so many. Yet she still managed to give the audience an outstandingly beautiful performance.
This night was also International Women's Day and for me, as a woman, there was a power and beauty in that room that could not be ignored. Alina, of course, paid tribute to and honoured the groundbreaking and inspirational Alice Coltrane and Dorothy Ashby, but to have Alina, Vimala Rowe and behind the scenes, photographer, Monika S Jakubowska, who's photos are in this article, all in one room together was something very, very special… magical in fact.
There are really no words to fully explain the emotion, artistry and skill that was evident that night. You really had to be there and if you were, you know exactly what I mean. Any night with Alina and these incredible musicians would be something brilliant but as Paul Pace said, history was made that night. Alina told us that music was her weapon and she showed us the real power of music tonight with beauty, grace and staggering resilience.
Alina Bzhezhinska's latest music available here
'My country is burning. It's a horrific time for Ukrainians and a very worrying time for the world. Coming from the historical city of Lviv in western Ukraine and having grown up in a Polish/ Ukrainian family, we have been experiencing hostility and aggression from the Russian regime for many years… But no one could expect this level of aggression. Many of my musician friends decided to stay in Ukraine and volunteer to fight. Most of them have families with children' Alina Bzhezhinska
To donate please follow this link 
All photography by Monika S Jakubowska
Last modified: March 14, 2022