It will be a case of third time lucky when the Scottish National Jazz Orchestra and its top line American guests, vocalist Kenny Washington and vibes virtuoso Joe Locke take their latest collaboration, Pop! Rock! Soul! on a three-date Scottish tour beginning on Thursday 24th February.
San Franciscan Washington and California-born, New York-based Locke, who has arranged all the music for the tour, first planned to tour Pop! Rock Soul! with the SNJO in 2020 and again in 2021 but had to postpone both tours due to Covid-19.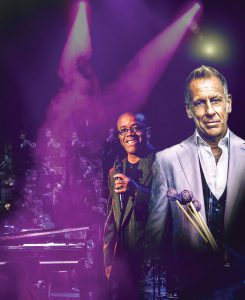 To keep everyone's spirits up after the first postponement, the SNJO's director, saxophonist Tommy Smith gathered the orchestra, Washington and Locke together via Zoom to record Locke's arrangement of Sam Cooke's classic A Change is Gonna Come. The video was released as a tribute to Nelson Mandela on the former South African president's International Day on 18th July 2020, with proceeds going to the Nelson Mandela Scottish Memorial Foundation towards Nelson Mandela's statue in Glasgow.
"It was important that everyone – all the musicians and our audience – felt connected while much of the world was in lockdown," says Smith. "It was also great to honour Nelson Mandela in that way while giving people a sense of what Pop! Rock Soul! was about because the music we'll be featuring reached millions upon millions of people and has the underlying common theme of commitment."
Locke, who first guested with the SNJO on its American Adventure album and then joined with Washington on the orchestra's 2017 celebration of songwriters-composers Henry Mancini and Johnny Mandel, chose all the songs featured in Pop! Rock! Soul! in conjunction with Washington.
"Tommy Smith afforded me the luxury of choosing songs I love, songs which resonate with me personally," he says. "I'm pretty confident that many of the songs will resonate with the SNJO audience as well. It had to be material that would both lend itself to this large ensemble format and excite our star vocalist, Kenny Washington. Discussing and selecting the repertoire with Kenny was a really fun process."
The music for Pop! Rock! Soul! draws on singer-songwriters including Stevie Wonder, Stevie Nicks and Billy Joel and bands including The Beatles, The Isley Brothers, Led Zeppelin, and Steely Dan.
Locke, who has known Smith for more than thirty-five years, has devoted hundreds of hours to arranging the repertoire for the tour and is eager to hear the results.
"It's always a thrill to hear your work coming off the page, especially when those results are in the deft and capable hands of such a great orchestra as the SNJO," he says. "I first came to Scotland in 1987 – it was the first country I played in outside of the US – and it always feels like a homecoming. Scottish audiences are always knowledgeable, supportive and enthusiastic, so I'm very much looking forward to these concerts."
Pop! Rock! Soul! plays Gardyne Theatre, Dundee on Thursday 24th February before moving on to the Queen's Hall, Edinburgh on Friday 25th and Glasgow Royal Concert Hall on Saturday 26th February.
Listings info:
Thu Feb 24, 7:30pm, Gardyne Theatre, Gardyne Rd, Broughty Ferry, Dundee
Fri Feb 25, 7:30pm, The Queens Hall, Clerk St, Newington, Edinburgh
Sat Feb 26, 7:30pm, Glasgow Royal Concert Hall (New Auditorium), 2 Sauchiehall St, Glasgow
Last modified: February 28, 2022