The Swiss drummer Arthur Hnatek has an explosive solo project, SWIMS, with acoustic improvisation on a mound of drums/percussion and effects combined with prepared electronics, from experimental soundscapes and found sound or hard-driving dance beats (bonafide electronic dance floor/night club material).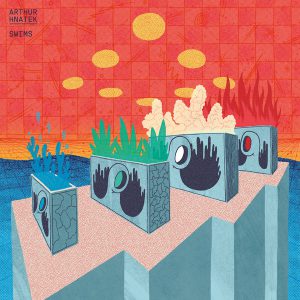 For this project he also uses a delay machine, playing back rhythms in response to his kick drum and ride cymbals. Naturally, an electronics and mixing engineer is necessary so he has Valentin Liechti to perform live.
Then his first step as a debut album beyond the solo (or rather duo) project is the Arthur Hnatek Trio with their recording "Static" released last year on Whirlwind Recordings.
Hnatek as a drummer-musician, composer, and an electronic artist is on one hand, a remarkable one-man-show. But joined by Fabien Iannone on upright bass and Francesco Geminiani on tenor saxophone, he has to refrain himself from stealing the show. This allows Geminiani to standout on most of the tracks including the opener "Monotonous," where he plays a jagged or almost percussive horn alongside Hnatek; beyond this on "MIDI Sans Frontieres" (a cover of Squarepusher) Geminiani mostly recalls a slow and lyrical John Lurie. Or on the following track "Nine B" Geminiani marches through in step with Hnatek on a slow-funk with free improvisation with single phrase and repetition ala Steve Lacy, held solidly with Iannonne's bass framework.
As Hnatek (born in 1990) is based in Zurich, it is odd that the Swiss drummer-maestro Jojo Mayer (born 1963 and also from Zurich) is not ever cited as an influence for Hnatek, as Mayer is practically the Godfather among European drummers inspired by electronic beats. Hnatek, however, in sharpest contrast to Mayer, embraces many other shades of jazz, including a few much better-known groups with the hypnotic groove and acid jazz of the Erik Truffaz Quartet, and the classical meets ethno-progressive jazz of Tigran Hamasyan.
Hnatek connects to electronic-music fans most of all as the title track for "Static" is an unabashed homage to deep house music with a lighter electronic landscape hovering within, while Hnatek's presence on this one is almost tribal, as Geminiani floats in and out of the track with a lush and tottering breeziness. Geminiani's two jagged compositions on the recording "Brew" includes Iannone using a bow on his upright bass for surprise effects, and "Cinque" as the second to last on the record keeps the tension at high-energy with Hnatek taking a series of extended acrobatic solos that defy the relatively shorter span of this track. Then "Static" concludes too abruptly or it could be said prematurely with a 47-second-track titled "The End."
Keeping in mind, that tour dates could still being postponed due to pandemic concerns, or unforeseen events, Arthur Hnatek solo – as SWIMS – or as a trio should have some upcoming shows in venues below.
Saturday, March 5—SWIMS is at Neubad, Luzern, Switzerland
Saturday, April 9—SWIMS is at Jazz Dock, Prague, Czech Republic
Last modified: February 28, 2022