When I think of the harp, I tend to think of ethereal sounds; a kind of reimagining  of what the world would sound like captured in momentary bliss. I would imagine a kind of living tapestry, weaving between the seams of our emotional spectrum to arrive at a standstill. It's as if the harp would inhabit a different realm of my own musical mind, as well as personally.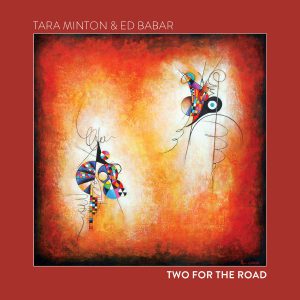 So, it comes as no surprise that I've been introduced into the harpist's world (and it is a world of it's own accord) these past two years, by several leading female musicians. I'd jump up in the air triumphantly now but to the matter at hand: Tara Minton is utterly subtle, and not just because of her musical gift. She's quite literally dedicated her life to her art- when I listen to her, I'm hearing Tara, not another musician whose virtuosity is solely interpretive. Her latest album 'Two For The Road'  is a stunning collaboration with the excellent and versatile Ed Babar and certainly certifies the type of musical integrity that comes in a kind of sweet package deal with Tara's music. It's a reimagining of standards yes, but it's as if you're hearing them for the very first time. Complete with a line up of jazz greats, the backstory is equally organic and refreshing which I find imperative to share as a pre-set to the album's sound.
Whilst recording harp at Abbey Road Studios for guitarist Chris Strandring, Tara was connected with Geoff Gascoyne, whose had written the string orchestra arrangements for Chris's album. Enjoying the way Geoff worked, Tara asked if he would like to direct and produce 'Two For The Road', adding a musical heroes to the creative team. Around the same time whilst hiking, the duo happened upon British saxophone legend, Stan Sulzmann, resulting in an invitation for him to guest. Lastly, Tara and Ed invited Bulgarian percussionist, Lilia Iontcheva to guest on three songs, thus completing the all-star line-up. The album was engineered by David Holmes and recorded over three days on board Lightship 95 studio at Trinity Buoy Wharf.
You can hear each of the artist's unique voices and talents on the album.  The album opens up with Tara's velvet vocals over a string and guitar arrangement made in heaven, I think. "Life in A bubble" is written by producer and instrumentalist Geoff Gascoyne. Although you can hear a nod to Norma Winstone, Tara once again has a depth to her voice which lures the interest of the listener. It's a fantastic opening number (or dare I say prelude) to their take on "Sunny Side Of The Street". Re-harming the A section gives it life, as Minton swings into the B section , using her harp as a tool for rhythmic freedom rather than delve too much in the lyrical. Babar is outstanding in his role as bassist who converses rather than just merely accompany. As a vocalist Tara doesn't shy away from her blues feel, a welcome change after the solo section. " Games" written by Dorothy Ashby is a beautiful homage to what I consider to be one of the first pioneers of the jazz harp. Tara's virtuosity shines here, accompanied by the brilliant Iontcheva on percussion. The track is truly an intimate invitation into what the title suggests: the three featured musicians gently meander between genres from Samba, Afro- Cuban to contemporary gypsy all in one, whilst maintaining a cheeky voicing throughout. Like I said, you can literally ' hear' the voice of the artist even in a cover arrangement. " What We Have to Be" is a reimagined take of the Norma Winstone and Dave Holland composition originally titled " 'Dream Of The Elders'. Guesting on alto sax, Stan Sulzmann breathes live into this whimsical piece, using Minton's guitar-esque harp playing and Barbar's assured bass line to take us on a whole other journey; or actually, where we 'have to be ', as the new title suggests. The following track, " Caravan" (one of my all time favourite standards) is completely unique. At first slow and insisting on the colla voce, it develops nicely into a dance of the frenetic between Barbar and Minton, as if we were suddenly on the Caravan itself with a journey that became suddenly exciting and new (most apparent in their brilliant double time as they swing into the B section).
"You  Go To My Head" is one of those standards that quite frankly, can be rather dull and nuanced. Yet, Minton channels the energy of a woman in love by focusing on the lyrical appeal, which completely comes to life in her brilliant scat, which quite frankly blew me away. The following track , " Round Midnight " is as magical as it needs to be. Purely instrumental, Babar and Minton are quite literally dancing circles around each other, each one beckoning and calling, each one inviting the other to defy the limits of time and space. " Whirlpool" (written by John Taylor) is quite honestly my personal favourite. Pulling at the heart strings of each instrument complemented by Sulzmann's effortless performance, the whole thing feels spacious yet intimate. Like the ever changing nature of water in ' whirlpool' motion, each player delves in and out of their own world, occasionally meeting, and then retreating once again ending in a place at the end of the road. "The  Shadow of Your Smile" feels like it serves a conceptual purpose rather than musical; a kind of easy listening with jazz appeal, to which I would argue serves its purpose wonderfully. " Jazz Autographs" (written by John Williams) is a brilliant showcase of Minton's versatility as a composer and player that can slip in and out of any genre she plays. Filmic in production, intimate in delivery, the track serves as a sweet serenade to the golden era of jazz. Another favourite track of mine from the album follows soon after , " Blackbird". Whether it's the likeness to the soprano take of Voces arrangement of Blackbird, or Tara's angelic harp plucking, it's an incredible performance. Minton is clearly aware of the historical and contextual reference, as is Babar; it's a memorable nod to divide between playing jazz music and recognising it's social significance. The title track ," Two For The Road" (written by Henry Mancini and  Leslie Bricusse) certifies Minton as an incredible interpreter of narrative film themes along with Babar's incredible ability to literally bow in and out of the performance. I would warmly welcome the pair's next album to be a dedication to Mancini and Morricone alike. The final track , the epilogue to " Life in A Bubble" is full of hope, acceptance and a resilience to continue down the road less travelled.
"Two For The Road" is a duet album that defies what a duet should sound like given the amount of artistry pouring from Minton, Babar and their esteemed guests.
You can support these wonderful artists by purchasing ' Two For The Road' here
Last modified: February 18, 2022