The multi award winning artist Jazzmeia Horn continues to inspire with the depth and beauty of her artistry. Her debut album 'A Social Call' was Grammy nominated, as was her second album 'Love and Liberation' and now she gifts us with her stunning new album 'Dear Love'. This new album project integrates not only incredible musicianship and exquisite big band arrangements, but a message of unity, strength and power on every level, fully exploring the breath-taking integrity of her work.
"This album is important to me because I have accomplished one of my biggest goals in life… to write, arrange, produce, and record my own project. This is also one of the first times that a black female vocalist has written and fronted a big band album in its entirety (this having historically always been a male preoccupation) and the addition of strings elevates the album to that of a major orchestral project. I am not releasing this album just for me I am releasing this for every woman that has ever been told no by a man. To the single mothers who thought they couldn't have a career, to the woman business owners, to the black women that carry the essence and the soul of black culture for the world to emulate without credit… this is for you! We got this sis! Be You!!!" Jazzmeia Horn.
I had so many questions and areas to explore with Jazzmeia and it was so wonderful to talk to her. Her passion for her music, her commitment and dedication to her craft and her awareness of the role she plays in the wider world led to a fascinating and inspiring conversation.
FR: Your words above are inspiring and your purpose, clear, but I would like to ask what brought you to the point where you felt you needed to make that statement?
JH: My upbringing is in the church and I had a Christian background and my father was musical director at the church where I grew up. Everybody was really into music and nobody made me feel like I wasn't welcome in the church, I always felt like I had a place but when I left the nest I was 17 years old and moved to New York, on my own… the men, black men, white men, Asian men, men from Pakistan, all kinds of men made me feel so bad about not knowing harmony, not knowing theory, not knowing improvisation… there was so much I had to learn! But they made me feel so horrible about it, you know? They were not nice at all. I really had a difficult time and it was mostly the men. But, the women, like Dee Dee Bridgewater, Terri Lynne Carrington would say, just put your big girl pants on you know?
For the women out there, I really wanted to call this article 'Jazzmeia has her big girl pants on' because we know exactly what that reference means. That moment when things are tough, you are tired, you wonder why it is so hard and why there are so many barriers. You have moments of doubt and start questioning yourself and wondering if you can actually achieve what you want to achieve. But then you find that inner strength, that inner fierce and you just get down to business, ready to take on whatever your need to, to reach your goals and truly knowing you can do it. Jazzmeia epitomizes this strength and courage and inspires us all to believe we can achieve whatever we want. Jazzmeia faced those initial barriers and got down to work – and some!
JH: The old cats like Jimmy Heath and Ron Carter, all of the older generation of musicians really embraced me because they knew that I was serious about the music and I was trying to learn as much as I could, so it got better. There's a balance. Some of the men were really nice and they shared with me whatever they could and so I decided I'm going to learn their language and as soon as I learn their language, I can understand it in a way that I can communicate how I want to communicate. So now fast forward 10 years, you know all these people who were rude and mean to me who said oh you'll never do this, I want other women to see this and say you know what, I can do it too. I'm a single mom, I'm young, I've just turned 30, I'm still out here in the industry and I'm also a professor at two different universities and I'm still able to do all of these things.
Jazzmeia has already achieved an incredible amount in a relatively short amount of time and her new album 'Dear Love' is quite simply stunning and clearly demonstrates not only her love but her determination and dedication to her work. It is also the first time she has taken on the challenge of a big band album, as the composer and arranger.
JH: The thing for me is that this is the very first time that I'm doing this as a big band composer and arranger, and I did the very best that I could. Usually singers wait until they like maybe 40 or 50 to do a big band album I'm not waiting because I don't want anybody to tell me what direction that my career should go. I want to make that decision for my own self. The goal is to just stick through it, no matter what and don't worry about what people say because every time someone great in history has had an idea, other people told them it was stupid it was wrong – men and women, not just women but anybody – anytime somebody had a really great idea people would laugh at them. But when you finally make it happen and you know that it's your own effort, people will love it because of how confident you are and that's what really matters. That's what I want to share with the women in the world, get it done no matter what.
It is no wonder Jazzmeia, is such an inspirational artist and woman. She has been surrounded by incredible people her whole life. Bobby McFerrin, Abbey Lincoln, Terri Lynne Carrington, Dee Dee Bridgewater and Betty Carter are just a few of the artists that have helped her develop her artistry. Jazzmeia is often compared to Betty Carter and I asked her to explore the lessons she has learnt from her.
JH: Betty Carter is a woman who just really stood out for what she believed in and she didn't take any mess from anybody! Most of the musicians on the scene today that played with her, they say you remind us so much of Betty Carter because she didn't take any mess. I didn't get to meet her because by the time I was a jazz musician she passed but I learnt just by watching her on the stage. I would sit there and just watch her and study how she interacts with her musicians and you know I can imagine why she would do certain things. I never got an opportunity to ask her obviously but she was really keen on making sure she reached out to the younger generations of musicians and poured into them as well as the elders and when she taught you what you needed to learn, you moved on and you played with Herbie Hancock or whoever was the greatest musician out there because she had trained you.
Abbey Lincoln's influence on Jazzmeia combines that fierce, uncompromising vision with the maternal elements of being a band leader. I was fascinated to hear that if you are late to a Jazzmeia Horn rehearsal, your pay will be docked.
JH: Abbey Lincoln was very keen on making sure the musicians were taken care of. You have to pay your musicians, you have to treat them well and when they go on the road, they need food and hotels. Make sure that they are comfortable so that they can play their best for you, you are their boss, you know? I started looking at my artistry as an entity and as a business, as a corporation versus just an artist and when I started to learn those things there's an interconnectedness between being a mother and being a bandleader. You have to make sure your children eat well, you have to make sure they're educated well, you treat them well and it's the same thing with your musicians. I'm not feeding them but I'm allowing them the opportunity to feed their families just by employing them and then I'm also educating them because they have to represent me in my brand when we go out into the universe. When we go out and play for people, they have to represent the artistry of Jazzmeia Horn and there's a whole process that we talk about. You can't be late to sound check. When you come into my band, there's a contract if your late, you get docked pay, just so that my musicians know that my reputation is on the line. It's already difficult for me as a woman and it's even more difficult for me as a black woman so I really need you to be on time because I don't need my reputation to be at fault for anything.
Like another artist who has taken the world by storm, Camille Thurman, Jazzmeia takes her experience to the new generation of musicians not only as the creator of the Jazz Horn International vocal initiative but also as a Professor at several universities. The beauty and power of these inspirational women who, not only in their own art but through others, inspire and transform the future generations must not been underestimated. It occurred to me, that with both Camille and Jazzmeia – and I am sure others – there are two people involved in this growing female collective. Maxine Gordon and Dee Dee Bridgewater. So much to say and explore here, but to end our interview, Jazzmeia and I discussed the power of role models and she told me this incredible story about Dee Dee Bridgewater: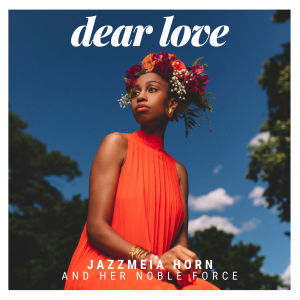 JH: When I won the Thelonious Monk award my husband and I (I was married at the time) were about to get evicted from our apartment in Harlem. We were excited that I won the competition because it was going to help our family but when I booked my plane instead of going home right after the competition I was going to stay a couple of days to visit my aunt in LA but one of her friends died so she went off to San Francisco and left me in LA. I didn't have a place to stay so the morning after the competition everybody was leaving the hotel and I'm sitting on the curb and Dee Dee calls me and she's like Jazzmeia, someone told me that you're sitting on the curb at the hotel, is everything OK? I was like yeah, do you know anyone who has a room for the night because I'm just out of money and I don't have anywhere to go and I have my daughter with me (you know she was barely two years old) and I don't have family here and it will cost me way too much to change my flight… and she said well, I don't know anyone who has a room but I have a whole house that you can come and stay with me. Sometimes I still cry thinking about that moment. This is a lady who doesn't know me from the man on the moon. She just knew that I won this competition and that she had to help me, and she did. She embraced me and she let me and my child into her home. We stayed there with her and she cooked for us, she told us stories, we talked to her daughter and it was just like family. We sat together at her table and we ate, and I did not feel like I was left out. I didn't have to sleep on the curb that night with my daughter. Nobody knows that story, but that that really means a lot to me. When she says if you ever need anything call me, she really means. Dee Dee is definitely one of those people who looks out for the younger generation.
And as Jazzmeia said at the beginning 'to the black women that carry the essence and the soul of black culture for the world to emulate' we celebrate you and thank you for showing the world how it should be done.
Last modified: May 31, 2023