Last weel Smoke sessions released the latest album from Nicholas Payton titled "Smoke Sessions" where he finally realizes Long-Cherished Dream to Record with Iconic Bassist Ron Carter. To top matters off the album also includes two tracks with special guest George Coleman.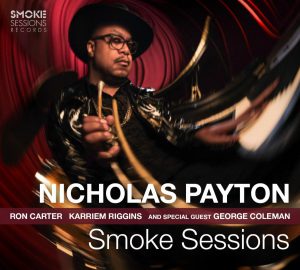 For a young Nicholas Payton, Miles Davis' 1966 album 'Four' & More, captured live two years earlier at Lincoln Center's Philharmonic Hall, provided a template for what music could – and should – be. Now long established as one of the most renowned musicians and composers on the scene, Payton has convened two of the legendary musicians who played with Davis on that album, bassist Ron Carter and special guest saxophonist George Coleman, to craft some exemplary sounds of his own.
With Smoke Sessions, set for release on October 29, 2021 via the label of the same name, Payton finally realizes his long-cherished dream of leading a session with Ron Carter on bass. To reignite the chemistry of the album he'd fallen in love with decades before, he also invited George Coleman to contribute to a pair of tunes. (A third contributor to 'Four' & More, pianist Herbie Hancock, is represented by the composition "Toys," but Payton fills the keyboard chair on the date as well as playing trumpet). Rounding out the quartet is the esteemed drummer Karriem Riggins, a longtime collaborator of Payton's who helps ensure that the music bridges generations as well as styles.
"Miles Davis' 'Four' & More was the album that really inspired me to take up music seriously," Payton explains. "Ever since then, Ron Carter has been an idol and a favorite musician of mine. As long as I've been leading bands I've patterned my choice of bassists by the metric of how much Ron they have in their playing. When I've looked for pianists in my band over the years, it's often predicated on how much Herbie they have in their sound. So this album is really a dream come true for me."
Far from a tribute or a look back, however, Smoke Sessions is a wholly contemporary new album that vibrantly captures Payton's open-eared blend of swing, funk, soul and hip-hop influences with Riggins' expansive fluidity behind the kit and Carter's renowned, rock solid majesty on the bass. Payton seizes the opportunity to engage with that recognizable voice in multiple forms, taking both the Miles and Herbie roles as trumpeter, pianist and keyboardist via the multi-instrumentalism that has become a thrilling trademark of his approach.
While Payton has crossed paths with Carter on a number of occasions over the years, he'd never been able to persuade the famously exacting bassist to appear on one of his own dates before now. "He finally started giving me the time of day," Payton says with a laugh. "Once I had his interest I hurried up and locked it in before he changed his mind."
Whatever the delay, Carter spoke highly of the bandleader in the wake of recording Smoke Sessions. "I was quite pleased and had fun playing with him as a piano player as well as a trumpet player," the bassist said. "Listen to him play trumpet. He's listening to my response to what he does — if the trumpet players of today want to try to put him in a place, he should be up there because he listens to what the bass player contributes to his solo."
The recording of Smoke Sessions, Payton concludes, was "like a pinch-myself moment… I used to pretend I was playing with [these musicians] when I was a child, and now it's happening. I literally felt like I was walking on air. To have someone I've listened to on record and admired from afar actually be a part of something that I created was just beyond my wildest imagination. I remained in a dream state for a couple of months afterwards."
The album is now available on CD and all digital platforms.
Line-Up:
Nicholas Payton, Trumpet | George Coleman, Tenor Sax | Ron Carter, Bass | Karriem Riggins, Drums
Track Listing:
Hangin' in and Jivin' | Big George | Levin's Lope | No Lonely Nights | Lullaby for a Lamppost (for Danny Barker) Part 1 | Lullaby for a Lamppost (for Danny Barker) Part 2 | Q for Quincy Jones | Gold Dust Black Magic | Turn-a-Ron | Toys
Release Date: 29 October 2021
Format: CD | Digital
Label: Smoke Sessions


New Release Spotify Playlist
The Jazz In Europe New Release playlist features tracks from the new releases featured on Jazz In Europe. Updated weekly, this playlist is the perfect place to discover new music from the leading jazz musicians currently on the scene. We hope you enjoy this selection.
The best way to keep up to date with all the latest releases is to follow us on Spotify. Just click the button below.
Last modified: November 3, 2021