Throughout the EFG London Jazz Festival, we at Women in Jazz Media are holding a jazz art and photography exhibition, showcasing some of the leading artists and photographers from the UK. Curated by Aurelie Freoua, it is an exciting opportunity to see how different art forms have influenced and inspired a wide ranging of stunning artists.
We asked team member and curator of the exhibition, Aurelie Freoua to put some questions to the artists and explore their work. In this third article, Aurelie talks to Tatiana Gorilovsky.
Award-winning jazz photographer and designer Tatiana Gorilovsky is a highly respected photographer who's significant portfolio of work includes shoots at the 606, the Elgar Room, Union Chapel, Jazz Cafe, Love Supreme and with Jazz artists including Dee Dee Bridgewater, Herbie Hancock, Anglique Kidjo, Courtney Pine, Snarky Puppy and Dana Gillespie.
What does it mean to you to photograph Jazz musicians while they perform?
Honestly speaking, I love photographing people on and off the stage. The personality of the musician is the key and the beauty of the soul that I would like to catch on the pictures. But when I 'm photographing during the gig, it means that the picture should remind about the musical experience and keep it.
What artistic influences and experiences have shaped the photographer you are today?
Classical and modern painters helped to understand composition, colours and light. I also love to explore classical b/w photography, and there are also so many amazing photographers that is possible to see everyday online, it also helps to improve the photographic style.
How did the passion for jazz music start and why did you decide to become a photographer in the jazz scene?
I loved this music from my young years, played piano, tried to improvise. I started to photograph my friends-musicians, and then realised that I enjoy several things: jazz music, photography and communicating with people.
Why is the existence and work of organisations like Women in Jazz Media important and how do you think it will benefit the jazz and art world?
I think, it's not about dividing people on the basis of gender, it's about helping women to raise their voices, to have the friendly atmosphere to express themselves in music and in art. I'm glad that Women in Jazz Media exists and expanding their influence!
How would you describe your photography style and approach?
I love the idea of improvising with different photographing styles depending on the music and personalities of the musicians.
Tatiana Gorilovsky invites everybody who loves photography and jazz to the photo-journey through time event as part of the EFG London Jazz Festival. Exploring the best in Jazz Photography of the past, the audience will be invited to the photoshoot, a "photo-jam session" in the style of the Jazz Age.
Tickets available here: A Jazz Exploration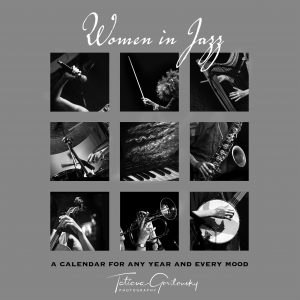 Tatiana has recently released a stunning "Women in Jazz"  calendar. It contains photo portraits of 126 amazing female jazz musicians from all over the world. A calendar for any year, it includes QR codes printed near each portrait to give immediate access to the music. The calendar is printed in the familiar size of a vinyl album, but in reality substitutes at least 126 albums. It is beautiful.
To explore more of Tatiana's work, please see her website: Tatiana Gorilovsky
Last modified: December 21, 2021